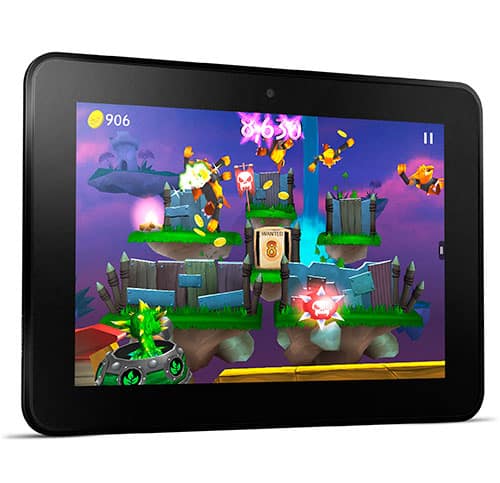 Amazon looks to one up the competition in the battle for holiday shoppers' mind share as it begins selling the Kindle Fire HD 8.9″. Priced at $299, the tablet features an 8.9-inch display, 16GB of memory, dual-band wi-fi, 1920×1200 HD display, Dolby audio, and is powered by a 1.5Ghz dual-core processor. A 32GB model is also available for $369. Many buyers will likely consider Amazon's deep content library — 22 million movies, TV shows, songs, magazines, books, audiobooks, and popular apps and games — as a key reason to purchase.
The new tablet joins an increasingly crowded roster of products vying for attention. While Amazon is going larger with the Fire HD (earlier models sport 7-inch displays and have been popular sellers), Apple thought small when it unveiled the iPad Mini ($329). Google, meanwhile, has been broadening its Nexus brand, unveiling a line-up of three models featuring 4.7- ($299), 7- ($199), and 10-inch ($399) displays.
Unlike the competition, Amazon's tablets include ads, or "special offers" which appear on the lock screen. For an additional $15 these can be removed; and it seems to us like an easy decision to opt for the non-ad models. After all, do you really want your tablet to function as a mobile billboard 24/7?
Demand appears strong
Though orders can be placed today, according to the Amazon web site the Kindle Fire HD 8.9″ won't begin shipping until December 3rd.
[Amazon Kindle Fire HD 8.9″]