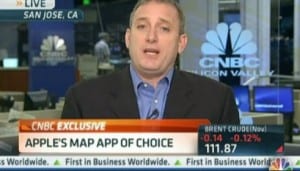 Should Apple buy Waze, and help shore up its maps and navigation woes introduced with iOS 6?
Navigation app Waze has quickly become one of the hottest "crowd-sourced" stories of 2012.The little app that could has harnessed the smartphone collective to give commuters real-time traffic alerts with very specific and incredibly accurate updates. Accidents, police cars, traffic slowdowns, vehicles at the side of the road, and other incidents are reported by other Waze users in real-time on the road providing an impressive wealth of information (if not depressing for those using 101 in Silicon Valley) available to all us fellow commuters plugged into the Waze grid (currently available free).
I've been using Waze (which now has over 26 million users) for the better part of the year, even choosing it over the native Google Nav, no slouch itself. I especially like that Waze will tell you when a shorter route is available, and automatically update the directions on the fly to take advantage of it.
Meanwhile, as Waze's fortunes have grown over the year, Apple's problems with maps has exploded into a full-scale consumer debacle with the launch of iOS6. In the update Apple replaced Google's much loved Maps app with its own "half-baked" offering. Now, Google has an opening with Android. Its Maps apps is the best in the business and offers a compelling reason for iPhone users to switch.
CEO Tim Cook, in what may be considered a landmark test of his leadership style when it comes to external fiascos, did the non-Jobs thing and fessed up. Apple had screwed up. Big time. Yes, he told us, we should seek out alternatives to Apple's own maps technology. Gone too were the proclamations of being "most powerful." Say it ain't so Apple!
Reaction has been very positive to Apple's response. As CEO of Waze and a supreme beneficiary of the mess, Noam Bardin said in a WSJ interview, "The fact that they are actually promoting apps that compete with their core apps, it's a moment for Tim Cook." Waze downloads are up 40% daily since the iOS 6 launch which saw Apple replace the Google Maps app with its own.
The obvious solution for Apple would be to buy Waze.
Granted, it's not the silver bullet. Apple would still then need to integrate the technology into its native maps app. And the cultural implications related to such a deal can not be underestimated. However, the extra headcount focused on the problem might help. Cult of Mac reports that only a few hundred Apple employees are dedicated to the maps app and related technology. Google, on the other hand, has between 5,000 and 7,000 employees "to iron out maps issues."
Waze could help Apple rightside its notoriously fruitless efforts to become a company with a relevant social play. Ping. Remember that? Waze epitomizes the very concept of social. As drivers, we're all trying to "outsmart traffic" together – you help me, I help you. We're all in this thing together, damn those fumes. The opportunity for location-based marketing, couponing are huge.
Part two: Apple buys Pinterest. As I've suggested before the visual social network is perfectly suited for touch-based interfaces such as the iPad.
Would Waze solve Apple's maps problems?
No, far from it. But it would give the company social know-how, the best crowd-sourced technology out there, and more domain-focused employees who could help get Apple maps back on track.
Bardin and his investors (including Kleiner Perkins) however, apparently have their eyes set on an IPO. According to Bardin, in 5 years, there will be two mapping views of the world: Google and Waze. "If I'm going to be the second map out there to Google, shouldn't I go public?"