UPDATE: Investors are none too pleased with today's announcement – shares slid more than 10% in afternoon trading. I wonder if CEO Stephen Elop's reign is coming to an end (surely now he realizes he stepped into … an impossible situation when he assumed the top position at the Finnish company?). From CNN:
The unveiling of Nokia's Lumia 920 and Lumia 820 smartphones lacked "positive surprises, carrier announcements or specific launch dates," noted Jennifer Fritzsche, senior analyst at Wells Fargo, calling the company's event Wednesday a "disappointment."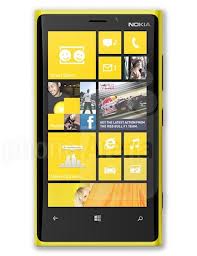 Nokia today unveiled its new Lumia lineup (the 820 and 920) running Microsoft Windows Phone 8. Are they enough to get consumers to switch from Android and iOS?
There was a time when counting Microsoft as a solid number 3 player would've been unfathomable. It was the symbol of computing in the 80s and most of the 90s. But that was the desktop era – and today, decades later, we've finally broken free, and gone mobile in a big way. Microsoft was built for a bygone era, yet is proving to be resilient in its ability to remake itself (Xbox360, Windows 8, Surface tablets, Skydrive). When it comes to mobile, the gentle giant is moving slower than its peers, but it might just be on the right track.
Those new Lumias? Decent devices. Quite well designed, actually. I've got to say Microsoft and Nokia are capable of producing aesthetically pleasing devices. No question. Better still, they're unlikely to face the wrath of Apple over patent infringement. WP8, with its colorful metro tiles, is unlike the icon-oriented user interfaces we see on the iPhone and Androids like the Samsung Galaxy Nexus or S III.
As an admitted Android fan, even I find these new handsets tantalizing. There's wireless charging, decent processors (S4 Snapdragon), curved glass, poly-carbonate, HD plus LCD, and good cameras.
I've seen this movie before, though.
Every time Microsoft and Nokia launch a new device, I get that temptation – if only I could swap my Nexus SIM and jump back and forth between the two OS platforms. You know, just for giggles, just because I'm a son-of-a-gun early adopter. Unrepentant in that respect, sadly. Days later the feeling always subsides. Reality sinks in.
Windows Phone 8 is now the safe, approachable choice for consumers looking for ease of use and value.
It is not carved from the hardcore, geeky DNA we find in Android.
That's a good position for Microsoft and Nokia to be in, because it differentiates them. Apple's iOS is the premium model – say, a BMW. Google with Android is the sporty, hackable model – say, a Scion FR-S. That would make Windows Phone 8 the Saab; nice design though quirky, well made, but not likely to reach achieve critical mass.
Q4 is a barn burner for mobile announcements, and it's unlikely the new Lumia 820 and 920 will do much to move Microsoft's share of the OS platform market beyond the 3-4% range (in Q2 Microsoft's share declined slightly to 3.6%). Many who would've contemplated a switch from Android or iOS would likely have already done so, when the solid Lumia 900 was announced at the beginning of the year.
The Apple Faithful will wait with bated breath for next week's iPhone 5 announcement. Us Androids will be considering either the RAZR HD (which should be announced later today), or the upcoming Nexus line surely to hit the Google Play Store come Thanksgiving.
Still, Microsoft and Nokia find themselves in a relatively solid (though niche) position. On the consumer side, the Lumia range can appeal to the entry-level market. And given Microsoft's enterprise roots, and RIM's fading fortunes, Redmond can continue its attempts at mobile expansion (led by the upcoming Surface) across the Fortune 500.