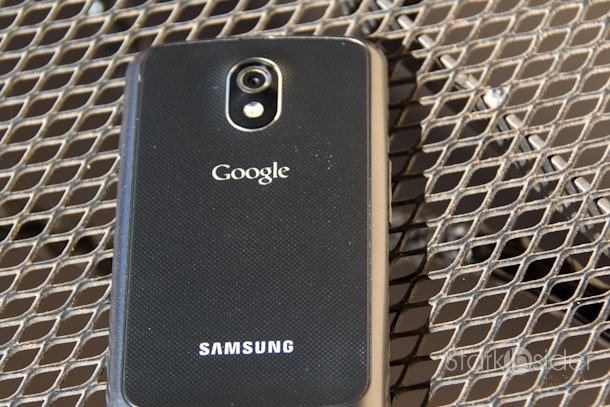 Apple bucked the smartphone platform trend, and grew the fastest in Q2; perhaps a tiny indication that its finally found a way to slow Google's momentum. According to Comcast, iOS gained 2 percentage points of market share during the 3-month period. Android also grew, but at only 1.4%. Microsoft, Symbian, and RIM all lost share during the period, with RIM hurting the most (down 2%).
Still, at just over 52% share Google continues to dominate the overall market, with Apple trailing by about 19%.
Another way to interpret today's data: there's a 50/50 chance that the person next to you owns a smartphone running the Android operating system.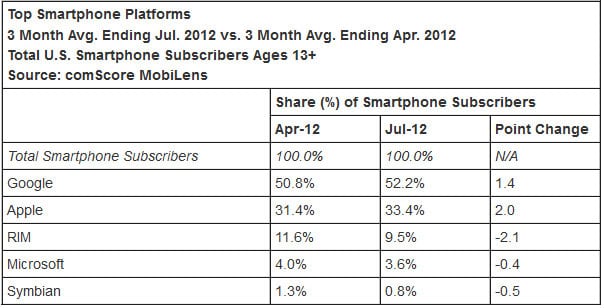 The most interesting results, though, are yet to come. With Apple's successful suit against Samsung (which saw $1B+ in damages awarded), the world's leading Android manufacturer could be forced to stop selling some of its top selling models, including the recent smash hit, Samsung Galaxy S III.
Apple is widely expected to announced the iPhone 5 next week at an event in San Francisco. Also, expected in the coming months are new Windows Phone 8 devices by Lumia and a refreshed line of Nexus devices by Google.
Meanwhile the mini tablet wars continue to heat up.
Amazon is expected to announce an updated Kindle Fire this week. And Apple will likely follow suit, and join the 7-inch tablet wars, with an iPad Mini this fall. Google has enjoyed tremendous sales success with its Nexus 7 tablet which debuted over the summer, demonstrating the market potential for a more portable, easier to carry tablet.
There's not much change in the way consumers are using their mobile devices. Sending text messages, downloading apps, and using the browser account for the top three activities.
Samsung continues to be the manufacturing heavyweight, accounting for over 25% of all smartphones sold in the U.S.