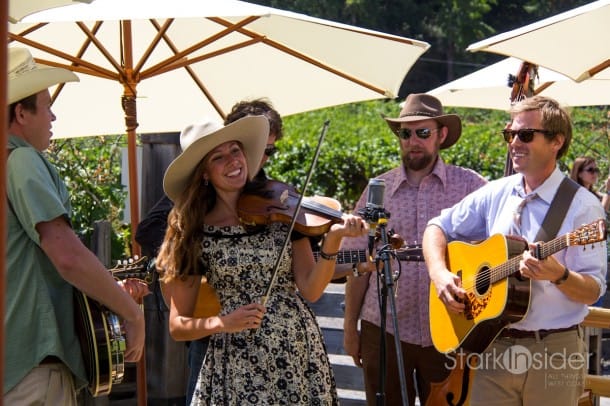 Sonoma threw one heck of a party this weekend. There's likely an intellectual exercise in the aftermath involving terroir, sophisticated pseudo wine analysis, and deep conversation about viticulture. Surely all those topics mattered at the Sonoma Wine Country Weekend, but what mattered most was the fun quotient. It was through the roof. If you ever wanted to trek across the country to visit Sonoma (and no doubt Napa of course) these annual Labor Day festivities are the perfect excuse.
With so many events, tastings, dinners, concerts, every agenda is unique. This year mine included: a visit to the Buena Vista winery where I witnessed a Sister-City signing and a wildly entertaining and gloriously over-the-top performance by host Jean-Charles Boisset (did he really say that he'd like to "meet you further" to my wife on camera?!); an evening of dining and dancing under the stars (with a full moon no less) at Francis Ford Coppola's stately new winery in Geyserville, and an epic grand tasting at MacMurray Ranch where no less than 170 wineries were pouring their bestest.
Re-Birth of Buena Vista Winery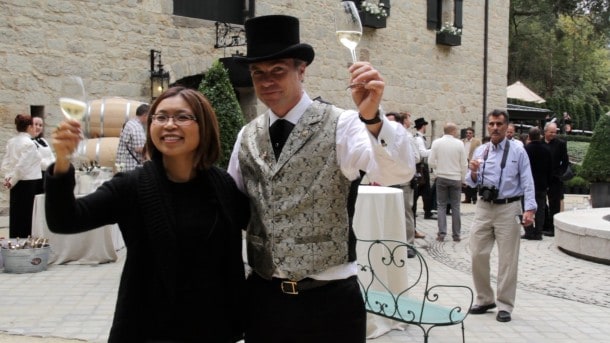 How do you celebrate the 200th birthday of a Count? Turns out you invite a bunch of close friends, pour lots of wine, sing three national anthems (Hungarian, French, American). Then you hold a ceremony featuring more than ten speaches, a sabre, several gift exchanges, at least one Thomas Jefferson reference. You then top the whole thing off with the exchanging of more gifts and the signing of a Sister City proclamation (Sonoma-Tokaj). Oh: tossing in some spirited Hungarian dancing for good measure is always welcome. Add all that together and you have what amounted to an extremely memorable event last Friday afternoon on the gorgeous grounds of the Buena Vista Winery in the heart of Sonoma. I swear I spotted David Lynch just over a knoll, directing the proceedings from afar.
WATCH: "We're living a moment of danger!"

Here's a sneak peek at the scene at Buena Vista. Watch for the full segment soon here on Stark Insider.
There's a lot of proud heritage at Buena Vista. Deservedly so. It was the first premium winery established in California (1857, producing 6,500 gallons in the first vintage). Contention, however, continues to rear its ugly head whenever the term "father of the California wine industry" arises – as we'd learn during this day, understanding the very definition of "father" is essential to determining the rightful origins. Regardless of how that plays out (if it ever will) this is a winery with significant contributions to Sonoma and the wine industry as a whole.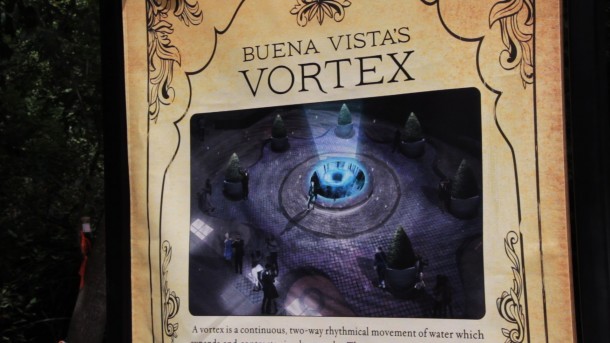 If there was any sign of the disrepair the site had fallen into in recent times, it was hidden from view. Instead beautiful new barrel and tasting rooms adorn the neatly manicured, and hardscaped property. The renovation to the "historic champagne cellars" is elegantly done, with three long, dark caves winding their way beyond a large common space featuring stacks of barrels, decorative displays, and even projections of black and white films.
You won't find a central fountain here. How cliche! Instead, look for a Vortex which features a "two-way rhythmical movement of water."
MORE SONOMA COVERAGE:
Dressed in some sort of medieval outfit, featuring a top hat, and with a sword at his side, Jean-Charles Boisset was an effervescent host. There were lots of hugs (oh, the love!), story-telling (oh, the stories!), and … speeches (oh, the speeches!).
If you ever wanted a first-hand lesson in wine marketing, grand showmanship and the art of the spectacle, Jean-Charles is your man. There's a sneak peek of what went down on this day in the video preview above; stay tuned for the full Stark Insider TV segment. The grand re-opening of Buena Vista Winery is slated for 2013.
Coppola Starlight Dinner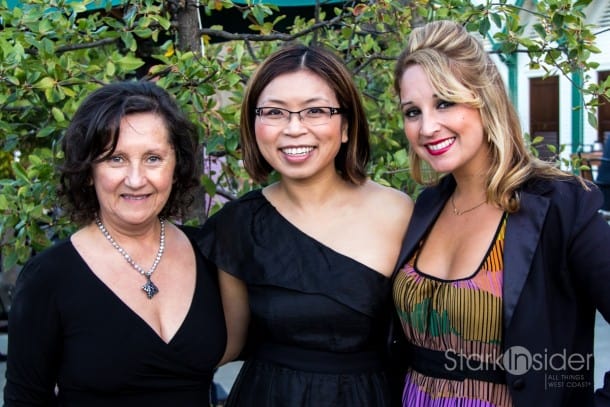 Later in the evening we headed up to Geyserville to attend Coppola's starlight dinner.
As is the gift of Sonoma, the event felt equally swanky as it did casual. You can't help but feel a sense of grandeur as you ascend the impressive stone stairs, and pass through large iron double-gates on your way to the poolside dining area. Several wineries were on hand. Some of my favorites included Ceja, J Vineyards, Sojourn Cellars, and Coppola.
Pride and Joy provided the live music, and soon lots of us were (trying in my case) to light up the dance floor. I wouldn't confuse the band with Green Day, or a solid 80s cover outfit, but they did provide enough energy and a solid set that included Michael Jackson, and the always favorite send-off You Make Me Wanna Shout by Little Richard.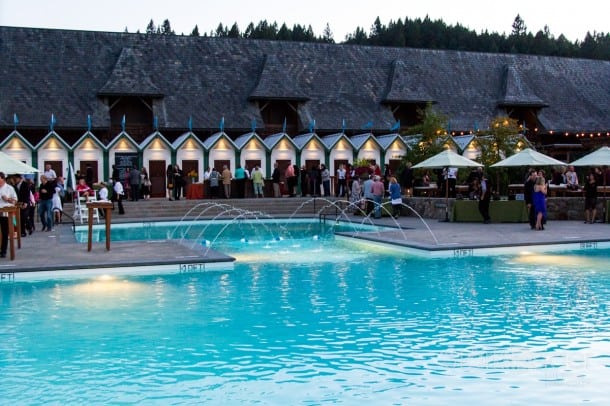 Taste of Sonoma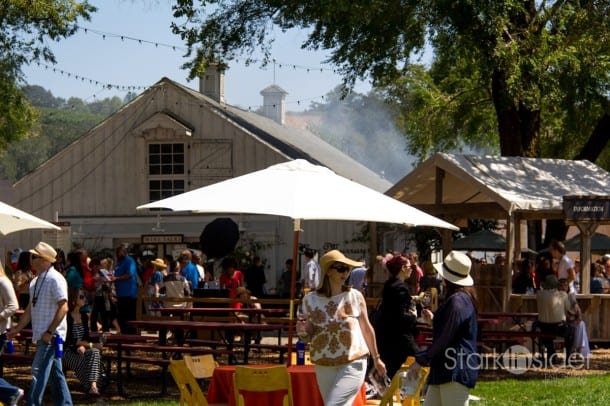 The marquee event for the Sonoma Wine Country Weekend is the Taste of Sonoma. This year it was held on the expansive grounds of MacMurray Ranch in Healdsburg and attracted about 1,200 people. There's no shortage of stories related to this winery either. It was founded by actor Fred MacMurray of My Three Sons fame. His vivacious daughter, Kate, now runs the winery.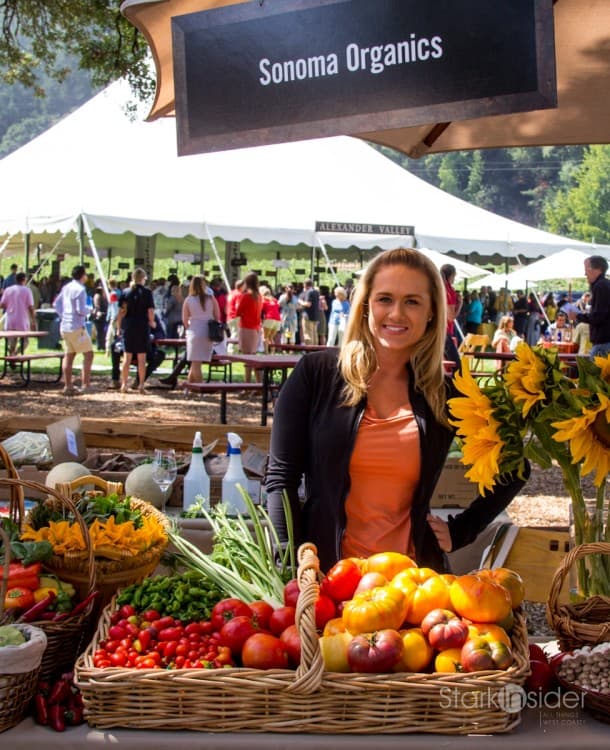 Taste of Sonoma is like SF Chefs, but with even better wine selection and views. There were over 170 wineries pouring. I especially appreciate the way planners had organized them by appellation; wineries were organized into four separate tents including Alexander Valley, Russian River Valley, Sonoma Valley, and Dry Creek Valley. Better still was the integration of paired dishes. Marked by red signs, you could enjoy a RRV Pinot, say, and then pair it with some nearby, hand-pulled pork.
FOR MORE PHOTOS OF TASTE OF SONOMA: Visit the Stark Insider Facebook gallery here.
And that was our grape time in Sonoma this past weekend.