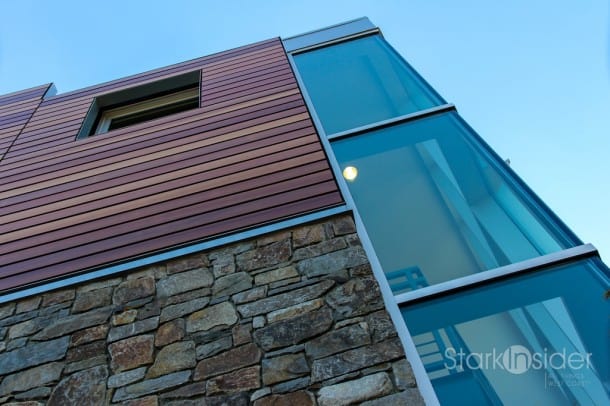 Wineries often invite you to step into medieval times with grand castles and candelabra. Others awaken the romantic, evoking images of the old World with weathered cobblestone paths, and flagrant lavender fields. Some even bring out the Urban Cowboy, such as Rosenblum in Alameda, whose wines I wrote about the other day.
Williams Selyem is the modernist. Walk the grounds here, surveying the spectacular new tasting room, and you think one thing:
Architectural Digest.
That, of course, in addition to thinking about lush, full-bodied Pinots.
Winemaker Bob Cabral has expertly guided their ascent, so much so, that it's hard to hold a conversation about that most fragile of grapes without hearing his name mentioned at least once or twice (the others being Rex Pickett's and Sideways). It wouldn't be an understatement to suggest some of the country's finest Pinots are being produced under his direction. In 2011 Wine Enthuiast named Cabral winemaker of the year.
Recently I was fortunate enough to enjoy several flights here, including recent releases from Williams Selyem. I was tasting through the '08s, a growing season that Mike Sullivan of Benovia Winery succinctly summarizes as: "Frost in Spring, Drought in Summer. Variability. But lots of Fruit." You can read all about that landmark day here.
And while the memory of that tasting still lingers, I decided to put together a brief photo journal of the architecture. Those interested in glass, stone, equilibrium will surely enjoy this aesthetically pleasing eye candy. If you can't help but escape that Quercus alba feeling, you're probably not alone. The design was inspired by the wine barrel itself.
In their words.

Here's an excerpt on how the architects describe the design of the new Williams Selyem HQ:

"This structure's front facade is entirely composed of a leaning curtain wall and a twenty-foot high wine "barrel wall" – both, creating a dramatic and on-brand gateway to the Williams Selyem winery. The building's hospitality lobby, which sits beyond the building's entry, is internally defined by an equally expansive "bottle wall", while offering picture-framed views of the underside of the barrel vault structure through an opening on the second floor slab. The use of reclaimed redwood barrel staves on suspended slat ceilings, sculptural doors and entry vestibule, maintains a constant sensorial experience that further reinforces the thematically driven design. "