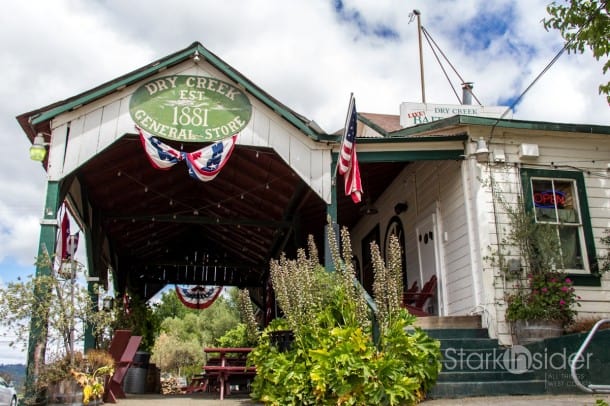 There's something about a traditional general store that just stirs one's wine country soul.
Yesterday Clint wrote about Tim Bucher and his penchant for shiny (and expensive!) red Italian tractors and Rhone-style blends. Based on all of your requests, we are happy to oblige and post some additional photos of the Dry Creek General Store that was  mentioned in the article ("Enter to your right for a latte. Enter to your left for a shot of whisky.")
When it comes to AVAs Dry Creek Valley is a bit of a sleeper. Located an hour north of San Francisco in Sonoma County, there's about 60 wineries here — both large and small, though mostly the latter. Unlike the heavily trafficked Highway 29 in Napa, you'll find a quiet, graceful road (Dry Creek Rd.) that essentially tracks Dry Creek and loops the 2-mile stretch. Getting around is easy, and there's non-stop views to behold. Bring your camera. Okay, make that, bring your iPhone. Don't expect great cell coverage here, but never mind that as you'll be too busy tasting wines, unwinding among the gorgeous rolling hills.
If there's an icon that represents the heart of this region, it could very well be this store.
MORE WEST COAST FOOD & WINE

Wine as User Experience – Tales from Dry Creek Valley

How well do you know your wine descriptors?
Thought its modern on the inside, the exterior, with its worn beams, weathered shingles and beaten door looks as old as time itself. We especially like the "GONE HOME" sign on the bar side (left) of the exterior. Indeed, the store was established in 1881, so one can only imagine the interesting stories that have come and gone over the decades.
If you go…
Tip: Stay in Healdsburg, a quaint and upscale town just a short drive south of the Dry Creek Valley. You'll find art galleries, unique shops, tasting rooms and a charming center square. Also, Healsdburg is home to Michelin-star restaurant Cyrus, a popular dining destination in its own right.
IN PHOTOS: Dry Creek Valley General Store