These days I've been picking Pinot Noir over most other grapes, whether it's uncorking a bottle of William Selyem from the cellar or grabbing a bottle of La Crema off the shelf at the local wine boutique. A quick recommendation. If you're lost in the wine section, and are considering a Pinot, look on the label for: 2008 (or 2007). Russian River Valley. Sonoma County. Odds are, you'll pick a winner.
If you've read Stark Sips through the years, you'll know that I'm an avid — cargo cult-like, frothing Cujo-like — fan of all things Cabernet Sauvignon. Big Napa Cab. Yes, please… the ones that for some odd reason get a bad rap here and there. That they pair so well with some of my favorite foods, like an over-the-top filet, or a creamy tomato pasta is a welcome bonus.
But the times they are-a-changing. And lately it's been Pinot.
I blame the Russians for that. Well, not quite. The Canadian in me half-expects that the Russian River Valley, located about 55 miles of San Francisco, would make for an ideal place to stage a re-match of the famous 1972 Summit hockey series featuring Team Canada and the feared Soviet Union Red Army. Alas, turns out the cold war is over, there are no ice rinks in RRV, and I'm not Facebook friends with Paul Henderson.
So instead it would be the 6th Annual Russian River Valley Winegrowers media tasting.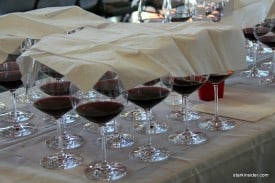 And so be it; last November I ventured up to Williams Selyem in an early morning mist, winding through the gorgeous backroads of Sonoma County, eventually finding myself at the beautifully renovated modern wood and glass tasting room that would host the event.
I'm no stranger to RRV, and Pinot tastings. Hands down they are my favorites. I had tasted through some exceptional '07s in 2009 — hence, my slow but steady Pinot transgression. Now, here we were, a year later, with 21 2008 RRV Pinot Noirs sitting neatly in glasses, covered by a light layer of tissue (note that we also tasted a 10 wine flight of Zinfandel, but here I'm focusing just on the Pinot).
Also See: Napa & Sonoma on Stark Insider
Below is my roundup of some of my favorites, and overall impressions on this day. You may want to skip ahead if enduring this commentary is perhaps tougher than sitting through a Justin Bieber sing-a-long (hint: try OK Go instead). There are two backgrounders of note first.
The Russian River Valley – "Where Creative Juices Flow"
It might surprise you that the Russian River Valley was actually discovered by … Russians. However, based on anecdotal observation, no one here speaks the language. Sadly, no pearly Kokoshniks were spotted. But thankfully it wasn't the English who established Fort Ross in 1812. Then we'd have English River Valley, something you might see winding its way in a very aristocratic manner along the outskirts of London.
And what drove early growth?
I assure you it wasn't the terroir — too hard to sell at the local pawn shop. Indeed gold would bring the rush of settlers and the rest is glorious agricultural history.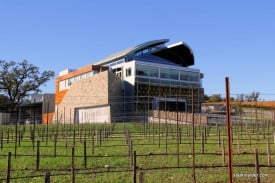 Let's describe RRV like this: Majestic redwoods. Rich farmlands. Lush, hillside vineyards.
You get morning fog here, followed by abundant afternoon sunshine, which is in turned followed by a feeling that nothing else in the world matters.
Of course it's drop dead beautiful. I'd suggest even more so than most Napa vistas. And it's also an AVA (American Viticulture Area) — one of 13 in the Sonoma County — first established in 1983 and measuring about 126,000 acres. The winegrowers association here represents about 150 growers and 100 wineries.
The #1 wine grape variety planted in the AVA (based on 2006 data) is Chardonnay (7090 acres) which I'm told we'll begin to hear more about as RRV winegrowers shift some of their marketing focus. Next is Pinot Noir (5560) which is followed by smaller amounts of just about everything else.
More: Eric Asimov of the New York Times toasts the 2008 Oregon Pinot Noir Vintage
Healdsburg, at the northern tip of the AVA, is probably the most well known town here. If you haven't been you must go. It's the definition of charming. Take a lazy stroll; eat, drink, be merry. Roam if you want to.
My Tasting philosophy
Look, kid: Taste often… Taste oodles… Taste to win!
These organized media tasting events are among my favorites. There is space to spread out notes next to the flights, and the focus is entirely on tasting. Even better, an expert panel — Geoff Kruth (Master Sommelier, Moderator), John Balletto (Balletto Vineyards), Bob Cabral (Williams Selyem Winery), Diana Lee (Siduri Wines), Andy Smith (DuMOL) and Mike Sullivan (Benovia Winery) — guides through the tasting, providing sound bites, interesting information, and professional opinion about harvesting, fermentation processes, and issues that may affect quality positively or negatively. It's kind of like having a really informative, soothing talk show running while you're sipping and spitting.
Contrast that to the gigantic free-for-all tasting events where the sloshed masses converge. I've got nothing against good times. Bring on the wobbly, the verbose and the drool-incited! Don't get me wrong — all kidding and brussels sprouts aside — these can be a lot of fun, especially with a group of friends. And tasting so many wines under one, large, anonymous concrete structure can educate the palate. Sort of. It all depends. For me I need Zen-like conditions to get serious. I get eye level with the wine, talk to it and try to understand what it's all about. I try to get into a semi-psychopathic zone so that I can hear the grapes, and their crushing thoughts. You could say I'm never one to miss a good monologue.
2008 — "Frost in Spring, Drought in Summer. Variability. But lots of Fruit."
That was panelist Mike Sullivan of Benovia Winery summarizing the year. John Balleto had similar sentiments, but not before some therapy, "I'd like to forget about 2010." — here, here, came the nods. "For 2008 the hardest part was frost protection." For him bud break came early, and harvest started September 1.
The Line-ups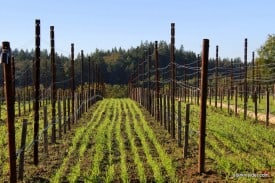 Like the 2007 tasting I found almost all these '08s to be top tier. Call it a cop out if you must, but we're not talking bad wine vs. good wine. It's about personal preference with these Pinots. Do you like dusty, earth, tobacco? Or do you like smooth redberry with a light finish? There are nuances here, with some variations showing from the sub-regions (noted below in italics) which are being called "districts", and may eventually play a more significant role in describing RRV wines.
My favorites on this day are the ones in bold. Again, it's a matter of preference, and I was not disappointed with any of these wines (except for the corked bottle). One of the best slightly facetious lines of the day I think holds some truth, "One person's deep tobacco-infused Pinot is another's smoke taint."
First Flight (11 wines)
All Districts * Santa Rosa Plains * Middle Reach
La Crema Russian River Valley ($38)– relaxed drinker. True Pinot; dusty, earthy, tobacco. Yes!
Mac Murray Ranch Russian River Valley ($35)
C Donatiello Floodgate Vineyard Old Vines ($58) – I've tasted through CD before, balanced and rich – excellent quality.
Hanna Russian River Valley ($35)
Hook & Ladder Russian River Valley ($22)
Small Vines Russian River Valley ($55)
Terlato Russian River Valley ($60)
En Route Les Pommiers ($50)
Gary Farrell Star Ridge ($50)
J Vineyards Nicole's Vineyard ($50)
William Selyem Rochioli Riverblock ($78) – complex with layers of red fruit, deep color, structured and long finish.
Second Flight (9 wines)
Sebastopol Hills/Freestone * Green Valley * Laguna Ridge
Balletto Vineyards Burnside Road ($34) – came across lighter than others, but mahhhvelous.
Dutton-Goldfield Freestone Hill Vineyard ($58) – barnyard, organic "forest floor" quality.
Papapietro Perry Peters Vineyard ($49)
DuMol aidan ($NA) – rustic and rich with a long finish. A green valley gem.
Hartford Family Arrendell Vineyard ($85)
Sequana Dutton Ranch ($40)
Siduri Keefer Ranch ($48)
Benovia 'La Pommeraie' ($55)
Merry Edwards Coopersmith Vineyard ($57)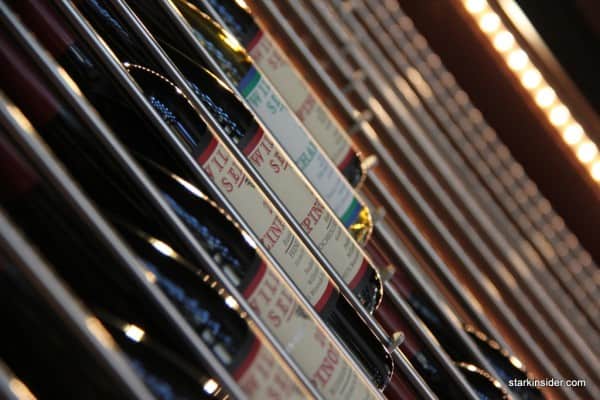 Point, Set… Match!
Oh, about that food pairing? With Pinot Noir, go with the winegrowers' recommendations:
Gilled Pacific salmon with braised fennel
Roasted duck with blackberry glaze
Ahi tuna tartare
This might work out after all, this new found love affair with Pinot. It's elegant, and earthy. Pairs well. And it even costs less (far less in many cases) than its more famous Napa Cab brothers to the East.