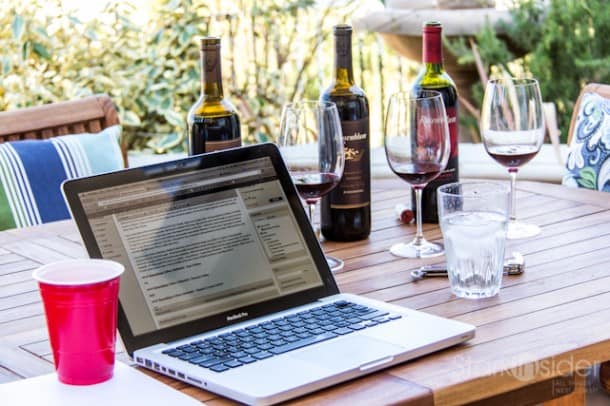 Rosenblum Cellars knows a thing or two about Zinfandel. They make over 25 types based on that one varietal alone. If you think you've somewhat exhausted your palate when it comes to Zin (I know, that's hypothetical right?) then zap (literally…) some Rosemblum straight into your ol' olfactory – you might just discover some nuances about this California grape that previously eluded you.
It's summer. Let's park the platitudes and the intellectual insider-ish innuendo, and get to it. Chop, chop, chop.
Located in Alameda — perched right on the water, just minutes west of Oakland here in the San Francisco Bay Area — there's a different kind of story when it comes to winemaker John Kane and his crew. Forget visions of vineyards, grand tasting rooms, and massive sculptures. There are no grounds here. Rather, this is the kind of place a 70's era Jon Voight might feel comfortable strolling about. Yep, Urban Winery.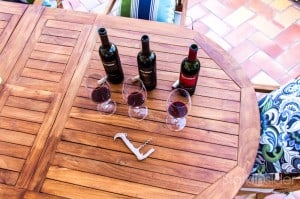 Having tasted just 3 of Kane's Zins, I'm hardly qualified to give you an A-to-Z lesson plan. But if you're a student of the Grape, then you'd do well to taste through as many as you can. I've been told it can be a decent way to get to know the impact of terroirs on the wine — valley floor versus mountainside for instance. Though typically sourcing grapes from all over California, Rosenblum has been know to turn to places such as Planchon in Contra Costa ("great signs of smoked bacon"), Jack Florence in Sonoma ("not only a wine grower, but a wine lover"), and Richard Sauret in Paso Robles ("big boysenberry, big red fruits out of the front …  a lady's man wine.).
One of the joys of wine is discovery. Maybe it's discovering a new varietal that tickles your fancy. Or maybe it's discovering the changing characteristics of a wine that's aged – whose flavor profile has gracefully evolved, engendering one to ponder the meaning of life. Or it could be, like in this example, tasting wines by the same winemaker, within the same variety of grape, but with grapes sourced from different vineyards. All things being equal this affords us the chance (un petit peu) to get to know the terroir… the soils, the place. Either that or it's all just a great excuse to open a bunch of bottles, invite over some friends and neighbors, and throw a rack of ribs on the grill.
STARK SIPS: Rosenblum Cellars Zinfandel

2009 Rosenblum Cellars Zinfandel Maggie's Reserve – Sonoma Valley ($45)

Ripe cherry bomb. Grapes from the Sonoma Mountain AVA. This one's a racy bugger. If you like your fruit forward, this is the one. I particularly like the spice on the finish. Sure, pair it with some zingy ribs (how cliche) or, better still, sip it sans food while hanging out on the deck. Also note that this bottle is the perfect example of balance being more important than alcohol levels. One of my favorite Zins in recent memory. 95 points. 99% Zin. 16% alc.

2008 Rosenblum Cellars Zinfandel – Paso Robles ($18)

After Maggie's this one tastes wholly different. More austere. Dusty nose, with a whiff of rhubarb. Sour. I'm not particularly fond of the tart/sour finish. But that's a style preference really. To me this is an OK pairing wine, not the best example. If you or your guests prefer less fruit it could be a solid choice. 88 points, 15.1% alc.

N.V. Rosenblum Cellars Zinfandel – Vintner's Cuvée XXXIV

So far in Maggie's we have a fruit forward Cherrylicious Zin (i.e. Janelle Monáe), from Paso Robles we have a dusty tart (Kristen Stuart). With this, a non-vintage, again there's red fruit, but more vanilla, tad less spice going on. Not too heavy, finishes clean. Not overly sexy, but a babe in the woods. Yep: Emma Watson. 89 points. 14.5% alc.
These are all drinkable today. I don't typically cellar Zins, though that's not a hard, fast rule by any means.
Winner for this round: Sonoma vineyard.
I should note that in this head-to-head shootout amongst peers, the most expensive bottle won (Maggie's, $45). I didn't know that was the case until after I had tasted, spitted, tasted and spitted some more; before eventually enjoying a full glass later in the evening. I always look up the price – either on the tasting notes the winery provides, or on the web site – after the tasting session. Often there's little to no correlation between price and quality.
If you're in the Bay Area you can drop by their tasting room in Alameda; taking a ferry from San Francisco is a pleasant option. Also you can visit the Rosenblum web site to see about ordering these starlets online.
Often you'll hear about the "Three R's" when it comes to Zinfandel: Ridge, Ravenswood, and Rosenblum. I've had far more experience with the first two, and this is actually my first encounter with Rosenblum. I'm looking forward to digging into the rest of the lineup from the team out of Alameda. Maybe there's a Mila Kunis in there somewhere.
Speaking of Ravenswood, here's a sneak peek at our next Zin shoot-out:

Coming soon…

Find out if I've exhausted my inane pop culture references, or if I'll be "switching gears."

Don't forget: we post more photos, exclusive previews on the SI Facebook page. Plus, follow me on Twitter, though be ready for an unhealthy dose of Android from time to time. Cheers, Clint