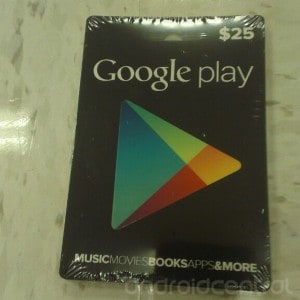 The Google Play Store (formerly known as the Android Market) has come a long way. Once referred to as "walking through a bad neighborhood" the quality of the look and feel, and the depth of content has improved significantly since the Eclair days back in 2009.
Now it appears Google is taking another step in an effort to woo buyers away from Apple iTunes. Word is the company is set to release gift cards. So far tipsters have seen $10 and $25 cards, and there could be additional variants as well.
Android Central — who sourced the photos — says its unclear where Google plans to distribute the cards, "Best Buy? Target? Wallmart? We'll see. But nearly as important is the global level. Developers hate seeing U.S.-only launches and, frankly, we're not fond of them either."
This may not seem like the biggest news in the world. But it actually is significant in several ways.
Gift cards have become a massive holiday season purchase. Many who don't know what to buy for their nieces and nephews, will simply grab a card at checkout and be done with it.
For retailers, or in this case Google, a gift card represents a predictable revenue stream. In the U.S. alone, the prepaid gift card market is estimated to be in the neighborhood of $100B.
And, finally, with an offering Google is now able to offer consumers an alternative to Apple. Given that the Android platform continues to dominate the smartphone market, there's no doubt already a huge install base at the ready.
A research report by First Data notes, "Retailers also benefit from brand exposure when consumers receive a gift card from an establishment where they have not previously shopped. In addition, the benefits of gift cards extend to the post holiday slump experienced by many retailers—when consumers visit a physical location or website to use their gift card, they often purchase additional merchandise."