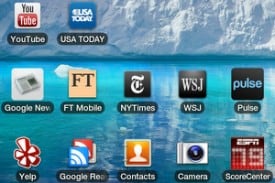 News apps are a big deal on tablets, and for good reason. The tablet form factor, be it the 7-inch Samsung Galaxy Tab we're using here or the larger 10-inch Apple iPad, is ideal for catching up on the latest digital editions of your favorite newspapers. In our on-going tests of the Galaxy Tab (First impressions: Samsung on a roll with Galaxy Tab tablet), today we're looking at all the news that's fit to print… on the beautiful display, one of the strength's of this small black Android-powered tablet. Later we'll look at magazines (a weak spot compared to iPad) and, of course, books.
No doubt, Android is behind iOS and the iPad when it comes to news apps.
I found slim pickings on the Android Market. The ones I did find were decent, but not spectacular. Part of that has to do with the smaller screen relative to the iPad. Although portable (but not small enough to fit in a jacket pocket, unless large), you could say the Galaxy Tab's 7-inch screen is in no man's land: it's too small to take advantage of sidebars, or whizbang navigation features. Yet it's still too big to be as portable as a smartphone.
Another problem is with the Android Market. A minor refresh is coming, but it needs a massive makeover to compete with the likes of iTunes. For 2011, may I humbly suggest that Google hire a special team that knows consumers and gloss. It's all about the gloss, and ease-of-use.
So when I try, for example, to locate Tablet-specific apps for the Tab, I end up surfing through screens of crap, and waste inordinate amounts of time to finally — finally — stumble upon the Wall Street Journal app that was all but buried.
Compared to the slick, fun iTunes, it's like walking through a bad neighborhood. See that CNN app? Well, it's not by CNN. Who knows what it will do with your personal data. Welcome to the "open" approval model. I'm still not convinced it's all that it's cracked up to be.
Also, final nit: Android Market is woefully short of Tablet apps. Given strong sales of the Galaxy Tab I hope (and expect) that to change over the coming months as the lure of profit draws in developers, many of whom will port over their apps from the iPad.
The news apps I tested here include: USA Today, Financial Times Mobile, NY Times, Wall Street Journal, Pulse and Google Reader. Note that all, except for Pulse and USA Today, are specifically designed for the Tablet, which means they take advantage of the extra screen real estate, and are not merely scaled versions of their smartphone counterparts.
After spending some time reading news on the Galaxy Tab I came away generally impressed.
I can see the allure. It's convenient to hold, and provides an easy, non-distracting reading experience. I still wonder about the 7-inch screen size, and if the Apple iPad, at 10-inches, is really the tablet sweet spot. There is work to be done to get Android Tablet apps remotely close to iPad, but I have no doubt that Google and its partners will get there soon enough. Meantime it's a compelling start.
USA Today (B)
This is just the standard Android version. But it looks great on the Galaxy Tab. Text and images pop, and the app is very responsive. For general news this is solid.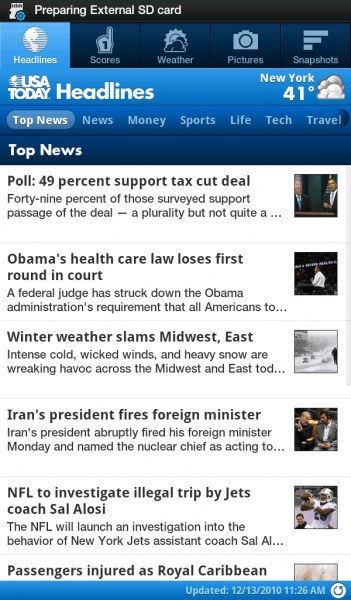 Financial Times Mobile (C+)
Specifically designed for Android Tablets, FT Mobile is quite ordinary. There are no images, which is in keeping with their format. Stories load fast, however, and you can specify how often to refresh content. Don't expect whiz-bang here, the app looks pretty much like an RSS feed with nicer fonts. Decent, but far from the sex appeal of iPad apps. Bonus: you get that pinkish FT color tone.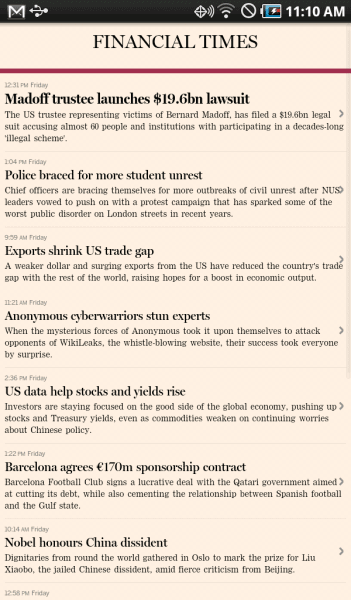 NY Times (B-)
NYT on the Tablet is, once again, decent, but nothing spectacular. It works like a glorified RSS reader, which is not necessarily a bad thing, just don't look for iPad sex appeal in terms of the user interface. You can pull down a menu at the top and access about 28 different sections — Latest News, Real Estate, Travel, Technology, Sports, Arts, etc. — so it's comprehensive which is a plus. Also I found video (landscape only) to play smoothly without lag or long load times.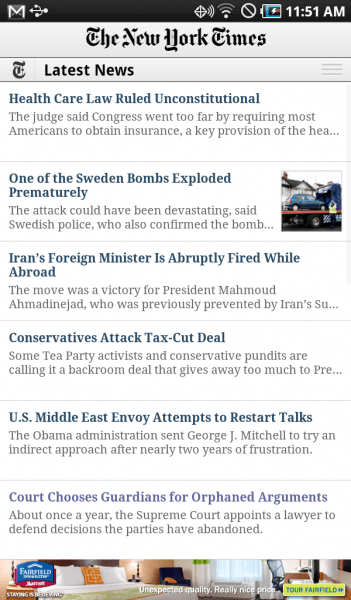 Wall Street Journal (A-)
WSJ is the best news app that I've found so far for the Android tablet and Galaxy Tab. It takes advantage of the extra screen size by using sidebars (what's news), photos and traditional newspaper columns. It does a good job of mimicking the print edition. Unlike others digital newspapers, WSJ allows you to choose a specific date — each is a snapshot in time, just like its hardcopy counterpart. Like the web site, a lot of the content is locked unless you're a subscriber, and full screen ads rotate between swipes. Oddly I had to keep re-entering my log-in information which was a pain. Otherwise definitely a great reading experience.
Pulse (A)
I find Pulse too small to be any of use on my Droid, but on the Tab it's a whole different story. And a very good one. This is now my favorite RSS reader. I like the way feeds load quickly with a title and lead photo. I can scroll horizontally to see earlier stories, or vertically to scan across feeds. Adding new sources is a snap and many of the high profile sites — The Huffington Post, The Atlantic, The New York Times — are pre-loaded. Others can be added with a few taps. Stories load quickly and are easy to read.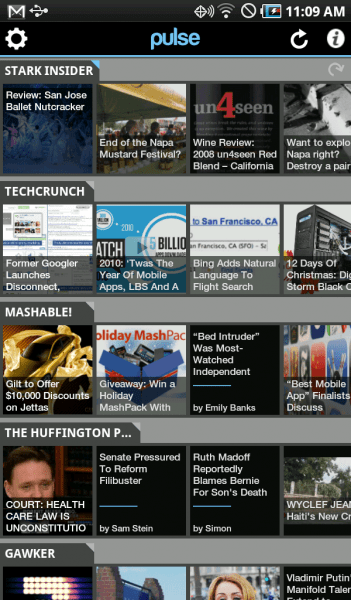 Google Reader (A)
Pulse is good for a limited number of feeds. But if you have hundreds of sources you like to scan then Google Reader, of course, is the daddy. The Android version is fast, well organized and flat-out works. Same on Galaxy Tab. It's a must have.