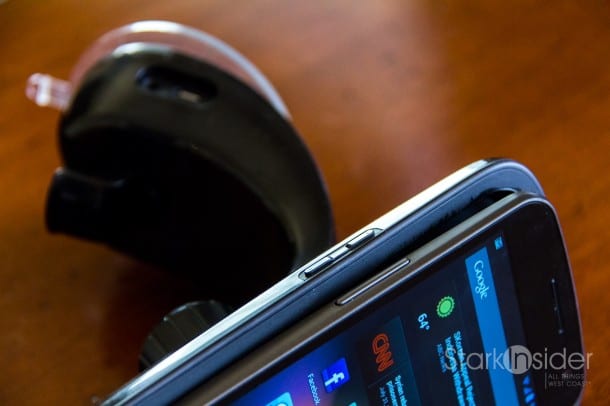 Samsung's Galaxy Nexus is still for sale. But that may change any day, given the patent infringement case now underway in San Jose between Samsung and Google. My advice if you're in the midst of an upgrade dilemma: act fast, snag a Nexus direct from Google. But what about the quality of the accessories? If you're contemplating the vehicle dock and the desktop dock read on for my thoughts.
Those that follow my Android coverage here on Stark Insider will know that I expect the days of two-year contract locks to slowly fade away.
Freedom of choice, and no early termination fees are the order of the day.
In that regard, I upgraded from a Motorola Droid (2009) to an unlocked Google Galaxy Nexus. It's running like a peach on T-Mobile's $30 unlimited data plan.
Beyond the hassle-free ownership that comes along with owning Google's flagship expression of the pure Android experience, comes a smartphone that is chock full of leading edge glory. Jelly Bean (Android 4.1), of course, leads the way and I can say (like so many others) that it's the most refined, smooth, and fast operating system yet. It blows iOS out of the water.
But enough of that preamble then, what about the vehicle dock and desktop dock… are they worth purchasing? There's some mixed results.
Vehicle Dock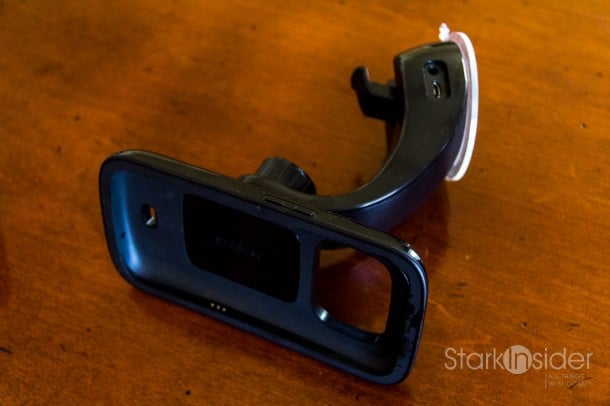 There are two things I like about Samsung's vehicle dock for the Galaxy Nexus (i9250). One is that the micro-USB and audio ports are built in to the base. This means I don't need to do cable calisthenics each time I enter the Prius. It's one step closer to being a properly wired system. The other feature that stood out to me are the — dun dun dun — pogo pins. That's those three gold contacts on the edge of the Nexus. They provide an alternative to micro-USB for charging and syncing. Since they're based on contact, the promise more convenience, and eliminate the hassle of fiddling with a connector.
When I finally received the unit (it was on back-order for a week or so), I was impressed with the built quality. This is one heck of a robust vehicle dock. However, beyond that the design is freakish. Here's why: to mount your Nexus you need to press your Nexus ridiculously hard into a ridiculously tight frame. In the process, things will creak, flex. A final SNAP dramatically indicates the Nexus is in place… but not before you may need to push along the top or bottom one last time. It's not a confidence-inspiring process. It's also time consuming; though your passengers may enjoy your acrobatic talents. I'm returning this one.
Recommendation: Pass.
Alternative: Go for this $6 (including shipping) car dock direct from China via eBay. Yes, you'll still need to connect the cables when you need them, but ingress/egress with this version is far easier. Plus the frame is svelte, fits perfectly, has crazy strong suction. Note: this is for the i9250/HSPA+ version of the Nexus, and won't fit the Verizon model.
Desktop Dock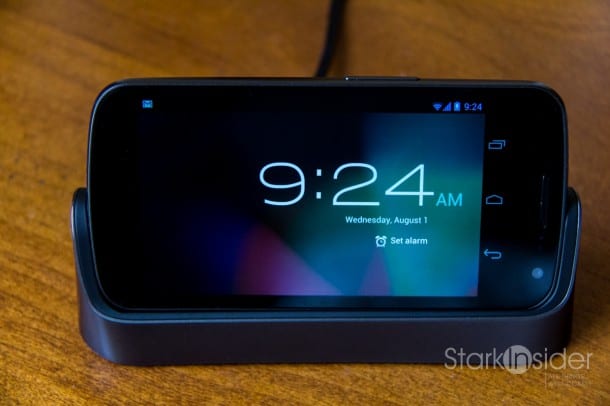 Much better results here. You can use this at your office, bedside or maybe somewhere in the kitchen or great room where you want to easily charge your Nexus. There's not much to this dock. You simply slide in your Nexus and charging begins. The screen will change into clock mode. You can dim the screen with a touch, or let it go to sleep mode on its own. Like the vehicle dock, you'll find Pogo pins once again. Here they work far better. There's no jamming, no force fitting. Instead the Nexus slides gracefully down a small chute and rests on the three gold contacts.
Recommendation: Buy it (Google direct).
Bonus Reco: Case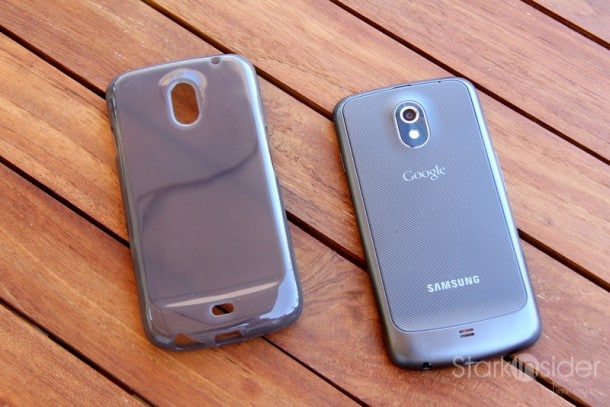 A quick tip on cases. Keep in mind that neither accessory above will work with a case, which means you might want to eschew the idea altogether. I still have one, for those times I'm in a rugged environment, like walking the vineyards in Napa, or covering an action-packed event for SI, like SF Chefs this weekend. Okay, so my definition of "rugged" is suspect; ymmv. In those cases I take the twenty seconds to slip on one of these Diztronic high gloss, flexible TPU case. It's under $10 and fits like a charm. I like that it makes the phone easier to hold, and when the Nexus is sitting on a slippery surface like a desk or counter-top the case adds friction, reducing the possibility of a tumble.
Recommendation: Buy it (Amazon).
So there you have it: 2 out of 3 ain't bad.
One final thought, regarding battery life of the GSM Nexus: it's really surprising me. I loathed the endurance of the Verizon version when I tested it here for SI last December — calling it "woeful." Possibly the absence of LTE antenna, or additional tweaks by Team Google – whatever the reason, this Nexus actually is respectable when it comes to battery life.