Berkeley Repertory Theatre announced today it has released apps for iOS and Android. Relishing the thought of combining three of my favorite passions — theater, wine, tech — I immediately took a break from work, poured a Napa Chard, and hit up the Google Play Store and downloaded the (free) app onto my brilliant and unlocked Google Galaxy Nexus Android.
Does the app deserve a standing O?
Close. It's a great start, and as far as I can tell the Berkeley Rep is one of the first — maybe even the first, though I don't know for sure — to release such an app in the Bay Area. There's enough content here to keep it interesting.
On the main screen you'll, not surprisingly, immediately see a banner advertising tickets for the 2012/13. Below that there's a small feature (Chinglish). The remainder of the home page on the app is a combination Twitter and RSS stream, a convenient way to keep up-to-date on what's happening — I mean, aside from visiting Stark Insider ten times per day that is. Besides, who knows when you'll need a box of magnets.
Click on "Shows" on the nav bar at the bottom and after a brief load screen a schedule of performances comes up. You can buy tickets via the app and I found the checkout process intuitive – I liked that I didn't need to exit the app to enter payment details and complete the transaction.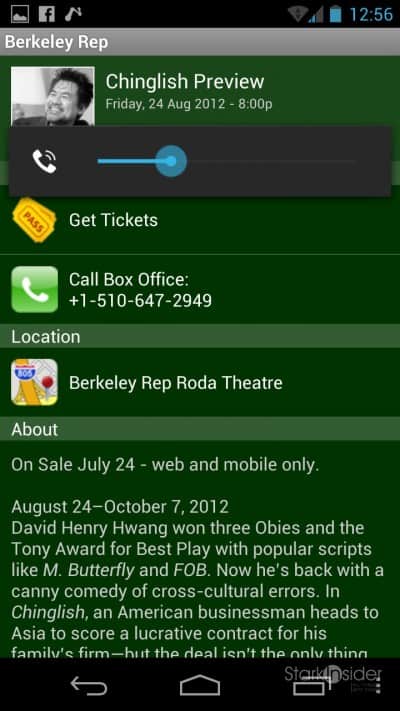 Videos and photos are available too. Clicking on "Chinglish at Berkeley Rep" pulled up a YouTube video of the effervescent Tony Taccone intro'ing the "hysterical" play.
There's also a considerable amount of handy, static content including: parking information, listings of nearby restaurants (though not listed here, try California Sushi around the corner), and a concessions menu (Raymond Chard is $7).
The app itself is actually made in partnership with a company called InstantEncore. I wish I had come up with this idea; it's a turnkey solution for arts organizations looking to build web sites and/or mobile apps. Given the typically huge expenses associated with running these kinds of projects (I budgeted and spent $70K a few years back when I ran marketing for a Japanese software company; and that was only considered a mid-sized project). Others using the service include London Philharmonic Orchestra, San Diego Opera and the New York Philharmonic, among others. InstantEncore has signed up a quality group of customers, and that now includes Berkeley Rep.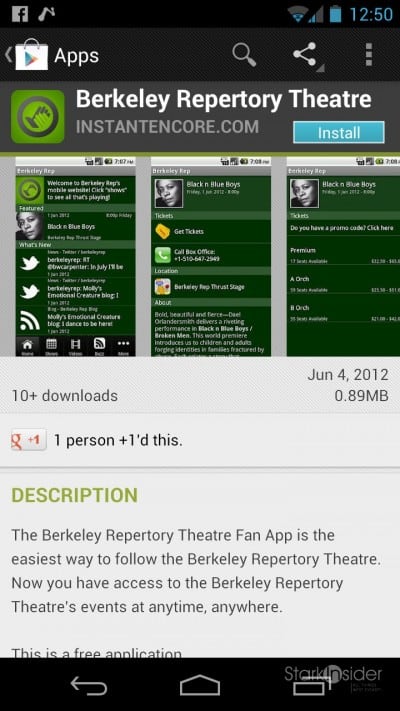 Ever curious about business models, I discovered the company prices the app according to the size of the theater. This segmentation makes sense. By their definition, a small theater is one with a budget of $1-10M, medium $10-30M, and large anything over $30M. I can just hear some of the smaller houses in the SF Bay Area calling out for a "micro" tier. Pricing is (smartly) subscription based and ranges from $2.5K to $10K per year. As I said, why on earth didn't I think of this?
Berkeley Rep app. 4.5 out of 5 stars. Bravo!
Download: Android via Google Play Store, iOS via iTunes.
Kickstarter: Android vs. Theater

Brief aside regarding San Jose Rep's Kickstarter project that I mentioned yesterday. Artistic director Rick Lombardo is trying to raise money to build the sets for their upcoming production of The Death of the Novel (maybe Twitter should sponsor it?), and turned to crowd-sourced funding as an alternative to (or likely in addition to) traditional methods.

Kickstarter is on fire (why didn't I think of this site?). In tech it's fueled many an entrepreneurial vision. To me at least, the idea of using it for theater is new. And an interesting one to follow.

But this is the kind of world we live in…

You may have heard of OUYA. It's the name of a would-be video game console based on Android, which of course is Google's open source operating system used to power smartphones and tablets. The organizers' goal was to raise $950,000. Quite ambitious. Their campaign recently ended. Final tally? $8,596,475 from 63,416 backers. Yep, America loves to game.

By unfair comparison, the Rep is trying to raise $15,000. Current status: $3,250 (that's up a few hundred from yesterday) from 34 backers.