There will be schmaltz. Even the characters in TheatreWorks' Upright Grand, a sentimentally staged world premiere by Laura Schellhardt, are in on it. Early on at the Saturday opening at the Lucie Stern Theatre, "Pops" (Dan Hiatt) and "Kiddo" (Renta Friedman) have their own sparring match about what constitutes schmaltzy. An aging bar-star pianist, Pops writes music overflowing with emotion ("It's okay to cry!") and will do anything to see his virtuoso daughter make it big in the world of classical music. Kiddo is a teen rapscallion ("Life is crap!"), reluctant to stoke her inner talents, but keen to spend more time with her father. Their shared love for music binds — and stresses — their relationship over the course of a lifetime. Those that see this play may see themselves up there on that stage, and, yes, shed a tear or two. Maybe "it's sentimental, not schmaltzy" after all.
Live music, and its pantomime presentation, sets Upright Grand apart.
"Juilliaaaarrrd" as spoken with lips pursed, corners downward.
Thanks to Brett Ryback's effortless accompaniment, the theater is almost constantly awash in various piano styles. They gently carry the storyline with pieces such as "Moon River", or one by Chopin or Beethoven, or even half-finished opuses written with the local watering hole in mind. The trick is the "air piano." While the other two actors pretend (with suitable flare no less) on shell pianos, Ryback, also on stage, actually performs the numbers. At times it can be smooth, fluid. At others, like when Kiddo heads off to Juilliard ("Juilliaaaarrrd" as spoken with lips pursed, corners downward), the creative juices don't flow as smoothly; the keys of the piano become staccatos of anger, frustration. When words fail, communication between father and daughter is often best nurtured with an arpeggio or two.
WATCH: "My" world premiere performance in 'Upright Grand' at TheatreWorks (Video)
What would you sacrifice for your child's success?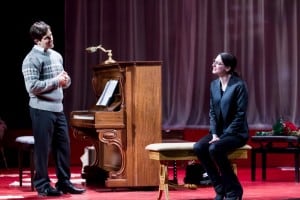 When Pops stops by Juilliard to wish his daughter well, he's given a impromptu lesson in what it means to live a "little life" to make way for a big one. It's an entertaining scene. Here is a father expecting to give a simple farewell to his daughter being admonished by a bespectacled, tightly wound Russian (Brett Ryback, who quickly transitions to a number of impressive supporting roles). There's an undercurrent of hard truth in the words, though, that gives the play edge; it dovetails nicely with a scene later — "What have I done!?" — that caught me off guard, but one that I won't reveal. Instead, the question of sacrifice remains. And all of its ramifications.
In pursuit of perfection, I felt the play had a few minor issues. The opening scene between the teenage Kiddo and Pops felt overly long, even after establishing the foundations for the two characters. And I thought there was room for one or more musical scenes involving the adult Kiddo, especially as she began a life of jet-setting to concert halls across Europe
MORE SF BAY AREA STAGE: Review: 'Les Misérables' opens at the Orpheum (plus photos!)
At the end of the show, I came away impressed with what just three actors can achieve. Schellhardt's script feels incredibly authentic in their hands. Her words are achingly genuine and never trite; especially those of Kiddo who I suspect bears more than a passing resemblance to herself, having grown up around the family piano. Along with the weaving of interesting musical selections, and a story that steadfastly refuses to let go of our hearts, TheatreWorks showcases what's possible when playwrights, new material are given attention, resources they so often deserve.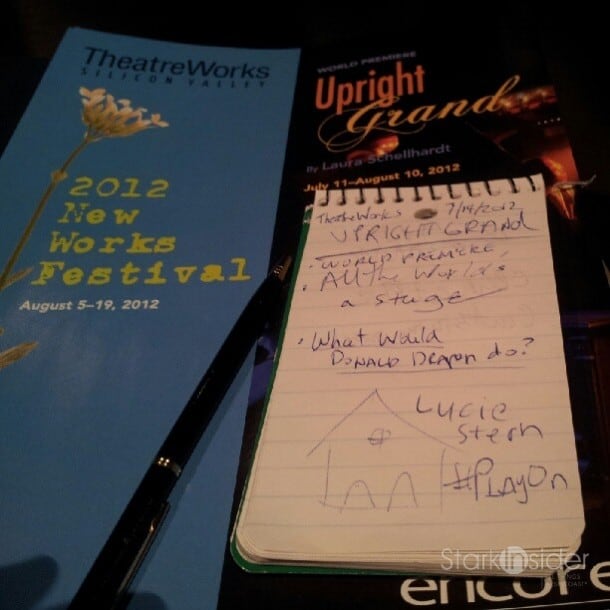 Purse your lips, downward, say it with me "Juilliaaaarrrd" RT @StarkInsider: Theater Review: 'Upright Grand' https://www.starkinsider.com/2012/07/theater-review-upright-grand-theatreworks-silicon-valley-palo-alto.html #PlayOn

— Clinton Stark (@clintonstark) July 16, 2012