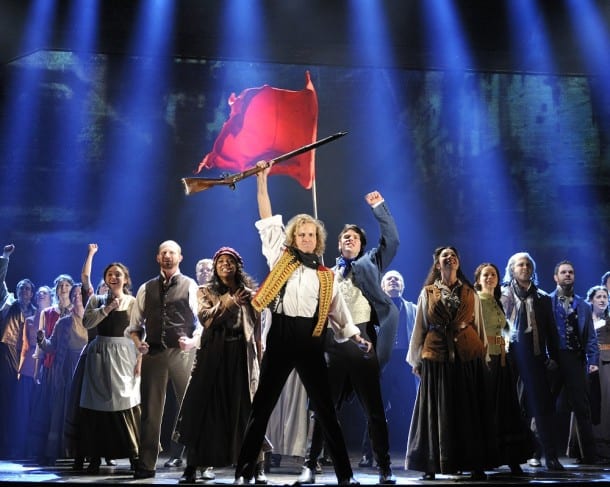 If the crowds in the Orpheum are any indication, we won't be losing our fascination with Les Misérables any time soon. Unabashed sniffles came from all over the audience during the death of Fantine (Betsy Morgan) and outright gauffaws met almost every scene involving the Thenardiers. There were no reluctant legs springing up for the standing ovation that followed.
The audience response is almost as fascinating as the material itself. I could suggest that this speaks to the politics of the show: almost everyone I know, regardless of age, places themselves behind the barricades with the students. However, something more obvious is happening:  an excellent script, an powerful score, a sensitive libretto, stunning sets, and actors whose lungs just don't give out give rise to those shows that 25+ years later show no sign of getting old.
The audience response to CATS and Les Mis reveals that we're not all American Idiots.
Part of this can be attributed to the material itself. Like CATS, which is taken from a series of TS Elliot's poems, Les Mis is also derived from a literary jewel, the Victor Hugo novel of the same name. In relying upon such source material, producer Cameron Mackintosh avoids the contemporaneous quality of Next to Normal, American Idiot or other blockbusters. I may be proven wrong, but it's unlikely that the staying power of these shows is anywhere near the same league. That's OK, because these ephemeral productions remind us of where we are. However, we also need theatre that speaks to larger truths. In that sense, the audience response to CATS and Les Mis reveals that we're not all American Idiots.
MORE SF BAY AREA STAGE: Custom-made Shakespeare: 'Merchant of Venice'
This particular production brought few surprises. With its lavish sets and large cast, it has much in common with the huge productions such as My Fair Lady and Oliver that no one can afford to mount any more. The new touches were largely technical. The trademark rotating stage was replaced with sets that folded in on themselves. Javert's (Andrew Varela) suicide off the bridge was done by suspending Varella so the audience sees him dropping into the darkness. The integration of video during the chase scenes in the Paris sewers added much to the overall production values. As an odd note, only a snippet of the song "Little People" was performed, making it seem like a gratuitous add-on. However, since this song never fit well in the overall production, this may have been a smart approach.
My only nit is a small one. Betsy Morgan's voice just didn't have the power needed for I Dreamed a Dream. This minor flaw is easy to overlook, as she brought the audience to tears in her performance of the less strenuous song, Fantine's Death.  This nit aside, the show delivers one stunning performance after another by Peter Lockyer (Jean Val Jean), Shawna M. Hamic (Mme. Thénardier), Briana Carlson-Goodman (Éponine), Timothy Gulan (M. Thénardier) and Andrew Varela (Javert).
Les Mis will be on stage at the Orpheum through August 26th.
Les Misérables

4 out of 5 stars – 'Smashing'

SHN Orpheum, San Francisco
July 10th – August 26th

Producer – Cameron Mackintosh
Composer – Claude-Michel Schonberg
Herbert Kretzmer – Lyricist
Alain Boubil – Author & Dramatist
A musical based on the novel by Victor Hugo

www.lesmis.com
IN PHOTOS: Les Misérables
Visit the new Stark Insider Facebook page for even more photos from the show!