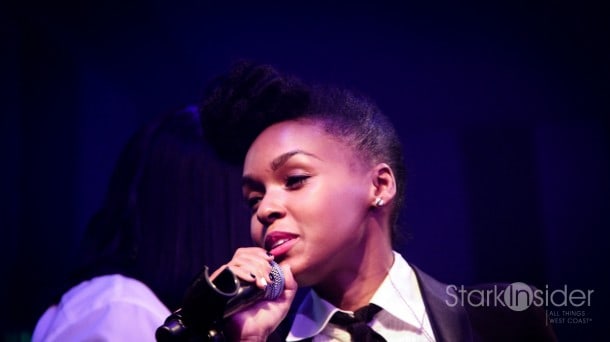 UPDATE 6.3.2012 11:22pm PT: thanks to Alex Page, a violinist for Janelle, for the correction regarding the in-house strings and horns section (#archorchestra) of which I wrongly reported were part of the SF Symphony. They were simply superb. Here's to live — non lipsync, non auto-tune, non backing track — performances:
@clintonstark great article on janelle!But the strings and horns are her own in house #archorchestra. Just a heads up! Thanks for jamming!

— Alex Page (@AlxPage) June 4, 2012
Janelle Monáe lit up a small stage at San Francisco Symphony's annual Black & White Ball last night in what can only be described as an astounding exhibition of raw talent. The performance, which featured a stellar in-house strings and horns section, robot shades, a Jackson 5 tribute, stunning dance moves, and a dash of James Bond, is not likely to be forgotten any time soon by those fortunate enough to be in attendance.
Some may describe Janelle as a mash-up of Madonna, Michael Jackson and Rihanna – with a sprinkle of Billie Holiday added for good measure. Later I realized all of those comparisons are absurd. She is wholly original; a one-of-a kind entertainer that combines exciting dance choreography with a compelling mix of R&B, Jazz, Soul, and Pop. That pompadour (which on this evening required at least one minor repair), photo-perfect smile, and Grace Jones vibe (sans height) doesn't hurt either.
As I inched my way closer to the stage last night, I was increasingly able to capture Janelle in action as seen in these photos and video. I wondered how many Red Bulls it took the 26 year-old to unleash such an unbridled explosion of energy. "Cold War" could be the title track to a James Bond film –  "This is a Cold War / You better know what you're fighting for." Later she covered "Goldfinger" in what I found to be the only less than perfect delivery. Shirley Bassey's deliver of "Gold… fingaaaa!" is pretty hard to top, let alone equal. Janelle appears most in her element when she's belting out her own material, like "Tightrope" where her Fred Astaire-like/R&B moves thrill. Regardless, this is what authentic live performance is all about: no auto-tune, no backing tracks, no video stunts.
WATCH: Janelle Monáe, Live in San Francisco
After the cacophony of the encore subsided, and the electrified crowd headed back to Van Ness for more live performances — Cyndi Lauper was reaching the end of her outdoor set with below par renditions of "Time After Time" and "Girls Just Want to Have Fun" before a large, adoring crowd — I couldn't help feel that what we just witnessed was something truly special.
Big names captured the majority of headlines at this event: The Wallflowers, Paul Simon, Notorious, the aforementioned Cyndi Lauper, among others. But Janelle's performance was one for the ages. Years later those who were there, singing along, hopping up and down manically, or — like me — taking in the sights in a perpetual state of slack-jawed amazement, will look back and "remember when". It doesn't happen often: when the ingredients for an electric, momentous concert conspire to create something truly epic. I remember in the early 2000s, Depeche Mode did exactly that at Shoreline Ampitheater in Mountain View.
You've likely seen Janelle Monae on YouTube. I can assure you (and I'm quite certain many more before me have already done so) that she's the Real Deal. This, I learned, only one studio album into what I hope is a long (Britney busting) career.
As fireworks exploded into the foggy San Francisco night, and lasers emblazoned "100" across City Hall and the Davies Symphony Hall (a sight to behold), one more thought crossed my mind: Why — in this world of one-dimensional, record studio-backed diva wannabes — isn't Janelle Monáe more famous?
IN PHOTOS: Janelle Monáe, Live in San Francisco