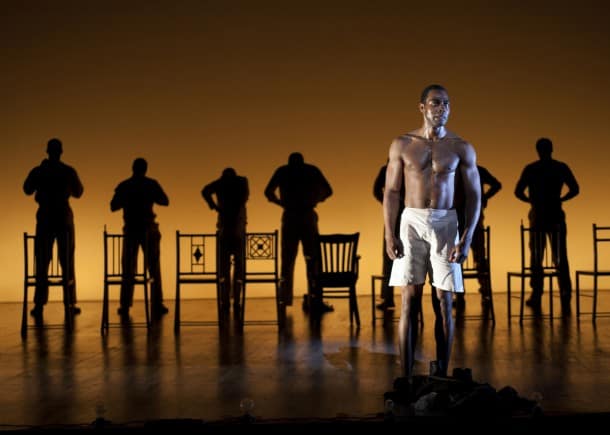 The Scottsboro Boys is based on an American tragedy that saw nine black boys (ranging in age from twelve to nineteen) falsely accused of raping two white girls in 1931 on a Memphis bound train. In the South, lynch mobs arose. The nation was transfixed as one trial after another divided those who were quick to suggest presumed guilt was a result of their looks against those who appealed for a fair trial and justice, in spite of long standing prejudices.
Perhaps most interesting — and, in addition to its Minstrel format, likely a strong reason why the musical only played a few months on Broadway — is this show's juxtaposition of racial tension and intolerance with incredibly energetic, happy dance and song. Should we be laughing, smiling, celebrating? Or should we be recoiling in disgust; that's our country, that's us, that's our shame… and it happened  just one generation earlier. This is not Phantom or Wicked where we know what we're getting. But making us squirm is precisely why The Scottsboro Boys works so well. It's a formula we've seen in cutting edge, modern day entertainment such as Mad Men, American Idiot and, if we consider lopsided sensationalism as the ultimate barometer, even Fox News.  In the end, after seven years of trials and appeals that resulted in two landmark U.S. Supreme Court decisions, the tortured journey of these boys paved the way for the civil rights movement. And after Rosa Parks refused to move to the back of the bus, this country would thankfully never be the same again.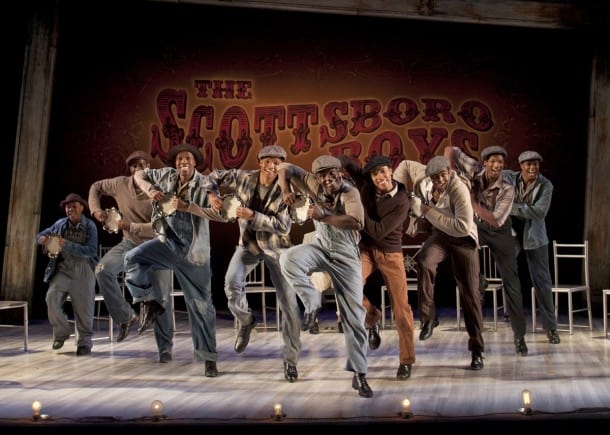 It's for all these reasons that A.C.T.'s decision to choose The Scottsboro Boysto close their 2011-12 season is a real zinger. It's not often you see a musical here. Though many productions feature song, and rich orchestration, the pure musical format is a rare entry. In true A.C.T. fashion the staging is minimal, with three large, industrial sets of angled beams framing the stage. Chairs are virtually the only prop the actors rely on to creatively create a train, a jailhouse, a courtroom bench, and an electric chair, among others.
Should we laugh or recoil in disgust? This is not Phantom or Wicked where we know exactly what we're getting.
Eighteen musical numbers are interwoven with a rapidly paced narrative that belies the show's 2 hour running time (no intermission). "Commencing in Chattanooga" sees the boys arriving on a train, in search of jobs, dreaming for what may be. Innocence is quickly lost when they're greeted by corrupt sheriff Bones (Jared Joseph), and his deputy, Tambo (JC Montgomery). Not soon after two white woman accuse all nine teenagers of rape in "Alabama Ladies" where one "negro" after another allegedly thrust themselves onto them. From there things quickly spiral downward. A hasty trial takes place. Found guilty by an all-white jury, they're sentenced to death. Meanwhile, outside the small Alabama courthouse the nation is up-in-arms.
Based on a book by David Thompson with music and lyrics by John Kander and Fred Ebb, the material pulls no punches. We hear about "Jew money" from New York. We get blackface (though the performers are black; they also play the Alabama Ladies!). We get edgy humor – "What do you call a black boy in an electric chair?" And, in one of my favorite moments, we get a marvelous english lesson in how to learn the alphabet, inspired by the female form ("I like big Bs!").
If these teenagers had no identity as they performed ensemble in costume, kibitzing with the audience during the opening number, by the end we know each of their stories, aspirations. Haywood Patterson (Clifton Duncan) says "no!" that "You Can't Do Me" and ultimately dies in prison. A guard suggests that what matters is how — if! — he'll be remembered. Indeed history has spoken.
This may very well be the most talented cast recently assembled at A.C.T. Each actor is a triple threat, bringing deft skill in singing, dancing, and acting. A dynamic, lush 9-piece orchestra is icing on the cake.
Lessons in American history are another reason why I love live theater. Recently Bloody Bloody Andrew Jackson at San Jose Stage gave us a pop-culture fueled look at our seventh President, a real rock 'n roll hipster. A few years back, Berkeley Rep staged a remarkable marathon production of The Great Game: Afghanistan. And with The Scottsboro Boys at A.C.T. once again I found myself surfing the Internet hours later to learn more, thoughts and opinions swirling in my mind.
Do yourself a favor, make friends with the truth: see this triumphant musical.
"I like big Bs!" Make friends with the truth, see this @ACTSanFrancisco -> Review: 'The Scottsboro Boys' https://www.starkinsider.com/2012/06/review-scottsboro-boys-act-san-francisco.html #PlayOn

— Clinton Stark (@clintonstark) June 29, 2012