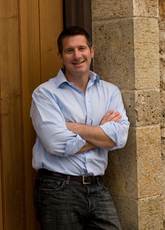 Organizers today announced that Francis Ford Coppola Winery's winemaker, Corey Beck, has been awarded the André Tchelistcheff "Winemaker of the Year" Award by the San Francisco International Wine Competition.
The competition evaluated 4,556 wines from over 1,300 wineries.
"Best of Varietal" winners were awarded in 28 different categories in 2012 (see complete list below).
Because Coppola wines showed best overall across all varietals, Beck was bestowed with the prestigious title.
The medal count included 202 Double Gold awards (a wine is elevated to Double Gold status when all judges on a particular panel agree that a wine deserves a Gold medal), 363 Gold medals, 1,358 Silver medals and 1,613 Bronze medals. The competition saw a 9% increase in wine entries from last year. Big gains were seen in the Cabernet Sauvignon submissions, as well as in Viognier, Rosé, and Sangiovese Blend categories.
IN PHOTOS: On Location: Dry Creek Valley, Sonoma
Director Anthony Dias Blue said,"The growth of this competition highlights the strength of the wine industry, its diversity and global impact with 29 countries submitting. It's exciting to feel the pulse of the wine industry through the views of our judges and the entries from our wineries."
WATCH: Searching for Obama at Duckhorn Vineyards, Napa Valley (video)
The San Francisco International Wine Competition, the largest, most influential international wine competition in America, is judged by a panel of nationally recognized wine experts. Judging is based on a blind, consensual procedure, ensuring competitive integrity as it remains the nation's most respected wine competition.
San Francisco International Wine Competition 2012 Winners

BEST CHARDONNAY

Five Rivers 2010 Chardonnay, California, $11,

BEST SAUVIGNON BLANC

South Coast Winery 2011 Musque Clone Sauvignon Blanc, Temecula Valley, $14

BEST VIOGNIER

Honey Moon 2011 Viognier, California, $6

BEST PINOT GRIS

Kenwood Vineyards 2011 Pinot Gris, Russian River, $16

BEST RIESLING

Maryhill Winery 2011 Riesling, Columbia Valley, $10

BEST WHITE BLEND

San Antonio 2010 Heritage Blanc White Blend, Central Coast, $19

BEST GEWÜRZTRAMINER

Vinařstvi Libal 2011 Select Gewürztraminer, Czech Republic, $14

BEST MOSCATO

Cameron Hughes 2010 Lot 319Moscato, Sori, Italy, $14

BEST BRUT

Champagne Nicolas Feuillatte 2004 Vintage Brut, Champagne, $46

BEST CABERNET SAUVIGNON

Parallel 2008 Estate Cabernet Sauvignon, Napa Valley, $125

BEST MERLOT

Summers Estate Wines 2009 Summers Ranch Reserve Merlot, Calistoga, $30

BEST MALBEC

Alamos 2009 Seleccion Malbec, Mendoza, $20

BEST PETIT VERDOT

Ingleside Vineyards 2007 Petit Verdot, Virginia, $20

BEST CARMENÈRE

Locomotora 2010 Carmenère,  Curico Sagrada Familia Vineyard, Lontue Valley, $10

BEST BORDEAUX BLEND

Kestrel Vintners 2008Raptor Red Premium Bordeaux Blend, Yakima Valley, $60

BEST NON-BORDEAUX BLEND

Crush 2010 Red Blend, VQA Niagara Peninsula, Canada, $13

BEST PINOT NOIR

Lawson's Dry Hills Wines 2009 Pinot Noir, Marlborough, New Zealand, $23

BEST ZINFANDEL

DePaola Vineyards 2008 Zinfandel, Arroyo Grande Valley, $30

BEST RED RHÔNE BLEND

Hearst Ranch Winery 2009 Three Sisters Cuvée Red Rhône Blend, Paso Robles, $20

BEST SYRAH/SHIRAZ

Gatt 2010 Old Vine Shiraz, Barossa Valley, Australia, $103

BEST PETITE SIRAH

Stanton Vineyards 2009 Petite Sirah, St. Helena, Napa Valley, $4

BEST GRENACHE

Alexandria Nicole Cellars 2010 Grenache, Destiny Ridge Vineyard, Horse Heaven Hills, $35

BEST TEMPRANILLO

Bumgarner Winery 2008 Tempranillo, El Dorado, $27

BEST ROSÉ

Pech Merle Winery 2011 Ivy Rose of Syrah, Dry Creek Valley, $17

BEST ICE WINE

Seifried Estate 2011 Riesling Ice Wine, Nelson, New Zealand, $25

BEST LATE HARVEST WINE

Navarro Vineyards 2011 Cluster Select Late Harvest Muscat Blanc, Anderson Valley, $50

BEST SHERRY

González Byass NV Palo Cortado Leonor Palomino Sherry, Jerez, Spain, $20

BEST SAKÉ

Okunomatsu NV Shizukuzake Juhachidai Ihei Daiginjo Saké, Fukushima, Japan, $60

BEST LABEL – SERIES DESIGN (DOUBLE GOLD)

Telish Winery 2010 Merlot, 2010 Merlot & Cabernet Sauvignon Blend, and 2010 Cabernet Sauvignon, Bulgaria, design by Philip Popoff

BEST LABEL – INDIVIDUAL DESIGN (DOUBLE GOLD)

Dearly Beloved 2009 Forever Red, design by Stranger & Stranger

VML 2010 Pinot Noir Limited Release, Russian River, design by Stranger & Stranger

Predator 2010 Old Vine Zinfandel, Lodi, design by Mark Dolin
RELATED:
Francis Ford Coppola to auction off rare wines
Francis Ford Coppola acquires historic Inglenook name, appoints new winemaker
A Day in the Dust – '08 Rutherford Cab tasting report