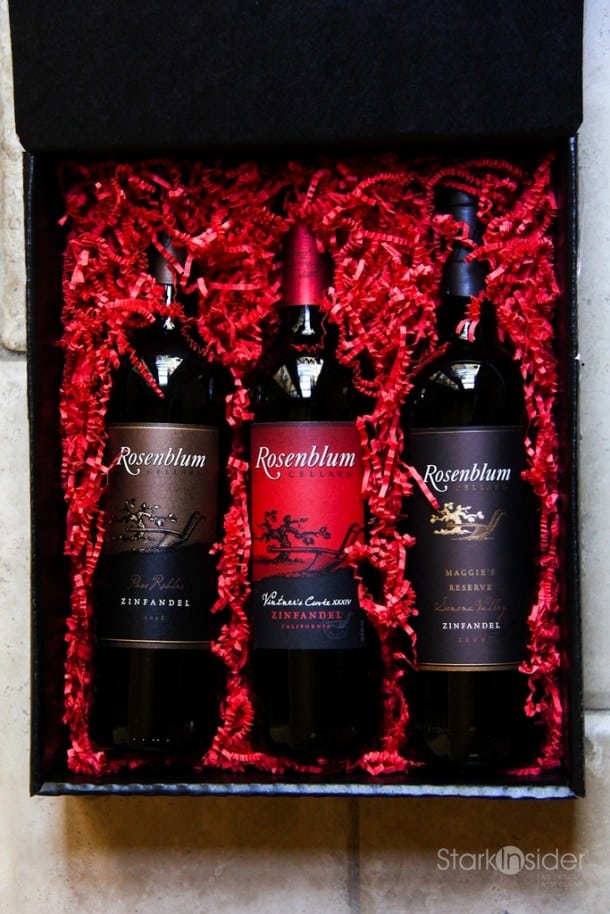 Photo of the day is this trio of Zins sent to us by Rosenblum Cellars (Alameda). Sumptuous presentation; it's as if they know BBQ season is almost upon us. I'm likely not among the originals when I suggest that zesty grilled chicken is an agreeable partner for the spicy, fruity notes of the Zinfandel varietal.
Look for the reviews shortly, where we'll pick a favorite.
I've actually not been to the Rosenblum tasting room before, but I understand it's atypical because of its urban location (a ferry ride across from San Francisco). That's not completely uncommon. But when I picture tasting rooms I'm usually thinking of that artsy barrel room at Turnbull, or the gorgeous stonework inside the barn at Ehlers Estate or the floating-on-cloud-nine view one gets at the modern (and also artistic), glass lined Artesa tasting room in Carneros. Speaking of glass, if you get a chance don't miss the cutting edge architecture at the newly built William Selyem tasting room in Sonoma – you could do (far) worse too for Pinot!
About that Zin grape, in a word: robust. It's planted in about 10% of the vineyards here, and is known as California's grape. According to Wikipedia, the zinfandel grape was first planted in Oak Knoll vineyard just north of Napa in the mid-1800s. Hence, those storied old Zin vines you read about; photos of their knotty, twisting branches are fascinating, and a perfect excuse to hang some vineyard art around the home.
While we're on the topic of wine and art, don't forget to stop in to San Quentin. #YOLO.