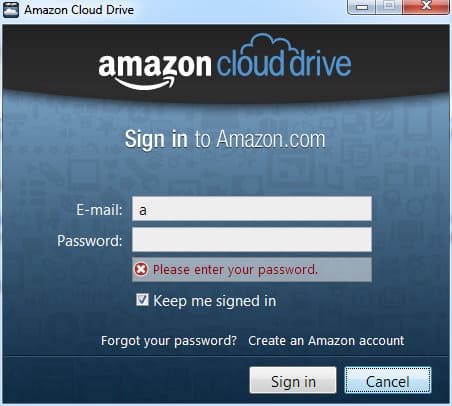 Amazon already had a big consumer cloud play (and an industry leading enterprise play with Amazon Web Services), including storage services and a cloud storage locker with iOS and Android apps designed specifically for music (it works great).
The one thing Amazon did not have was a desktop app. As of today, it does.
The app freely downloadable via Amazon for Windows and Mac is called Cloud Drive. A 25MB install, the app is an attempt to catch the likes of Dropbox, Microsoft SkyDrive, and Google Drive by integrating your computer's file system with the cloud.
I gave Cloud Drive a spin on a Win7 box, and here's the quick take:
— installation feels  instantly familiar; download the 25MB installer, minutes later you'll see (yet another) cloud icon in the lower right of your Windows desktop, or upper right menu bar of your Mac OS X desktop
— like we see with most of these cloud services, the opening screen introduces us to the main features via a short slide tour
– double-clicking the cloud doesn't do anything – that's a negative in my books; the same action on SkyDrive or Dropbox opens the home folder
— oops, Amazon is down…
— okay, back up
— in fact there is no folder concept with Amazon Cloud Drive – right-clicking the cloud brings up 5 options, none of which provide for folder access on the desktop: Open Cloud Drive web site, Get more storage, Options, Help, Exit
— hmm, Amazon is still down
— to be continued… (meantime, back to Google Drive)
UPDATE: it's back up
— you get 5GB free with Cloud Drive
— as before, purchased Amazon Mp3s are stored free and do not count against your quota
— 20GB costs $20/yr, and plans scale all the way to 1000GB for $1,000/yr.
— so far I'm not too impressed – this doesn't stand apart from SkyDrive with its excellent Office integration or DropBox with its best-in-class file syncing
— I do like the fact that MP3s are stored free, but that's been the case for quite some time now
— Clearly this is not a business offering – consumers should check it out, but SMB/Enterprise will continue to shortlist DropBox, SkyDrive among others