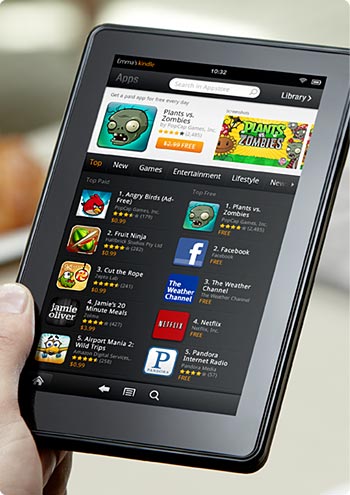 Amazon has at least partially cracked the code when it comes to challenging Apple's tablet hegemony. We now know that, per Comscore's latest report, the Kindle Fire nearly doubled its share of the Android tablet market, jumping impressively from approximately 30% in December to 55% share by the end of February.
Hands-down the Fire is the number one Android tablet of choice, easily besting the Samsung Galaxy Tab, Asus Transformer Prime (my favorite), and any incarnation of the Motorola Xoom.
Late last year I predicted the Amazon tablet would sell like hot cakes and become that season's Cabbage Patch doll. While I wasn't spot on with my timing, the Kindle Fire is selling extremely well.
No doubt, the Apple iPad is still King; holding 55% overall share of the tablet market according to IDC. But it may surprise some that Android, thanks to Amazon's marketing prowess, is finally making inroads.
So then, why is the Kindle Fire succeeding where other iPad rivals have failed?
At 7-inches it's smaller, different
How do you differentiate yourself against the iPad? One way: be different when it comes to size.
Instead of going with the defacto 10-inch display, Amazon chose a smaller, more portable 7-inch form factor for Kindle. If you want larger, then go iPad, but if you like reading books (and that's a bet Amazon is comfortable making) then chances are this size will satisfy.
Content!
Amazon and Apple (and maybe Google) have the advantage of massive content arsenals. Neither Samsung, Motorola nor Toshiba, as traditional hardware players, can match them without resorting to non-integrated partnerships that negatively impact the overall experience.
No carrier commits
For $199 you're free and clear. Yes, there's no 3G/4G, but the idea of buying a tablet directly from Amazon, supported by Amazon, and filled with content by Amazon is apparently a simple, no-nonsense proposition for many.
Kindle is a recognized and trusted brand
Bezos and company have done a clever thing here. They've drafted off the Kindle brand, a brand that has achieved significant mindshare over the past few years. By using it as a wedge to gain a foothold into the larger tablet space, they've brought consumers something immediately recognizable.
It just works
Many have complained about the crippled Android experience on the Kindle Fire. I suggest those buyers are trying to do more with the device than intended. For us that prefer more power, and the pure Android tablet experience there is always a plethora of other choices out there. In terms of mainstream sales success chasing power alone misses the point. This is about picking up a Kindle Fire, turning it on and being able to read, to listen, or to watch with minimal fuss – there's no overclocking dugouts here.
Bonus: Price
A sixth reason is price, though probably obvious. At only $199 via Amazon direct, the Kindle Fire is less than 50% of the entry $499 Apple iPad.
Notice any conspicuous absences from this list?
There is no mention of quad-cores. Of super-wicked-wowza AMOLED HD displays. Of Ice Cream Sandwiches.
Simplifying the consumer experience — and communicating it to us in layman's terms — could be the biggest lesson here when it comes to ratcheting up sales. And that Amazon knows extremely well.