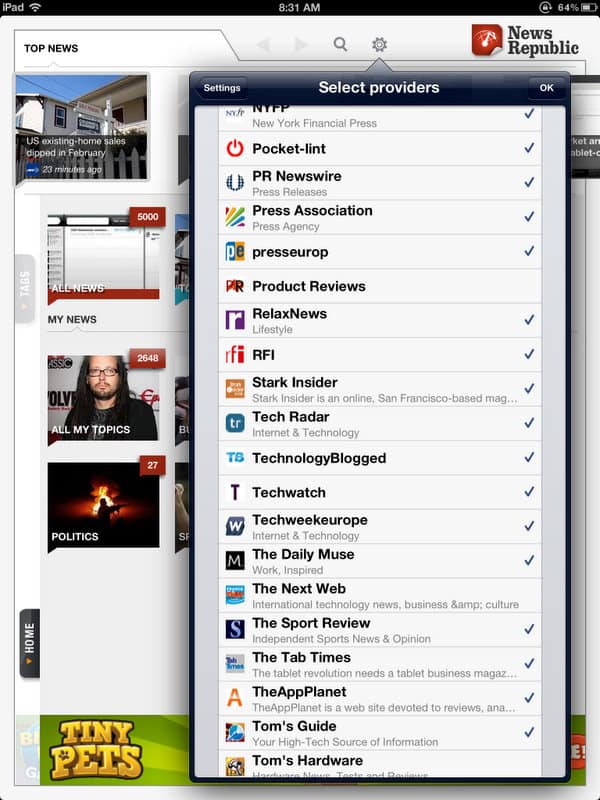 It's been a wild ride for Team Stark in 2012. We're growing faster than I ever imagined, and our heads are spinning with the speed at which this market is moving. Two brief, somewhat related announcements.
Mobiles Republic has landed $3 million in a series A round from XAnge Private Equity and Creathor Ventures.
If you have an iPad, iPhone or Android, you probably recognize the name. Their news aggregations apps — News Republic, Appy Geek, Glam Life — are among some of the more popular in a crowded, fast growing field that includes Flipboard, News360, Zite, and many others. In several regions, Samsung Mobile, Lenovo, Motorola and Sony Ericsson pre-load their apps onto handsets.
I'm told they're generating 100 million pageviews per month. Not exactly chump change, and further evidence that consumers are consuming media on-the-go.
Second announcement: Stark Insider has signed a syndication deal to be a content partner for Mobiles Republic.
Load up News Republic on your iPad or Android and give us the once over.
As a new media/publisher guy I'm somewhat apprehensive, but willing to embrace the fact that web sites are morphing. Once destinations in their own right, web sites are playing second fiddle to content that is omnipresent. Be it Twitter, Facebook, or plain old RSS feeds, people (myself included) often prefer to read curated content, aggregated content or recommended content via friends and family. Apps are king; Readability, Read It Later allow us to clip favorites and read them on a tablet. Services such as Pinterest are giving the web a visual makeover. Google News–in many ways the original aggregator–mashes up headlines, forever shifting attention away from editorial tone. That's not to say web sites aren't still important. For us, we need to drive pageviews to drive advertising revenue. Same old, same old. When I decide to pour that same content into a mobile app I worry. There is a revenue share component to the deal, typical of so many other content partnership arrangements; how it will play out I'm not sure. I do know that those that stagnate and don't try new things, die on the vine. So I look for new ways to expand readership, pageviews, video views. At the same time, I'm all too aware that the market is fleeting, and it's important to proceed in a managed way. Aww, heck, let me just put it like this, as my former Japanese boss used to tell me, "Yes, you don't!"
We're thrilled to be part of the Mobiles Republic network. VP Todd McKellar told me that they'll use the new funds to "aggressively compete and accelerate our growth."
Stay tuned, there's much more to come.
Download News Republic, take Stark Insider to go

  

News Republic: Download the app (free) on iTunes, Google Play Store