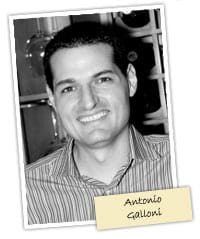 A must-read wine article has just landed. And it's not in Spectator or the Advocate, though it's worthy of those, maybe even the NYT.
Courtesy of Wine Enthusiast writer/taster and established wine blogger (consider the bar raised) Steve Heimoff of whom I'm a long-time lurker, the piece in question is actually an interview. Antonio Galloni, California heir official to wine maestro Robert Parker, is the subject, and for those who want insight into what's going through the mind of now one of the wine world's most powerful players would do well to give Steve's 3-part series a once over.
Why the brouhaha surrounding just one guy?
Well, for one, The Wine Advocate for which Galloni writes, is widely considered the de facto standard for wine critique. A Napa Cab can rapidly earn superstar cult status thanks to a positive score on its vaunted pages. So when a transition takes place — one no doubt that will be followed by a transition in wine styles by winemakers trying to appease a different palate, however inconsequentially different — people take notice. And seismic change like this doesn't come around often. In fact, there really is no precedent here. Which is why I consider what Steve has done with his interview to be somewhat historic.
Of particular interest are the questions around blind tastings. Does Galloni taste blind? I won't spoil the drama, and give away the answer. Instead take a read at SH for the interviews, part 1, part 2, with part 3 apparently coming tomorrow.
More Stark Sips:
On influences during the criticism process, I say it's impossible to avoid them.
For one simple reason: we are all human.
If one day machines can be programmed to taste like living, breathing, fallible beings then that may change. Meantime, our mood (life sucks / life is great!), the environment (this is crappy weather / holy California sun!) and place (not Trader Joe's again / wow Harlan Estate!) make all the difference. So does time itself. I'm convinced our palates evolve over time. What tastes sophisticated, layered to us today (Etude, say) might come across as wonky, acidic years later. It might explain why I'm so into Chardonnay these days. Years ago I would've thought the idea cuckoo for cocoa puffs.
I also firmly believe that if you don't like a particular varietal (for me, muscat), then it's difficult to write/critique it effectively.
While I unfortunately don't have near enough time as I'd like to make the wine blog rounds these days (I'm a fool for 7/24 content generation for this site, among others I run for BLG) when I do get a spare sec I surf on over to steveheimoff.com (generally solid, though perhaps overly crusty at times wrt social media, though I can appreciate the skepticism), Fermentation (I almost always learn something from Tom's insider perspective- with one caveat being the hyper-focus on shipping laws; okay got it lol) and, increasingly, Mike Steinberger's The Wine Diarist, an intelligent, keenly written blog (though sometimes overly earnest in its attempts to be important, regardless…).
And… tear down the ridiculous wine walls constructed with !!! , hyperbole, military-like overtones…
Good writing is good writing is well formed opinion is well formed opinion. Regardless of source. So it doesn't matter if a writer writes for WS, WE or TWA… or two-buck Blog, or on Tumblr, or on WordPress. What matters most is the content. I'm not a fan of this silly notion that (a) Heimoff's tattoos; (b) age; or (c) measured counterpoints to the social media circus are reasons to dismiss what he has to say. To those that spend time, energy and effort taking him to the sabre, may I suggest that you instead contribute to the wine conversation with your own well formed thoughts. Just because you can tweet shit, doesn't mean it's worth shit. This is Sparta!!! No. It's not. It's you hitting up the social networks with exclamation marks, after two bottles of wine au naturale.
Uh oh, maybe I'm speaking from experience. Okay, I'm ranting. Geez, and I'm originally from Canada. Sorry 'bout that.
Now read the Antonio Galloni interviews. Just two months in, 2012 is already an interesting year for wine.