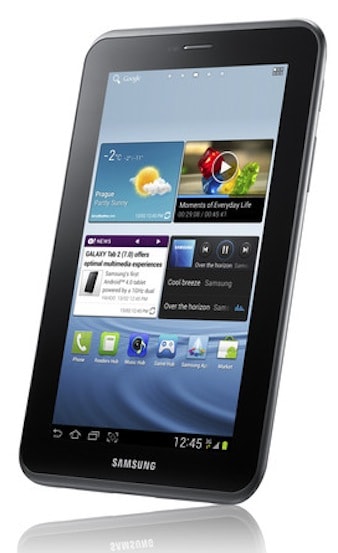 Great news for those of you who have not made the jump for an Amazon Kindle Fire, or other 7-inch Android tablet. Samsung's follow-up to its original Tab looks like a lightweight, svelte winner. Announced this morning, the Samsung Galaxy Tab 2 will ring in at a fairly reasonable $350 (for the base 8GB model).
Featuring a dual-core 1GHz processor and a 7-inch display with a 1024-by-600 pixel resolution, the Tab 2 will come in three models – 8, 16, 32GB – with all running the widely lauded Android 4 OS.
A microSD slot is included, and on-board cameras are rated at 3GB rear, VGA (boo) front.
Thanks to a 4000 mAh battery, the Tab 2 should last for up to 39 hours. Color us impressed to the Maxx…
One bit of a downer is the inclusion of the often-maligned Touchwhiz interface. Such is the life of an Android vendor trying to differentiate their offering in a crowded marketplace. Regardless, the inclusion of Ice Cream Sandwich is the big news here, and aside from the Nexus, there really aren't any other off the shelf tablets or smartphones running Google's latest and greatest OS.
The early verdict?
Based on paper, the Tab 2 is obviously not an Asus Transformer Prime. Then again it doesn't carry the price tag to match, and you can easily slip this in a small handbag. The slim packaging (0.41 inches  thick, 0.75 pounds), should appeal to those looking for a portable tablet who aren't convinced by the somewhat underwhelming Amazon Kindle Fire.
More Stark Tech & Silicon Valley
Of course we'll know more when we get a tester. If you said this looks like a Tab Plus Plus, we wouldn't disagree. There's not a whole lot to look at here, but we do like the idea of a name-brand manufacturer, Android 4 and $350 price point. That's a compelling value prop.
Look for the Samsung Galaxy Tab 2 in March. Look for iPad 3 also in March…