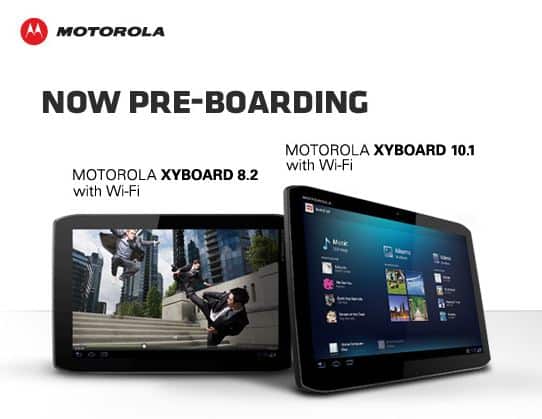 Motorola today announced it is now accepting pre-orders for its Xoom successors, the Xyboard 8.2 and Xyboard 10.1 tablets. Both will ship with Gingerbread (Android 3.2) – likely to soon see upgrades to Ice Cream Sandwich – and are powered by dual-core 1.2GHz processors.
Unfortunately, I'm still not convinced that these tablets will succeed (5 reasons why Xyboard will flop).
But, that doesn't mean die-hard Androids like myself won't appreciate this hardware. I recently tested both units and found them above par; I'd even go so far as to say that the 8.2-inch model could make for a worthy (and more portable) successor to the Samsung Galaxy Tab 10.1 – a tablet that goes with me on every single trip. Tip: want your next coast-to-coast flight "fly" by in no time at all? Take one of these tablets along… movies, music, e-books, offline news browsing (and online galore if you're lucky enough to have a wi-fi enabled flight)… it makes traveling a pleasure, and productive when need be too.

One thing I can really appreciate about the Xyboard is the untainted Honeycomb experience. After Samsung's latest update, us tab users were left with crude cartoonish navigation icons (back, home, multi-tasking, screen shot); they look like they're designed for grade schoolers – "this – over here – is a house!" I much preferred the somewhat Matrix inspired of the default Gingerbread set, and as far as I can tell there is no way to revert to the stock Android Gingerbread theme. This perhaps another quiver in the arrow against (or for?) a Google controlled, non-fragmented user experience.
My biggest disappointment with Xyboard stands:
Price. It's too high.
The 8.2-inch Xyboard goes for $399, while the 10.1-inch version goes for$499. Those are both wi-fi, non contract models.
At those price points I don't see mainstream America buying in.
Value buyers will go for the bargain priced $199 Amazon Kindle Fire. Those looking for more power and larger display will go for an entry iPad 2 for the same amount of money.
Where does that leave Xyboard?
Same place Xoom was: In no man's land.
That's unfortunate, especially since these are dubbed as "next generation" tablets.
If Motorola launched these at 40-50% less we'd have a news story, and a possibility of a hit. As it stands Xyboard offers neither a differentiated experience nor the value price point to make it compelling to the majority of consumers. That, of course, doesn't stop me from wanting one — at least until the Transformer Prime ships.
Preorder:

Motorola Xyboard 8.2

Motorola Xyboard 10.1