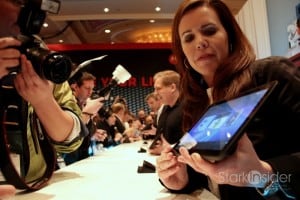 Motorola is dumping the "Xoom" name as fast as possible.
Back in the roaring Januaries of 2011, the Xoom was hot, hot, hot.
I remember tossing a glass of Motorola house white, so I could scramble to the demo area at a press event at CES. The Xoom was a photo hog; it loved the limelight. Unfortunately it was also a bit piggish as far as tablets are concerned: chunky, slow, messy (though the November refreshes were an improvement). The Samsung Galaxy Tab 10.1 (my current favorite) is far sexier with a thin design even besting iPad. This month Asus is launching the slick Transformer Prime hybrid tablet (with optional dockable keyboard) that is generally regarded as the Android tablet to beat, and likely future of tablet design (will Apple respond with an "iPad Air"?)
So I completely understand Moto's desire to wipe themselves clean of the Xoom fiasco. It's not quite at PlayBook levels of desperation (another CES star), but it's fair to say it underwhelmed.
Their reboot, the Xyboard, should change all that…
Should.
But it won't. Unfortunately.
Too bad because Motorola can do far better. The original Droid (November 2009) was a smash, and really pushed the smartphone envelope. So, too, does the new Droid RAZR. It seems as though Moto knows smartphones, but not tablets.
First, for the spec-lovers: 10.1- or 8.2-inch Gorilla Glass display, dual-core 1.2 gigahertz processors, 1 GB RAM, LTE 4G, 5MP rear/1.3MP front camera, Gingerbread only at this point, available with 16, 32 or 64GB (10.1 only) of storage.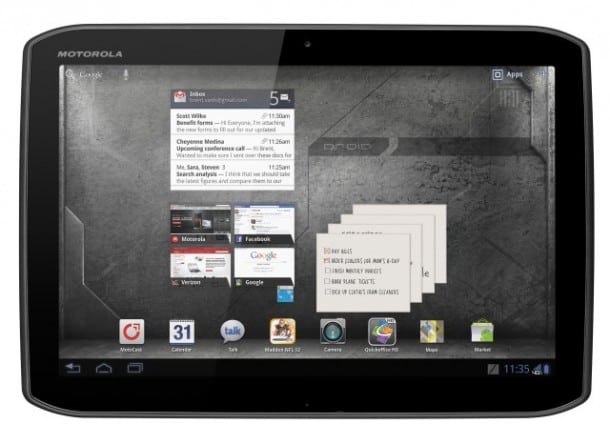 Now, here's the problems with the "new" warmed-over tablets:
1. They're rebadged Xooms. Who's fooling whom? It didn't work the first time, what makes Motorola think it'll work again, especially with the likes of the awesome Asus Transformer Prime?
2. Honeycomb.
3. Samsung Galaxy Tab 10.1 is better in just about every way, and is cheaper.
4. Amazon Kindle Fire. $200.
5. Where's the Apps? This, of course, is the bane of Android tablets in general. No, please don't convince me otherwise. The iPad is all over Android when it comes to (quality) apps. Let's park ego at the fanboy door, and admit what's fair: iPad has better tablet apps than Android. Okay?! Yes? Feel better? No… me neither.
The Xyboard already flopped. It was called the Xoom.
Which leads me to my final point: Specs do not win a market. We all know it and yet we all fall into the same trap time and time again. I drool too at specs. Then, I find myself underwhelmed or surprised. Why is the Tab 10.1 lagging? It has Tegra 2. It has awesome processing power. It's too cool for school. Yes, I still think it's a solid tablet, and fun to use. But there's a difference between pleasing us spec mongers, and winning market share.