Apple iPad 2 is an obvious choice if you're willing to spend over $500. But there are some excellent alternatives if you're doing some tablet shopping, and need some help making a decision. In fact, some models we recommend here can even best iPad. It all depends on your budget and what you expect out of the device.
In this special tablet round-up, relaxed holiday edition, we have 3 top picks, all under $400. Yet even though these are priced upwards of 60% less (in the case of the Amazon Kindle Fire) than the entry iPad model, they don't scrimp on features, display quality and overall fun factor.
Better still, all the tablets mentioned here are brand new models, introduced in 2011.
Another requirement to make our best of list: no contract. You won't need to sign-up for a two-year commitment with a carrier such as Verizon or T-Mobile. Many readers have told us they prefer wi-fi, since they primarily use the tablet around the home. We agree.
1. Amazon Kindle Fire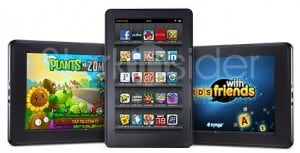 The big news this year was Amazon's entry into the tablet race. Based on Android, the Kindle Fire is a feature-packed powerhouse. A 7-inch display makes for convenience… easy to grab and go. This is the one we'd recommend for reading, and for general purpose internet applications such as email and web. A couple of things set Fire apart from the competition. One is it's deep integration with Amazon. No surprise there. If you do like to shop on Amazon, be it for music, books, movies, etc. then you'll appreciate this capability. On the other hand, if you're not into the Amazon ecosystem, then this would not be a good choice. Also, bear in mind this is not the full-on Android experience you might get from something like a Samsung Galaxy Tab 10.1. At $199, though, Kindle Fire is an outstanding bargain, earning our top holiday pick. Check the price and availability on Amazon.
Why we like it: Seamless integration with Amazon makes buying content a breeze, Android OS proven and reliable, can't beat the price.
Good for: Reading, gaming. Ideal for the coffee shop.
Heads up: Some reports of sluggish performance. Silk browser decent, but not as fast as other tablets.
2. Samsung Galaxy Tab 7.0 Plus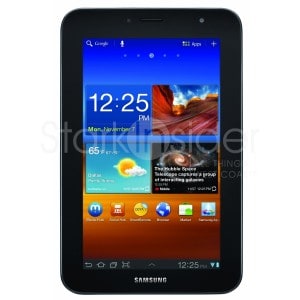 This would be the one to get if you want the pure Android experience. Specs are impressive: dual-core processor, 16GB memory, weighs only .76 pounds, Android Honeycomb operating system, wi-fi, front and rear facing cameras. You'll get a lot of mileage out of this tablet. In our tests earlier this year, we were mightily impressed with how apps like The New York Times, Wall Street Journal, and Facebook rendered on the gorgeous, bright display. A microSD slot is a plus, giving you the option to expand memory as needed. It's worthy noting that this one is a snappy performer. If you need speed, then you'll need to pay for it. At $399 the Tab 7.0 Plus is less than the iPad, but more than the aforementioned Fire. So it really comes down to, once again, purpose. If multimedia is high on your list-streaming Netflix or Hulu for instance- then the Tab 7.0 Plus could be the perfect fit. Best price I could find online is $399 for the 16GB model.
Why we like it: Full blown Android experience works great on 7-inch tablet. Powerful processor reliably handles video, multitasking without laginess. Samsung build quality, and slim design.
Good for: Power user. A do it-all-device. Portable, on the go computing.
Heads up: For $100 more you could get an iPad, but you'd sacrifice portability.
3. HP TouchPad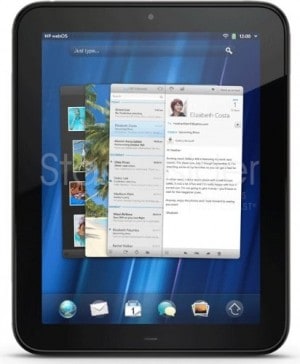 This pick might be slightly controversial. HP famously discontinued the HP TouchPad mere weeks after it launched. That's too bad. It's a well designed, easy-to-use tablet. Fortunately, you can still get one. There's enough apps out there to do all the essentials, like email, web browsing, gaming, etc. So if you want a larger tablet (the TouchPad features a 9.7-inch display) than the other two choices here, this could be worth considering. I found limited quantity available on Amazon and last I checked there was still limited inventory, currently going for $279 new. An excellent deal for a state-of-the-art tablet that could also be a collector's item. Either that or a happy/sad reminder of the greatness of WebOS.
Why we like it: WebOS is beautiful and a joy to use. Large, vibrant 9.7-inch display. Beats Audio gives music impressive kick.
Good for: Surfing on the couch, checking emails, browsing family photos.
Heads up: HP discontinued the product (though there is word it could make a comeback in 2012).