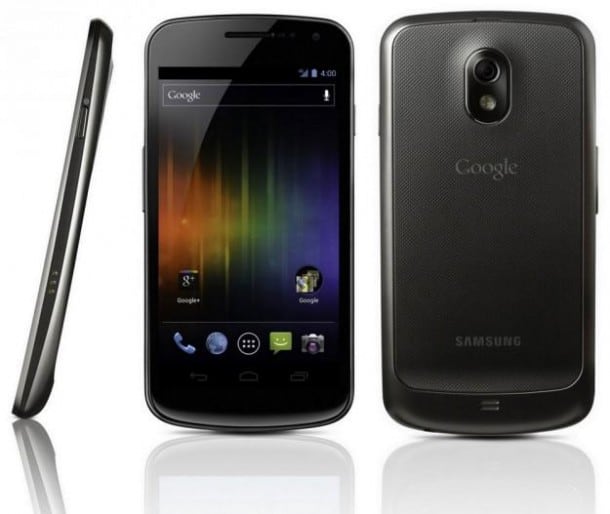 Frantically searching for a last minute for the perfect smartphone gift? It can be a head-spinning ordeal, what with all the models, the features.
We're here to spread good cheer, and help you get the job done with a round up of some of the best cell phones, and best wireless plan deals. Just in case, we've covered the big four carriers: Verizon, AT&T, Spring, T-Mobile. Whether you're upgrading an existing subscriber, or buying a new plan, these are some of the hottest smartphones and deals going around. Best of all, you can make your purchase via Amazon, from the comfort of your home- sans crowds, or parking throwdowns. Joy to the World!
A few quick points about these five picks.
All except the iPhone run 4G, the newest wireless technology which provides incredibly fast Internet speeds. This means photos, videos, web pages will download in a jiffy. Top tech pundits are raving about the results, and if you want to "future proof" your gift, 4G is definitely something to consider. On the downside, because of the new technology (and investments the carriers need to make to roll out the associated infrastructure upgrades), the newer phones can be more expensive- still most here are about $200 or less, which is quite reasonable given their power.
Also, note: Battery life is generally decent and able to get the phone through a typical work day. However, surfing a lot on 4G, watching a lot of streaming videos, and running simultaneous social networks is a sure fire way to see these devices run out of charge in only 6-7 hours. Fortunately that would not be typical use, and the trade-offs in power/speed are well worth it.
1. Samsung Galaxy Nexus (Verizon Wireless)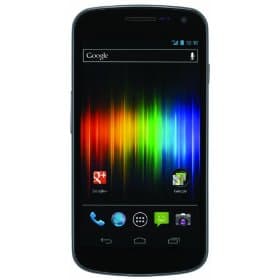 Nexus is currently the darling of the Android smartphone set. Stylish, super-fast, powerful. Hands down, this is the phone to get for the technophile. It's the only new phone that can be bought running Google's brand new operating system called Ice Cream Sandwich (Android 4.0). The new OS dazzles; it can go toe-to-toe with Apple's iOS on iPhone thanks to a gorgeous display, slick widgets that allow you to customize the desktop and a potpourri of class leading features (face unlock, near field communication, fast switch multi-tasking).
More on Android 4.0: 10 Things You'll Love About Galaxy Nexus and Ice Cream Sandwich
Why we like it: Runs Ice Cream Sandwich (Android 4.0), Google's powerful, beautiful new operating system. Flagship Android smartphone with large 4.65-inch display, curved glass, and lightweight design.
Buy for: The tech set who ride the leading edge.
Price: $189 (Verizon Wireless) via Amazon Wireless (note: Nexus sells for $299 retail).
2. Motorola Droid RAZR (Verizon Wireless)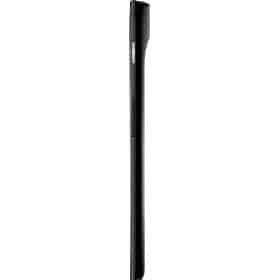 Another dazzling pick. Motorola rebooted its famed RAZR brand earlier this year with this impossibly thin Android smartphone. Only 7.1mm thin and sporting a Kevlar backplate, the new RAZR doesn't sacrifice on features either. It runs Android 2.3, includes a highly-rated 8MP camera, a striking 4.3-inch Super AMOLED display.
Why we like it: Thinnest Android smartphone. Robust Motorola build quality.
Buy for: Anyone who values design; fans of Architectural Digest.
Price: $169 (Verizon Wireless) via Amazon Wireless (note: upgrades for existing customers are $229).
3. HTC Evo 3D (Sprint)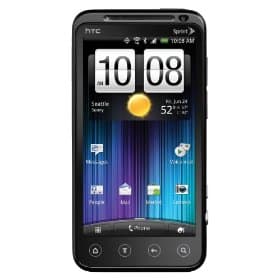 For only $50 you get 4G speed, a 4.3-inch display, and even 3D! With a built in hotspot feature, EVO can also share a high speed internet connection with other devices such as a laptop, MP3 player or tablet. HTC is a highly regarded leading manufacturer of Android handsets; their "HTC Sense" user interface overlay adds many additional bells and whistles, including a handy clock/weather widget (see photo above).
Why we like it: A steal. And HTC quality.
Buy for: Fans of 3D video (you can stream in 3D with this smartphone).
Price: $49.99 via Amazon Wireless.
4. Apple iPhone 4S (AT&T)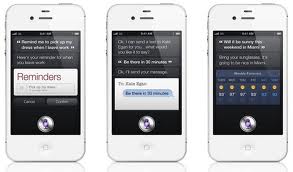 "What is the meaning of life?" For many it's Apple's iPhone 4S. Siri, the much hyped and revered voice recognition feature introduced with this model, might have a different answer: "42".
Why we like it: King of Apps.
Buy for: The mini Steve Jobs in your life.
Price: Starting at $199 via Apple web site (or at an AT&T or Verizon store).
5. HTC Radar 4G (T-Mobile)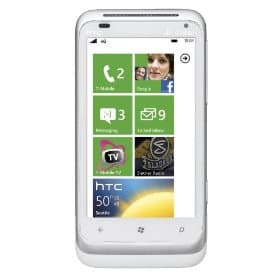 Changing gears a bit, this well-rated HTC handset runs… (gasp) … Windows Phone 7.5. Microsoft's mobile OS is tile-based and is universally lauded for its ease-of-use and elegant design. Compared to Android and iOS, you will sacrifice App selection- though the most important and useful ones are there.
Why we like it: Windows Phone 7.5 is elegant, underrated.
Buy for: Anyone you don't want calling with setup questions.
Price: $199 via Amazon Wireless.