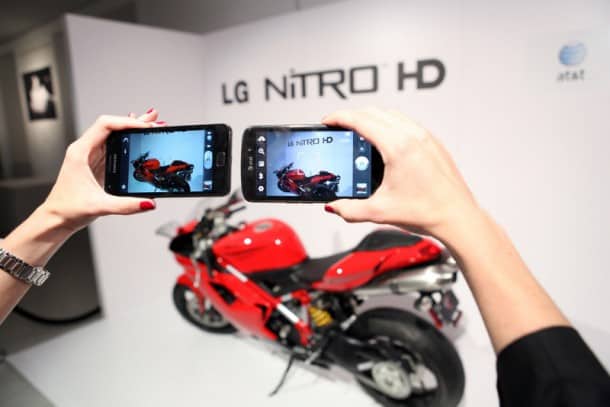 While us OG Androids (circa Nov 2009) wait for ICS-packing Samsung Galaxy Nexus, the Snuffleupagus of smartphones (does it or does it not exist?) to hit Verizon in the US, there are many other tempting offers. Many have told us they've already upgraded to an HTC Rezound (decent, the beats are the thing) or Motorola Droid RAZR (better, thin is in).
Since patience continues to wear thin around the actual release date of Nexus, other carriers are trying their best to steal away Verizon loyalists. It could be a tall order, especially for those (like myself) that are grandfathered under the unlimited data plan–that all but assures I'll stick with Verizon.
Last night LG unveiled its latest offering, the LG Nitro HD running on AT&T's 4G LTE network.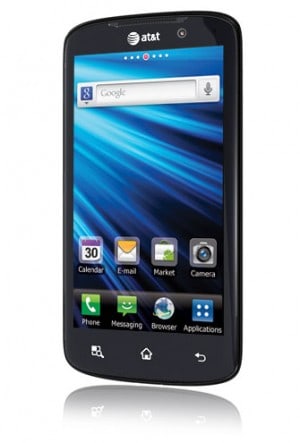 Spec-wise, it's a familiar deal: 4.5″ display (AH-IPS) with 1280×720 resolution and 500 nits, 1.5-GHz dual-core Snapdragon processor, 8MB HD camera, 4GB internal memory, 16GB microSD, Android 2.3.5. Priced at $249 with two year contract, it's a decent Android. At 329 ppi, the biggest feature LG is pushing is the display. You can see in the above photo Nitro compared to a Samsung S II. It will be interesting to see how it compares to a Nexus–there have been a few mixed reviews out there regarding the Nexus display, though they appear to be in the minority.
Perhaps most importantly–pay attention please Google/Samsung/Verizon–is the refreshing, and drama-free inclusion at Thursday's New York announcement of a release date. December 4 at AT&T stores. Done, and done.
Is it enough to tempt Verizon customers to jump to AT&T?
I say no-way (San) Jose. It's decent, but ultimately weak sauce compared to the current Verizon lineup.
I'm not sure I'd take Rezound, but I'd definitely take a Droid RAZR or Nexus over the Nitro. I'm actually somewhat surprised AT&T didn't snag something more differentiated to woo us Androids coming off 2-year contracts. And there are hundreds of thousands of us. In fact, November 2011 marks the largest ever upgrade cycle of Android smartphone users. The Verizon/Moto/Google launch event was executed brilliantly back then. "Droid Does" was a memorable campaign that shook-up the industry. It was refreshing to have a credible non-Apple alternative.  I still recall popping by my local Verizon store in Silicon Valley. I entered my Google credentials and–boom!–my contacts, gmail, and calendar were synced pronto. It was goodbye BlackBerry 8700c (a great phone) and hello Eclair.
Just like I was expecting, we're starting to hear rumblings of even better Verizon Androids (RAZR MAX?) hitting early next year. That should not come as any surprise, and it's causing me to wonder if upgrading to Nexus is the best move at this point. The Android juggernaut is moving at breakneck speed. Maybe too fast? At least with Apple you can plan your upgrade accordingly. Google, though, seems content to have its mobile OS and partner handset launches happening at seemingly random intervals.
[LG PR: LG Mobile and AT&T Debut Nation's First 4.5-inch True HD AH-IPS Mobile Display With LG Nitro HD]
Stark Smartphone Rankings Dec 2011

1. Samsung Galaxy Nexus / Verizon

2. Motorola Droid RAZR / Verizon

3. LG Nitro HD / AT&T

4. Samsung Galaxy S II / T-Mobile

5. Apple iPhone 4S / AT&T

6. HTC Rezound / Verizon