Elizabeth Olsen is another emerging Hollywood star, trying to do it all, James Franco style: school (NYU/acting), multiple film projects, receiving awards. While Franco survives the ordeal of being trapped under a boulder in a Utah cave for 127 hours, Olsen too showcases her own unique survival skills; not too bad for an actress whose nascent career is enjoying its first lead role in the haunting Martha Marcy May Marlene. And, yes, it's one of those Olsens. Elizabeth is the younger sibling to the twins who rocketed to fame in the television series Full House, and reportedly built a mega-empire. But this is not family TV, and thanks to director Sean Durkin's mesmerizing direction and fascinating cinematography, this independent film is a unique, stubborn, and ultimately memorable film-going experience (review).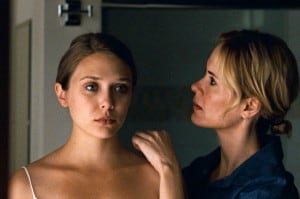 We jumped at the chance to meet up with the starlet (who to my eyes resembles a young Sharon Stone) and headed to Rafael for the premiere at the Mill Valley Film Festival. In this segment of Stark Insider TV, Loni hits the red carpet once again, but under slightly spookier circumstances. Why all the fuss? Why can't we all just be happy together as part of our little "community"?
On what attracted Olsen to the multi-layered role: "It wasn't just the role. It was also the intelligent script that Sean wrote," she explains. "It's a truly original structure and idea, and story to be told."
We also get a sound bite from Durkin himself, now a hot commodity; his direction is most magnificent, and in many ways represents the antithesis of fast-cut, CGI Hollywood. His lens moves slowly, framing subjects as grainy artistic chess pieces. It feels like a 70s throwback without the Tarantino After Effects. I look forward to seeking out his future work.
Also spotted here on the scene is actor John Hawkes who many will recognize from Lost, among other television and film projects.
"Lizzie" could possibly represent fresh air for a town typically regarded as the hotbed for the affected.
"I got lucky that Sean wanted an unknown actress," she says, then confirming that she really had no other jobs at the time.
Welcome to a saccharin-free Olsen.