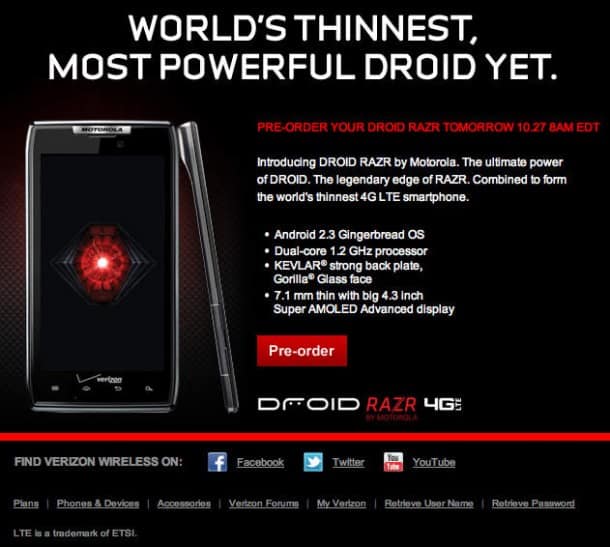 Decision time, Verizon Android upgraders. Will it be the Droid RAZR, Galaxy Nexus, or something else (do not… I repeat, do not mention iPhone 4S or Siri here s'il vous plaît. ¡Gracias, Amigos Míos!)?
Tomorrow Verizon will start taking pre-orders for the tantalizing RAZR on droiddoes.com. I'm tempted, despite the price: $299 with two-year contract. It's the carrier's second dula-core 4G LTE Android offering and it looks like it go the distance and take users through to November 2013 in style, especially if that promised Ice Cream Sandwich upgrade comes through early next year.
Originally I was pretty much going to go Nexus, but after reading this hands-on I'm not so sure anymore. Check out what they say about the display:
The 960-by-540, blessedly not-PenTile-format screen is an absolute stunner. It uses Samsung Super AMOLED Plus technology, Motorola said, but it's higher-res than any Samsung phone we've seen so far. The colors looked almost painted on … This screen is going to sell a lot of phones.
I do like slim handsets – maybe because I'm somewhat tired of the chunkiness that is the original Motorola Droid. It's built well, no doubt, but I seldom use the slider keyboard, and would prefer less of that happiness in my pocket.
Speaking of upgrades, I read today that Google will not be bringing ICS to the original Nexus (2010).
Reason?
Not enough horsepower.
It's a good news-bad news deal. On the upside it means that Google is packing Android with powerful features that require faster processors to run. That likely means slick graphics, sliding panels, 3D, etc.
On the downside, it means — and I hate to reference Microsoft and a certain Windows operating system here… but it's a partially valid comparison — users are forced to upgrade or be left in the dark. Fortunately two year upgrade cycles (if not sooner for us hopelessly addicted early adopters) are the norm when it comes to mobile, so it's less of a hassle compared to the desktop upgrade cycles of yesteryear.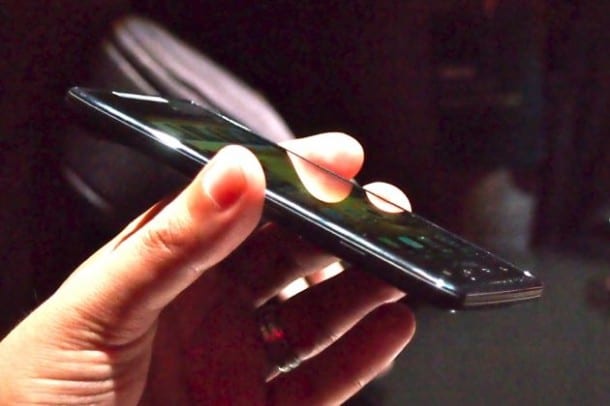 Ah, the upgrade hunt. It's the best part of getting a new phone: the search, the endless online research and Googling, the spec comparisons.
For now, I'm thinking of jumping in with RAZR…
Now time for that ICS announcement, bring on the screenshots – this had better be good.
[Photo: PC Magazine Motorola RAZR hands-on gallery]