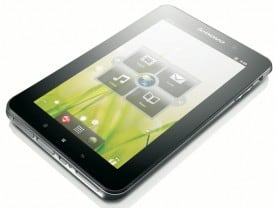 With the wild story that is the HP TouchPad demonstrating that price does matter, it's time for Android tablet manufacturers to take note. And wouldn't you know it, just as I was writing this bit, word comes that Lenovo has introduced a 7-inch tablet for $199. Expect others to follow in droves. And by the time Christmas rolls around, could we be seeing $99 slates next to People magazine at check-outs everywhere?
I wouldn't rule it out.
Apple can charge $499 and up for the iPad and watch people line up across the world to get one for two reasons: (1) premium design; and (2) successful societal programming by Apple that has trained us that it is not so much a must-have device as it is a must-have lifestyle. The whole, and all the marketing that goes along with it – the minimalist aesthetic, the whites, the dreamy ads — is much greater than the component piece-parts.
Android: a totally different story.
It's for the masses of a different variety, available from many retailers and many manufacturers.
Honeycomb by comparison to iOS on iPad is decidedly techy, unpolished, and incomplete. It does show potential, however, sort of like Android on the G1, the first smartphone running Google's OS back in 2008. And we know how that story turned out. Do not underestimate that little green robot, or Larry Page.
But the not-so-secret key to Google's rise in the mobile space is price. Just walk in to any AT&T, Verizon or Best Buy and do a little comparison shopping. iPhone = premium price. Android phones (that mass of look-alikes) = discount price.
Deja vu all over again?
So, when it comes to Android tablets, price could also be key. If we've learned anything from the TouchPad fire sale, it's that price really, really matters when it comes to devices and consumer goods not deemed essential —  like tablets. Price it right, and it will move off the shelf.
Netbooks are a good yard stick. We all know they were underpowered. But they were portable, kind of cute, and almost disposable by comparison to the laptops that cost two-to-three times more. At $199-$299 it seemed like a decent value proposition. Take it to the beach, the cottage or Europe; just don't type on it too much, or run Premiere Pro. Android tablets need to go the same route. With Amazon's tablet foray near, price will become a huge focus.
Back to that $199 Lenovo tablet…
It's called the IdeaPad A1 and runs Android 2.3 ("Gingerbread") which I've found to be under-rated when it comes to small tablets (it's quite serviceable on the original 7-inch Samsung Galaxy Tab for instance). The A1 runs a single-core Cortex-A8 processor. It will reportedly run for up to 7 hours. Really, though, there's nothing here we haven't already seen, except for that tantalizingly low price point.
To recap:
End of 2011 will be remembered for its massive tablet price war.
2012 will be the year of the shakeout and market saturation. And: Armageddon as well. End of the world for all.
2013… ?