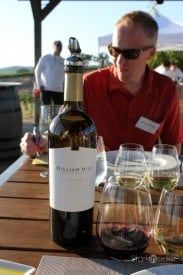 Earlier this week I spent a day tasting through some of the Gallo family's premium Chardonnays. The event featured a "competitive" tasting of eight wines in the morning at the expansive MacMurray Ranch in Healdsburg. Then, after a short stop to at the Laguna Vineyard, we trekked all the way over to the Silverado Trail for another tasting at the panoramic William Hill Estate.
If you don't see me tearing off my shirt and running down highway 29 like we just won the World Cup it's likely because the wines on this day were just OK.
Chardonnay, of course — like Gallo — is equally revered and scorned. It seems that both, at least to some, are too big for their own liking. The noble white grape is the number one varietal in the world. It is planted in more places, and is consumed more than any other wine including Cabernet, Riesling and Pinot. People like drinking it, but they don't like talking (or writing) about it. Also, there might even be a stigma. It's a wine Hollywood types drink over a power lunch at Spago's. In that regard it lacks the cool factor of sexier grapes such as Muscat, Gewürztraminer, or Viognier.
So it was fitting that this Chardonnay tour be hosted by E. & J. Gallo Winery. The family-owned moniker sticks. It is family owned. But not in the five-cowboys-working-out-of-a-pickup sense. No, this is the $3B in revenue kind of family operation; one of the largest, privately run businesses in the world, with thousands of employees. The portfolio includes some 60 brands including Carlo Rossi, Frei Borthers, Louis M. Martini, and Clarendon Hills. It's a play on scale, of course. Just like Constellation Brands. You tuck in the winemaking operation as an independent, then continue to centralize core functions like sales, marketing and operations. For example, Gallo's recent purchase of Edna Valley Vineyard (San Luis Obispo), according to a rep, means that the bottles will need to be swapped out for the corporate standard. Welcome to the brotherhood.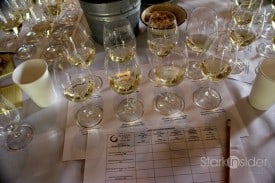 Unlike some tastings I've attended recently where the wine profiles were dialed in tightly (Rutherford Dust at Coppola, and To Kalon at Mondavi come to mind), this one featured wide-ranging styles. Hence the idea of a "portfolio" of product that can appeal to a variety of consumer tastes. If you ever wanted to explore what it means to be an oak-bomb (Frei) versus a steely, flinty austere Chablis style Chardonnay (Gallo Two Rock), this was the perfect time, with the full spectrum of styles lined up before you.
I've highlighted some of my notes, and recommendations below. William Hill was the standout (and their Meritage is pretty darn good too). By far. It could be the German style influence winemaker Ralf Holdenried brings — these ('09 Chardonnay and '09 Bench Blend Chardonnay) feel modern, hip. There is no flabby sensation. These wines don't coat your palate with butter. There is complex fruit, and superb structure which almost makes me think of a refined Riesling. While I'm not about to swap the Grgich or Cakebread out of my cellar, it was a satisfying ending to the day.
Gallo Chardonnay Tasting Round-Up

Gallo Family Vineyards, Two Rock Vineyard Chardonnay, 2008 $28 – Chablis style, almost clear in the glass, light, with some toast on the nose. Apple, and tropical notes. Hi-ho flinty!

Bridlewood, Monterest County, Chardonnay, 2009 $20 – Nice aroma with vanilla, and that unmistakable Monterey vibe. Again, on the austere end, which many will appreciate.

* MacMurray Ranch, Sonoma Coast, Chardonnay, 2009 $20 – medium-bodied. Creamy — with balanced toast, vanilla, fruit — without going oak crazy. Recommended. Good value here.

* Ghost Pines, Sonoma, Napa, Monterey Chardonnay, 2009 $23 – Again the Canadian in me revealed. Another Chard with just the right amount of kick, coming down the middle in the unoaked vs. oaked spectrum. Beautiful in the glass; honey (baby). Apple, pears with toasty vanilla. In other words: balanced, typical Chard. Nice blend. Recommended.

Freis Bros, Russian River Valley, Chardonnay, 2009 $20 – A matter of preference. This is the so-called "oak monster" of the lot. If you like oak, this is for you. Full mouthfeel, but without enough acidity for my palate.

Laguna Russian River Valley, Chardonnay, 2009 $35 – Long finish, perhaps not as crisp as the others. Rich and luxurious – I like the spice. It takes some commitment. Food pairing alert.

* William Hill Estate, Napa Valley Chardonnay, 2009 $24 – My favorite of the day. Sophisticated, and not easily understood on first taste. Layers of spice, apple/pear, and toasty oak notes on finish. Best part is the artful balance; nice acidity keeps everything tight.  Highly recommended.

* William Hill Estate, Bench Blend Chardonnay, 2009 $28 – A drier example. Fruit comes through more here compared to the Napa Chard. Minerality and stone are oft-used descriptors that might not make sense to some. But if you get that style, you'll like this. Recommended.
REPLAY: #GCT11 on Twitter