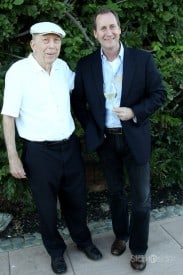 "It's a contender, not a blender!" And as the story goes, in 1961 Jim Concannon and friend Denny Caldwell decided that it was time for the little grape that could, Petite Sirah, to stand on its own.
It was a decision that would forever alter the wine world, even if — like alternative music — it's not a mass market varietal.
Monday evening, the scene was Conncanon Vineyard in Livermore. It was Jim Concannon's 80th birthday, and we were invited along with trade, family and friends to celebrate. To mark the special occasion, that day when a contender was born, the tribute also marked the 50th birthday of petite sirah.
Master of Ceremonies Dan Berger, a distinguished wine columnist and familiar face across Northern California wine events, introduced several speakers during the evening including PS I Love You executive director Jo Diaz, marketing machine Mark Oldman (who impressively was able to mention his book, an old speaking engagement at Aspen Food & Wine, and his "drinking bravely" slogan), and others who told impromptu stories. There might have even been a funny little poke at Robert Mondavi, the late legend, based in that other valley to the west… something about tasting rooms and stretching the truth when the facts were absent (to paraphrase just a wee bit).
Then, John Concannon unveiled a new wine — "Crimson and Clover" — in honor of his Dad, and their Irish heritage. He quipped, "Unfortunately, Dad, Tommy James and the Shondells could not be here tonight, to sing it over and over…"
Once again, there were familiar and friendly faces at our table, some even new – such as the uber social networker Stephen Mitchell, who I was finally able to meet in person after being "friends" for so long on Facebook.
Author Sondra Barrett (Wine's Hidden Beauty) sat to our left, and proved to be a willful sparring partner for doe-eyed Loni's attempts at witticisms and wise-cracks. Fred Swan, of NorCal.com, was also on hand, after having just returned from the Wine Bloggers Conference in Charlottesville — where I hear it was slightly chilly.
As fate would have it, seated to my right was Lisa A. Tromovitch, the vivacious producing artistic director of the Livermore Shakespeare Festival that Concannon hosts on their grounds every summer. Theater in the vines, now why didn't I think of that?
WATCH: Celebrating Petite Sirah with Jim Concannon
PS I Love You, the annual symposium all about Petite Sirah, took place the following day, and featured panel discussions, tastings, and — just guessing! — purple teeth. Last year I wrote about the event and my experience with that lovable little grape: Godfather, can Petite Sirah become the next Pinot Noir?