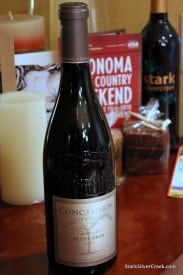 Velvet teeth probably scare most mortals. It happened to me, and it will happen to you, or perhaps already has. Down some Concannon Petite Sirah–juicy, bold, layered. Then go look in the mirror. Or better yet, seek out your spouse or significant other, and give them your best Tom Cruise, cheek-to-cheek, smile-o-rama; this will be easy as you'll have enjoyed every moment with the wine. What will ensue is worthy of a B-grade horror movie. It starts with: Ahhhhhh! Then, what happened to you!
Fair warning, when they say Petite Sirah is dark and inky, they mean it. It may very well be the best anti-mouthwash I know.
My first reaction was, "Does this stuff come off?" If not, I thought, I'd at least have a lifetime membership as an extra in all the local horror film productions. The purple wash results in insta-Zombie; a coating of the teeth that would not win endorsements anytime soon from your dentist. And here I was worried about the staining effects of Diet Coke.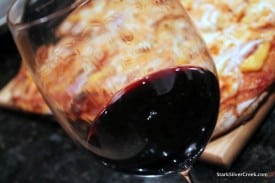 With this Concannon, though, all the shocking reactions are worth it.
Sure, it may require a triple-brush later (and, yes, I learned it does come off), but the flavors and the finish will be most appreciated by those that savor rich wine-drinking experiences. Light, red cherry whiffer this is not.
The finish has just enough vanilla and smoke without getting chalky. Tannins are decent. I could use more even, but that might make it less drinkable on its own.
You drink this with meaning. I kind of like the fact that it scares away mere mortals… those who can be found skulking in the corners, drinking Sauvignon Blanc and talking about flowers.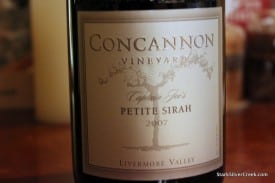 Their pairing suggestions are on the mark: "blackened prime rib or grilled filet mignon."
That is comes from one of the oldest wineries in the land is fitting. In 1908, the grape–a popular choice for Burgundy blends–was planted in these very vineyards in Livermore. In 1961, Jim Concannon released it as the variety "Petite Sirah" (for more on the little grape that could, see Godfather, can Petite Sirah become the next Pinot Noir?).
This wine has quickly become a favorite, and makes me realize there is more to bold wines than just Napa Cabs (not that I'm giving them up anytime soon, Bond-san). Whenever you hear a non-Halloween scream echo across Silicon Valley, you'll know: I'm drinking another Concannon Petite Sirah.

Concannon Vineyard
2007 Reserve Captain Joe's Petite Sirah
90 pts.
Livermore Valley
14.5% alc.
$30
www.concannonvineyard.com
category: wine reviews »