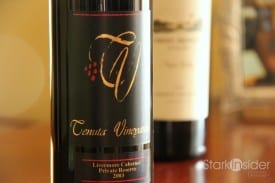 One of the joys of wine (and perhaps to a somewhat lesser degree, sex) is discovering how it changes over time. Joy, in this case, can also mean: surprise, mystery and astonishment.
Grabbing an older bottle of wine from the cellar can be a crap shoot at times, but it can also be the perfect way to learn and appreciate the evolving characteristics of our favorite fermented libation.
So last night I experimented.
It helped that doe-eyed little Loni was traveling. This means, that I (the taster) can brilliantly circumnavigate her (the collector) arduous approval process (i.e. – ten ways to "no" in under 60 seconds). Then again, Loni's collector mentality has resulted in a decently stocked cellar that we've enjoyed over the years. Converting an unused closet (basements are a rarity here in Northern California) was one of the best home improvement decisions we've made (the home theater is still #1!). So while I like to chide her for her hoarding ways, it's on these occasions that I'm thankful I can pull out a bottle and see what's what.
Now, to clarify: no way I'm touching the Harlan, the Scarecrow, Etude, etc. That is wrist chopping territory.  For now, at least, I kept my ambitions in check. So I pull an '03 Tenuta private reserve Cabernet. A what?! Tenuta Vineyards I say… the one up in Livermore. A boutique winery, yes? A few years back we bought some futures. Each bottle was only $25. Now an '05 is going for $48. For the Lonis out there: a 92% return, all things being equal. But of course they're not. Regardless I was curious to see how Nancy Tenuta's vino would fare after a few years of rest. And, yes, before I go any further, I agree: it's a bit of a stretch to call putting a bottle away for a few years "aging." Still, now I have a benchmark, and will enjoy seeing how the wine ages year-over-year. Call me crazy, but this is what us wine-orati tend to do on occasion.
For comparison purposes I opened a sample that Team Mondavi (e.g. Constellation Brands) sent us. An '08 Robert Mondavi cab is about as Napa as you can get, and a good, ready-steady kind of example to compare and contrast. And not that I'm one to give advice, but I do highly recommend opening multiple bottles from time-to-time to compare. Over the years I've learned a lot by tasting across varietals, or vintages, or — in this case — vintage and winery. Why not? Life is short, grab a waiter's friend, mon ami.
2003 Tenuta Vineyards Livermore Cabernet Private Reserve ($25)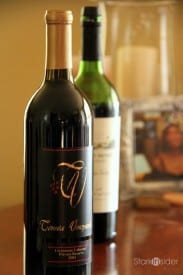 In a nutshell, it was a hit. I could tell almost right away based almost entirely on the nose. It had that wonderful, full aromatic quality you get from a wine that's just a little mellow (tannins) with a confident swagger (fruit). I was hoping it would be good, but didn't expect it to be this good.
My notes, as transcribed from a purple smudged post-it note:
* not tobacco/leathery
* light cherry – not much vanilla – austere
* aged well, pleasant nose, and light finish
* in the glass: marvelous, textured, darkened red
* the sophisticate compared to Modavi '09 Cab — younger, brighter on nose, fruit forward
* Tenuta is good example of boutique winery -> a wine with character, off the beaten path
2008 Robert Mondavi Cabernet, Napa Valley ($28)
Definitely concentrated, and young. If I had to chose one word (and I know it's so cliche): bright. You know when you sniff a wine, and the nose is right there. Over-powering. My first reaction is almost always the same: let it sit. Maybe pull out the venturi and see if that can calm things a little. This is a decent wine, nothing spectacular, but in comparison to the '03 Tenuta it was a distant second in this comparo.
So what did I learn?
Well, for one, a traveling spouse makes for unabated cellar access.
Two, I'm sure that doesn't come without consequence.
And three, aging a wine can make a world of difference. Don't just look to the big guys, sometimes seeking out those boutique wineries — in this case in Livermore just off Highway 680 about 45 minutes north of Silicon Valley — can do wonders for the palate. Just don't reach for the collective cults quite yet. Stay with me on this, the time will come. For now, though, let's not risk a wrist chopping.