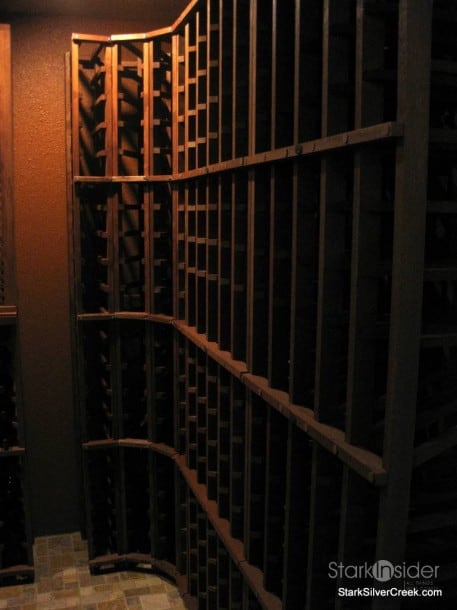 Amazing how home renovation projects can grow, and grow, and grow. It was about this time 2 years ago that we decided to convert unused space in our house into a wine cellar. The wine cooler in the kitchen is handy, but only provides limited 40-bottle storage. And since Loni likes to collect, we decided to expand the scope of our flooring project to include a cellar as well. Sure, minor stuff!
For a while, our house was hell on earth. Dust, debris, noise, nails, particle board, trash, insulation—piled everywhere in sight, along with fast food cartons, and drinks left around from the workers. All familiar territory for those that have endured home renovations.
But… it was worth it. Luckily, we chose an excellent contractor thanks to friends down the street who referred him.
Two years later, though, and we still had some finishing touches. One was a lock to secure the mahogany door. At first, we thought biometric. Then, I visualized us roped up, sitting on the garage floor while a bandito severed a finger to gain access. Okay, forget that idea. We went with a simple numeric push button lock that does the job, and bonus for Loni, matches the dark bronze finish of the other door harware.
The other major to-do was conquered (partially) over the weekend: installing the corner Vigilant racks.
It took some effort to stain, assemble and then position them into the cellar, but compared to past DIY efforts, it was pleasant work.
We're happy with the result. Now we have increased capacity, and the cellar looks much better with the corners rounded, instead of empty space.
Loni is going to tackle staining the door when some extra Vigilant stain arrives. And we still have to finish the second corner rack that sits awaiting its place in the far left corner of the cellar.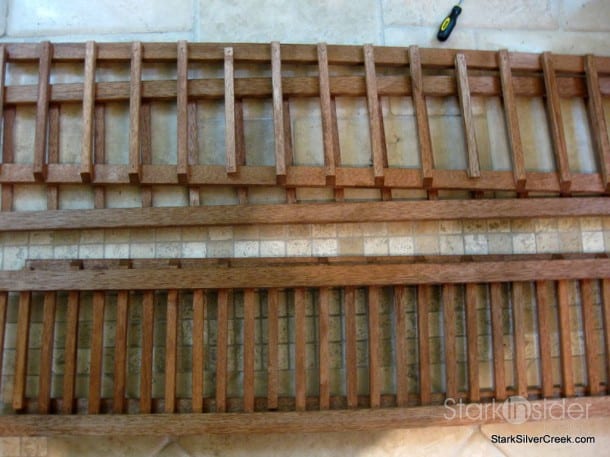 The most critical part of the project was removing the wine bottles. They went for a temporary walk so we could shift racks.
The whole time I kept telling Loni "careful… careful!" "focus, concentrate!!!"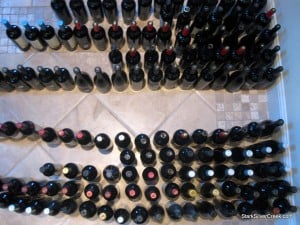 Yes, I was perhaps overly paranoid. But one drop onto the stone floor and it would be purple as far as the eye could see.
So we babied each bottle, recalling stories for each. That was the neat part that reminded me that wine can be such an interesting, colorful reminder of good times—past, and upcoming as well. There were the bottles Loni had recently brought back from Australia and Italy; cases that have never been opened (will they ever?) from Harlan and other cults; then there were the laser-etched special magnums that Loni adores from St. Francis.
We even came across a Virgin Shiraz that I reviewed on SSC a while back, giving it a bad score. Since we had an extra bottle, we took it to a dinner party for a blind tasting to see what others thought.
Would they agree with my score? Or was my judgment off? Or, had the wine improved with time?
I'll let you know shortly in a post about the tasting. It was an entertaining time!
Stark Wine Cellar Project