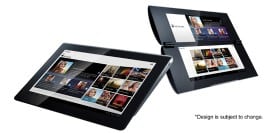 Although a legion of fans would prefer every single engineer across the company work on restoring service to the PlayStation Network, team Sony is still pumping out new products. A pair of tablets running Android will mark Sony's official foray into the tablet wars (or does this "war" even exist?).
The S1 sports a 9.4-inch screen, runs Honeycomb, and very much looks like a typical Android-powered tablet (i.e. the Motorola Xoom).
The S2 is a bit of an oddity. A clam-shell case opens to reveal two 5.5-inch screens. At first blush it looks like Sony may have taken a page of Nintendo's playbook – it looks like a DS. Could there be a long-term collision between the S2 and the PlayStation Portable?
Both tablets are WiFi and 3G/4G compatible.
Excerpt from the announcement:

"'Sony Tablet' delivers an entertainment experience where users can enjoy cloud-based services on-the-go at any time. We're aiming to create a new lifestyle by integrating consumer hardware, including 'Sony Tablet' with content and network," said Kunimasa Suzuki, Corporate Executive, SVP, and Deputy President of Consumer Products & Services Group.
There is no word  on pricing. According to Sony the tablets will hit the market some time in "Fall 2011."
Will Sony's move into the market be a success, and possibly take away share from the Apple iPad? With their large library of content, and gaming network they could bring advantages not available to Motorola and the underwhelming Xoom tablet.
Regardless, the big winner is once again Google. Yet another consumer electronics giant is putting a large chunk of R&D behind Android, and that is most certainly a good thing when it comes to choice, and competition.