It was good enough for the Reagan-Gorbachev summit meetings, but would it be good enough for our dinner party? They talked ballistic missiles, human rights and arms control; we talked theater, U2 and cell phone towers. This sparkling wine, a 2005 Iron Horse Russian Cuvée, was first up.
It would be followed by: 2003 Talbot Chardonnay Diamond T Estate (tomato salad & scallops), 2002 Silver Oak Cabernet Sauvignon Alexander Valley (rack of lamb), 2005 The Hess Collection Syrah Small Block Series Napa Valley (more rack of lamb and U2 viewing). Dessert was Loni's All-American–and now Huffington Post approved–apple pie (recipe).
What were we celebrating?
Good times of course: friends, conversation, and life. And, yes, food of course!
But first, I would almost take Loni's eye out.
Mark it down as another first. This would be the first time I've ever opened a Champagne bottle without needing to cajole the cork. Turns out this one would not require a sabre. If it weren't for a last second warning from one of our alert guests, the cork may well have projected in Loni's direction, instead it accelerating like a wayward SCUD-B rocket into our kitchen ceiling. Let's just say it was a dramatic way to get the heart pounding, and the blood flowing.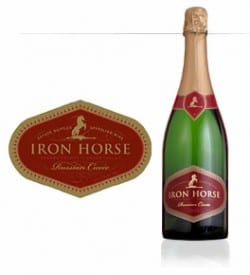 We sipped the Russian Cuvee while enjoying crackers and cheese (Saint-André) with some Jam that Loni brought back from Tuscany. Also to bring on the salt we had a dish of hearty Macadamia nuts that we picked up on our recent–gimpy knee–getaway to Kona, Hawaii.
This sparkling wine is my kind of profile: semi-dry (but not Brut level), full-bodied, earthy and… well, and — bubbly. Later, there was peace, handshakes all around, and contentment.
2005 Iron Horse Russian Cuvée Sparkling Wine
91 points
$33
75% Pinot Noir / 25% Chardonnay
1,400 cases
www.ironhorsevineyards.com