"I was surrounded by coyotes, they were literally everywhere. I figured I might be able to fight them off with my tripod…"

Food and wine pairings get all the headlines these days. It's almost as if this great nation has entered into the next phase of its young wine journey. Long ago we passed the simple red or white question, then we dove deep into Chardonnays, Cabernets, Rieslings, before starting to wax poetic about more "exotic" grapes such as Petite Sirah, Grenache, and Pinot Noir.
But what about art and wine?
It's one of the more interesting stories continuing to evolve in wine country, notably Napa.
I like to seek out the interesting art collections, the quirky tasting rooms and the back-stories typically centered around the often delightfully eccentric owners. Many examples come readily to mind: the flaming typewriter at Hess, the black and white photograph collections that line the tasting room at Turnbull, the living Greek mythology — Pegasus, Bacchus, Gaia, Ganymedes! — at Clos Pegase, an outlandish gift courtesy of owner Jan Shrem (more on that coming soon on Stark Insider).
But one of the most compelling art and wine stories comes out of Stags' Leap Winery, quietly tucked along the Silverado Trail.
So committed to the concept and the idea that the Napa air, the surrounding vistas and the — oh shoot, why not? — terroir can inspire an artist to reach lofty heights, that they've re-launched their "Artist in Residence" program. Imagine the scenario: live in a winery, stroll the vineyards, paint/photograph to your heart's content, exhibit your works… drink wine. Not necessarily in that order. Random French joy is optional. Joie de vivre!
Jefferson Hayman, a New-York based still life photographer is exactly the man for that job.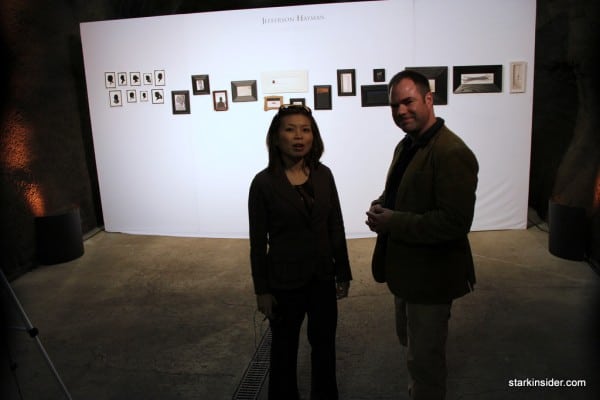 Jefferson's photographs are in various

public and private collections including: Robert DeNiro, President William Jefferson Clinton, and The Museum of Modern Art, NYC.
An artist in residence at Stags' Leap he's been honing his photographic skills, focusing on objects and people with his Canon 5D Mark II. The result are eye-catching stills that in some cases capture the essence of wine country, like a small pile of Napa alluvial soil.
"This is literally where everything comes from," he says. "It has volcanic ash that is one of the acidic properties that allows grapes to flourish."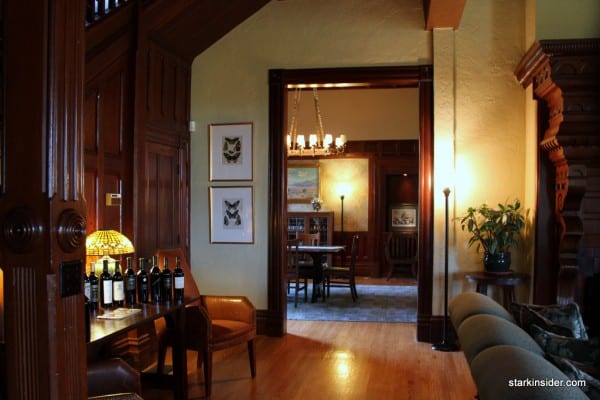 Being an artist in wine country is not all tea and biscuits, mind you.
One evening, underneath a full harvest moon, Jefferson was working with his camera on a tripod, capturing the surrounding mountains and hills. Like a scene out of a Stephen King novel, coyotes quietly stalked. Before he knew it, "they were everywhere." Fortunately he lived to tell, and that photo "Nocturne" is one of several that he later showed us at the exhibit in the gorgeous wine cave.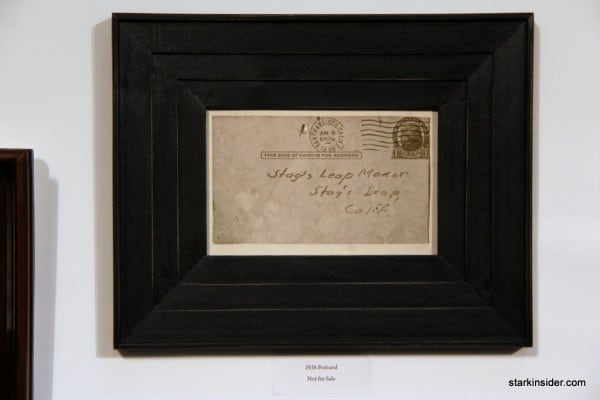 So, yes, please pass the cheese. It's no doubt a mighty fine partner for a '07 Napa Chard. But so too are some of the art pieces, sculptures and paintings you can find across the valley. Don't be the overly-happy patron hanging on to the tasting room bar, singing sweet Dixie when you could be exploring the grounds, and getting to know the real stories and people of Napa.
Oh, by the way, Stags' Leap Winery makes some pretty darn good wine too. As a matter of fact, stay tuned for a round-up of their latest releases including "The Leap" as mentioned in this video by Jefferson Hayman.
DSLRs are all the rage – for artists, Hollywood and consumers

Interesting how technology comes full circle sometimes. There was a time that SLR cameras ruled the roost. Then digital photography came on the scene in the late 1990s and all of a sudden point-and-shoots, such as the PowerShot by Canon, were all the rage. Fast forward to 2010 and digital SLR — aka DSLR —  is massively popular, breathing new life into the tried-and-true SLR technology. It surprises me somewhat as I thought most would prefer portability over technical prowess. But if Costco is any gauge — and it's almost always, along with Amazon, Target and Walmart, a supremely accurate leading indicator — then DSLRs from Nikon and Canon are going to be in huge demand this holiday season. Check out the stacks of models such as the Canon T2i, Nikon D90 and others in close proximity to all of those HDTVs.

And it's not just consumers, of course, that are jumping on the DSLR bandwagon.

The pros have been using them for years.

Jefferson Hayman uses a Canon 5D Mark II (watch end of the video above to find out more). Film and TV directors have been using them too for the big screen. Danny Boyle (Slumdog Millionaire, 127 Hours) told us he used a 5D and a 7D for both of his most recent films, "It's changing how we do our jobs." And Tom Hooper (director) used an EOS 550D (same as Canon T2i here in North America) for at least one scene in the Oscar-worthy The King's Speech, although he didn't reveal which one. [end of name dropping]

I'm constantly amazed at how many people want to talk about the Canon T2i that I so often carry along for Stark Insider interviews. Even Shrek asked me! Can you imagine being asked by Shrek himself (Eric Petersen) what model camera I'm using? And then being told, "I have the same one!" All the better to capture stunning shots of his new baby girl. — Clint