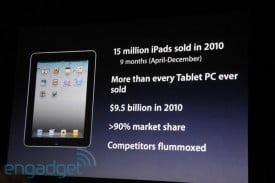 Update: link to Apple's recording of the event.
This morning in San Francisco, Apple CEO Steve Jobs finally unveiled the sequel to the iPad  ("Apple's third post-PC blockbuster" – iPod/2001, iPhone/2007, iPad/2010), the follow-up to the monster hit of 2010. His appearance in light of recent health concerns was perhaps the biggest surprise of the otherwise predictable event. iPad 2 will ship March 11 in the US, and March 25th globally.
"It's in Apple's DNA that technology is not enough," said Jobs. "It's tech married with the liberal arts and the humanities. Nowhere is that more true than in the post-PC products."
There were many trademark zingers as he reveled in the seemingly untouchable lead of the iPad, calling 2010 "Year of the iPad" and 2011 "Year of the copycats."
Pretty much everything that was predicted, discussed and debated (ad nauseum) on the Interwebs over the past few months was accurate when it came to features…
Front and rear facing cameras. Check. Slimmer design (33% thinner, 1.3 pounds). Check. Faster processor (dual core A5). Check. Built-in support for both Verizon and AT&T. Check. Same prices ($499 and up). Check. Two colors (black and white). Check.
The Apple iPad now includes HDMI out which should appeal to home theater and multimedia enthusiasts. With a $39 cable, you can output full 1080p video.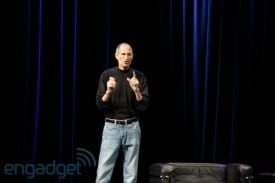 One thing notably absent was the much-desired high resolution – aka "Retina" – display. That will likely make an appearance in the next go round which promises a more newsworthy product release.
Along with iPad 2 comes an updated iOS, version 4.3 which features faster Safari web browsing performance courtesy of the Nitro Javascript engine, and improved media sharing features.
The launch was textbook Jobs and started with lots of numbers. Big numbers. As in 15 million iPads sold in 2010 and 90%+ market share, $9.5 billion revenue (in only 9 months). The last bullet on that slide, "Competitors are flummoxed." That statement appears fairly accurate.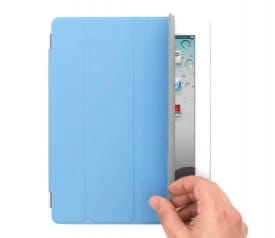 While we've heard a lot about Honeycomb and Android-powered tablets, we've yet really to see any (aside from the 7-inch Samsung Galaxy Tab which has had minor sales success). And, as Jobs pointed out, Android is severely lacking in apps specifically designed for the tablet format: only 100 apps for Anrdroid Honeycomb vs. 65,000 for iPad.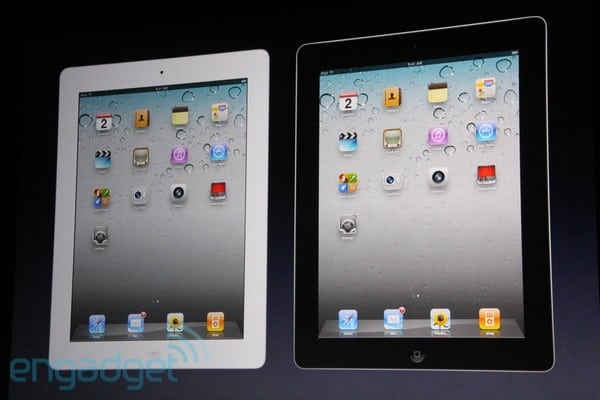 Then there was the slick video showcasing the iPad essentially changing lives (even including a bit about helping cure autism).
So while it was more like iPad 1.5 I still expect this thing to sell like gangbusters, for two reasons: (1) it's Apple and the're red hot and everything they make is uber desirable; and (2) there's still no credible competition.
Apple iPad 2 Launch – San Francisco

iPad 2

New dual core processors (A5) – up to 2x faster graphics, 9x CPU
Front and rear facing cameras with FaceTime
Available in black and white
Slimmer design, only 8.8mm thick (33% thinner, 1.3 pounds)
HDMI video out up to 1080p (requires $39 cable)
Battery life unchanged: 10 hours
Pricing for wi-fi models: $499 (16GB), $599 (32GB), $699 (64GB)
Pricing for 3g models: $629 (16GB), $729 (32GB), $829 (64GB)
Smart Covers available in poly ($39) or leather ($69) in 10 different colors
Available: March 11 in the US, March 25 for rest of world (26 countries)

iOS 4.3

Improved Safari web browsing performance (Nitro Javascript engine)
iTunes home sharing
AirPlay improvements
Preference for iPad switch (mute or rotation lock)
Personal hotspot (iPhone 4 only)
Available: March 11

New iPad Apps

iMovie ($4.99)
GarageBand
Available: March 11
Photos courtesy of Engadget.