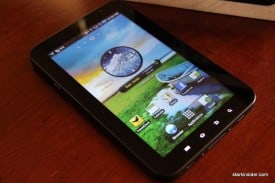 Those looking for an iPad alternative, turn away. Chances are you'll be disappointed with the Samsung Galaxy Tab. That's too bad, though, because this 7-inch tablet is a solid — and at times very impressive — foray into a new market for Google's venerable mobile operating system.
The bottom line: Android needs more time (possibly 3.0?) until it's ready to take on the heavyweight iPad. Meantime what we have in the Tab is a solid implementation of Android in a tablet that is portable enough to provide on-the-go versatility. Many have called it a large Android smartphone, and that is a fairly accurate assessment.
In my week with the Tab I found very few apps optimized for the larger 7-inch display (versus the standard 3 to 4-inch displays found on smartphones running Android). Those that did have a tablet version available for download in the Android Market, such as the Wall Street Journal, New York Times and TIME, were — albeit decent — light years behind the razzle-dazzle found on iPad counterparts. Also, at just over $600, the price is too high (though over recent weeks I've seen deals as low as $200 with contract).
Still, I really like the Galaxy Tab, and think it will be very popular among those that want essentially a larger format Android smartphone. It's lighter than the iPad, can be easily tossed into a bag, or (large) jacket pocket and provides snappy performance. It's a welcome companion for those looking for an on-the-go entertainment and/or productivity device. Gmail, Google Calendar, Google Voice, Skype, and eBook apps such as Kindle and Google Books, among others, all performed extremely well. Also noteworthy, the Tab will play Adobe Flash (10.1), and features built-in cameras (front and rear); all features the iPad lacks.
Also see: Galaxy Tab: News app round-up, reviews.
While we're likely to see what Android tablets can really do in 2011, for now this is a pretty darn good first crack. And thanks to exceptional build by Samsung, the Tab is a nice piece of kit. Ultimately, Android has a long way to go if it wishes to match the ease-of-use, depth of apps and slick look of Apple's iOS and iPad.
Overall Build Quality
Samsung's design prowess shines with the Galaxy Tab, perhaps demonstrating why consumers are increasingly smitten with their Galaxy line of products; no wonder they recently overtook Motorola as the leading manufacturer of Android-powered smartphones.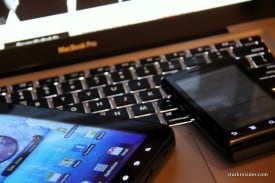 The Verizon edition is finished in a gloss black on front, with a subdued pattern on the back. Round edges and slight bevel on the underside (left) give the device a classy vibe. The power button is located on the right edge along with volume controls and a micro-USB slot; on the top, a 3.5mm headphone jack. A proprietary connector is located on the bottom edge below the four trademark Android soft-keys (menu, home, back, search). The Tab features rear and front-facing cameras, something not available on the current generation iPad.
While the Tab weighs about half that of an iPad (13.58 oz. vs. 1.5 lbs., respectively), it still feels substantial, but in a nice, well-built kind of way. Holding the Tab in one hand is not a problem, perhaps making it better suited for situations where holding a two-handed device — such as the iPad — would be cumbersome.
The Tab is a slippery little guy. I wondered why Samsung didn't use some rubberized surround or textured materials that would afford better grip at the edges. Many times I felt like it would squirt out of my hands. I appreciate that aesthetics are important, but grip here could be improved. A case is definitely recommended.
Display
I positively love the Tab's TFT-LCD display. Although not of the AMOLED variety it is bright, crisp, and very easy to read. No concerns here. It made my Droid appear washed out and dim by comparison. The 1024×600 resolution made for comfortable web browsing.
Performance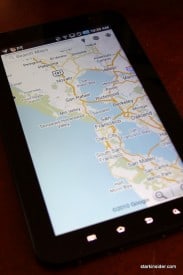 Powered by a Cortex A8 1GHz processor, I found performance generally snappy (although I always want faster, faster, faster). Most functions are not quite instantaneous, but close to it. Swiping across home screens (it comes with three panels) was smooth with no jerkiness. The Android app drawer pops up fast, and features a skin designed by Samsung that features horizontal scrolling across screens (I prefer Android stock or LauncherPro — thanks to James Kendrick of gigaom for the tip).
The built-in web browser performed adequately, but could stand much improvement, especially considering Google's desktop browser, Chrome, is outstanding. Why can't the Android browser be as good? Loading time for web pages was decent, if unspectacular. But the real issue is that text does not flow properly and is cut off when you pinch and zoom (works fast). Safari, by comparison, automatically adjusts text to the screen so scrolling is not necessary. Fortunately, there is an easy solution: ditch the built-in browser and use one of the excellent third party alternatives (Miren, Dolphin HD, Opera, etc.).
Battery life was an unexpected surprise in our tests, and apparently accounts for most of the Tab's heft. It's a good tradeoff. Up in Napa at a conference I was able to read news, stay up-to-date on social networks, and follow stocks throughout the morning. The screen was on auto, and I was using wi-fi. Astoundingly, after 3 hours the battery had just used up one notch (or about 20%). I was getting far better life than trusty Droid, even though the Tab's beautiful screen was twice the size!
Multimedia
Although the screen won't handle HD, movies and television shows looked great on the Tab. Audio quality was better than expected. Listening to U2's Boy I appreciated the deep bass, and clear treble via headphones. The internal speaker is serviceable, but obviously won't provide the same, rich audio experience. Skype, though, worked brilliantly over wi-fi. Callers could hear me loud and clear, and vice-versa.
A glaring Android weakness when it comes to video, podcasts, music and, even apps is the shotgun approach.
Unlike Apple's iTunes, there is no single place to manage the multimedia experience. Instead, you need to load separate apps ("Music" and "Video" for example). Worse, there is no centralized hub to browse and purchase content. Instead, I had to pull-up the Amazon MP3 app, for example, to browse music. Also, although the Tab will handle Flash content, it can't stream Netflix or Hulu video at this point. A huge gap.
On the plus side, the YouTube app is superb. Videos load quickly and the 7-inch display lends itself well to browsing through videos. Switching to landscape mode on the Tab was quick as well. An orientation lock option is a nice feature to prevent accidental rotation.
My #1 complaint about Google's strategy with Android prevails: they need an answer to iTunes.
The mass market consumer won't have the patience to figure out all the apps required to keep everything synced or to navigate through the confusing array of options needed to piece together a semi-coherent content engine for Android. The more tech enabled that appreciate open choice (such as myself) may not care, and actually prefer Google's approach.
Apps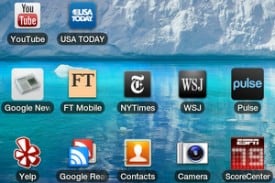 Talk about underwhelming. Where's the apps?
While there are hundreds of thousands of apps available on the Android market, few are optimized for the tablet format. Instead, what you get are a super-sized font version of existing apps. TweetDeck is a good example. It performs identically on the Tab as it does on the Droid (and it should, it's the same app). And while I prefer the larger screen and better performance on the Tab, there is nothing new here.
To make matters worse, it's hard to find Tablet apps. Google does not provide a section or easy way to find them. Eventually I would stumble upon them, like the excellent Wall Street Journal app which was hidden in the depths of hell. I've said before that navigating the Android Market is like walking through a bad neighborhood. You see that CNN app? Well, it's actually some phishing app created by a teen in Russia. At times I can appreciate the tight scrutiny that Apple applies to app approval. It's controversial, but the upside is apparently a significant reduction in crapware.
Angry Birds is stellar on the Tab, and I know that will please more than a few fans. The colors pop, and the performance and game-play are perfect.
When it comes to the apps on the Galaxy Tab, there is a real issue with the screen size. It's too small to offer all the bells and whistles you'd find on the iPad's larger 10-inch screen. Developers just don't have the space to operate. 7-inches may indeed turn out to be no-man's land when it comes to tablets.
Should you buy a Galaxy Tab?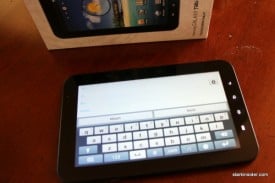 If you're looking for an iPad, then the answer is simple: buy an iPad. The Galaxy Tab will be sure to disappoint as it's not an apples-to-apples comparison. However, it offers an excellent Android experience, plays Flash content, has built-in cameras, and is easier to carry around. While app selection is slim, I expect it to improve significantly as 2011 gears up to be the year that Apple begins to see true competition in the tablet market.
For those interested in reading e-Books primarly, then the Kindle 3 from Amazon is a far better choice, and, at only $139, a far cheaper one.
For reading slick nextgen digital magazines, the iPad remains untouchable.
Which puts the Tab, with its 7-inch display and $599 price tag, in no man's land. Then again, sales have proven to be quite impressive, perhaps suggesting there is a market for an in-between model such as the Tab.
Potential for niche implementations
After spending a week or so with the Tab I began to think of all the diverse implementations that developers and companies could build around it. For example, it could be one heck of a great in-car audio media and communications center. The GPS and nav system on the 7-inch screen, alone, could be a reason to install one of these in your new Volt. Or how about building a comprehensive in-home control center with a wall bracket to mount the Tab? Pop it out, and you have complete control of lighting, heating, and home entertainment in your hand — not to mention the ability to check social networks, emails and news. I realize iPhone and iPad have been used before in similar implementations, but here perhaps the 7-inch form factor is ideal.
Galaxy Tab impresses, but best is yet to come
Given that the current Android release (2.2) is not specifically designed for a tablet, it's impressive that the Galaxy Tab performs as well as it does.
Expect big things from Google when Android 3.0 lands sometime next year.
Google has shown tenacity when it comes to getting things right over time. But Google is not infallible as demonstrated by the 2010 flops that were Wave and Buzz. Now Google TV is off to a shaky start. Thankfully, such is not the case with Android Tablets. Think of the Galaxy Tab as a prologue, a very good teaser — a trailer filled with fast cars, big explosions and pretty faces — of what's to come.