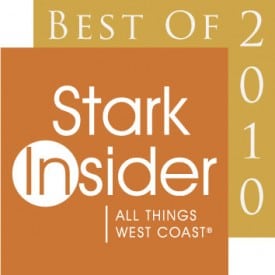 It was a special year across Bay Area stages. From Berkeley to San Jose and from Palo Alto to San Francisco, and just about everywhere in between, 2010 will be remembered for its diverse, original and innovative productions. I can't recall being so giddy with anticipation, night after night. And just when I think building a new media business is challenging, I witness first hand the relentless effort the actors, creative staff, and crew put into these shows. It is humbling to say the least.
The show is most definitely the thing, and so we are unleashing to the world, the inaugural Starkies, celebrating excellence in theater.
Big and small, irreverent and poignant, wicked and charming… well, you get the idea; if there's one thing that these shows from 2010 shared in common it's that they moved us. I'll admit I cried at least once (and, yes, this from a guy who's even shed a sentimental tear or two during Pixar's Up), felt chills on several occasions, laughed hysterically, and even stared in disbelief at the avant-garde — which would later require Googling and therapy sessions to decode and recover, respectively.
By the numbers we covered over 200 live events in 2010 here on Stark Insider. Of those, 140 were theater productions eligible for a Starkie. Only five shows earned a coveted 5-star rating in 2010 (see below for the list).
This breadth of independent coverage would not be possible without some exceptional contributions from those that take the time to travel to these shows, and to share their experiences. For that, again, we're eternally grateful. Deepest gratitude: Cy Ashley Webb, Patricia Reardon, Eugene Lee, and Al Graichen.
Our biggest thanks goes, of course, to all the theater houses, the actors, the staff, and the artistic and managing directors who make it possible. In this era of video games, mobile computing, and 140-character spamtastic narcissism (guilty!), it's good to know that the power of live theater is alive and well.
Congratulations to the winners, and see you in 2011!
Best of 2010: Visual Presentation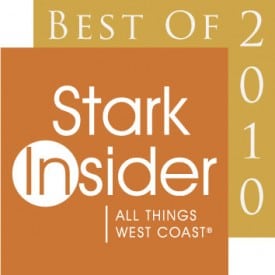 The Starkie goes to: The Tosca Project, American Conservatory Theatre.
A.C.T.'s The Tosca Project (in partnership with the San Francisco Ballet) was short on dialog, and long on emotion. And visual beauty. Who could forget the colors, the music, the dancing? That it was a piece of San Francisco history unfolding before our eyes on the majestic A.C.T. stage was even more special. It was moving and visually arresting.
Honorable Mention: Compulsion, Berkeley Rep. To Kill a Mockingbird, TheatreWorks. Secret Order, San Jose Repertory Theatre.
Best of 2010: Theatrical Event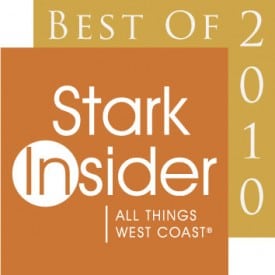 The Starkie goes to: Brother/Sister Plays, Marin Theater Company/Magic Theatre/A.C.T.
The bayou beckons! Last year it was American Idiot, this year it was the Brother/Sister Plays that had the Bay Area theater community abuzz. The trilogy played across three theaters in a partnership that pooled not only resources, but also creative energy. The result was a unique theater-going experience with each theater bringing its own style and production values to Tarell Alvin McCraney's pre-Katrina Louisina.
Honorable Mention: The Great Game: Afghanistan, Berkeley Rep.
Best of 2010: Performance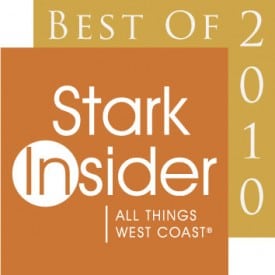 The Starkie goes to: Joshua Torrez (Oedipus el Rey, Magic Theatre)
Acting on the Magic "stage," which in fact is the floor of this intimate thrust theater, is a soul-baring journey. Some of the best performances in recent memory happen right here: Rod Gnapp (Mauritius, Goldfish), Maggie Mason (Or), Joshua Elijah Reese (Brothers Size). Maybe the actors here are able to channel the greats who have walked this stage, innocently tucked away in Fort Mason in the Marina District in San Francisco: Sean Penn, Ed Harris, Kathy Bates and Nick Nolte, to name a few. Joshua Torrez brought on full Latino swagger at the Greek God Oedipus. When they say theater is honest, this is what they're talking about. There is no pretension or layers of artifice, just pure emotion, pure connection.
Honorable Mention: Mandy Patinkin (Compulsion, Berkeley Rep). James Carpenter (John Gabriel Borkman, Aurora Theatre). Joshua Elijah Reese (Brothers Size, Magic Theatre). Margo Hall (Trouble in Mind, Aurora Theatre).
Best of 2010: Musical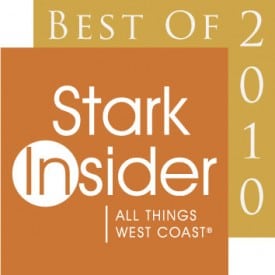 The Starkie goes to: In the Heights, SHN San Francisco
This was a challenging category. There were a lot of wonderful and creative musicals this year, including several off-Broadway shows that reached the Bay Area. In the Heights, though, eked out the win thanks to its overall prowess: the acting, the music, the sets, the story. Sure it may have felt like a "Gilligan's Ghetto Island" at times, but it was a feel good show with heart, and reminds us of the multi-cultural heritage this country celebrates.
Honorable Mention: She Loves Me, Center REP. Girlfriend, Berkeley Rep. Black Pearl Sings!, San Jose Rep.
Best of 2010: Production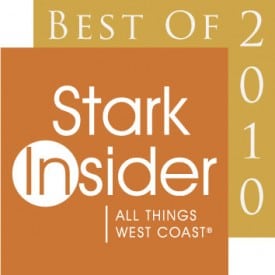 The Starkie goes to: Oedipus el Rey, Magic Theatre
Luis Alfaro's take on Sophocles' Greek tragic tale of Oedipus is raw and visceral. It's the kind of show Magic excels at staging with its stripped down, intimate sets. Also par for the course was the stellar acting. It was a steamy, edgy and electric evening of theater. Unforgettable.
Honorable Mention: Compulsion, Berkeley Rep. Opus, TheatreWorks. Trouble In Mind, Aurora Theatre Company. Second Weekend in September, City Lights Theatre Company. Brothers Size, Magic Theatre. Animals Out of Paper, SF Playhouse.
Best of 2010: Theater House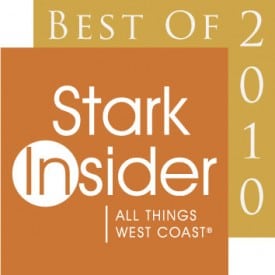 The Starkie goes to: Berkeley Repertory Theatre.
The numbers tell the story. The scores for the seven shows we reviewed at the Berkeley Rep in 2010 evoke Wayne Gretzky-like legend: 4.5, 4, 4.5, 4.5, 5, 4, 4. It was the only theater with a 4 or higher rating for all its shows. At 4.36 its average would make Josh Hamilton proud. Beyond the numbers, it's the theater most often to surprise, to innovate. And it's the one I'd pick if I had to subscribe to only one theater (and there are many, many great choices).
Honorable Mention: Magic Theatre, San Francisco.
Best of 2010: 5-star Reviews
Animals Out of Paper, SF Playhouse
Oedipus el Rey, Magic Theatre
Sonia Flew, San Jose Repertory Theater
Compulsion, Berkeley Repertory Theatre
Cavalia
Stark Insider Theater Reviews 2010
Want to walk down memory lane? Pop open some wine, pour some Joe or simply kick back, then click here for the complete list of theater reviews.