The best play in the Bay Area is now playing at SF Playhouse. It's called Animals Out of Paper. The most pleasant surprise is how well it works with such obtuse, yet intriguing, subject matter: origami. That's right. This is the first play I've ever seen that is based on origami. And it is used beautifully throughout as a metaphor for life and relationships, much like wine in the film Sideways.
This play is fresh, innovative, funny, sad, thought-provoking. And, yes, it even has melancholy. Plus a twist here and there ensures we're never quite sure what's coming next.
It was written by promising playwright Rajiv Joseph who was commissioned to write a play for a New York theater a few years back. We're fortunate to have a theater house like SF Playhouse showcase his talents.
Suresh (Aly Mawji) is a prodigy, the Jimi Hendrix of origami. They say he sees folds before they happen. His gifted ability to "fold" complex objects, so quickly and without guidance, even after only a few weeks, astounds everyone.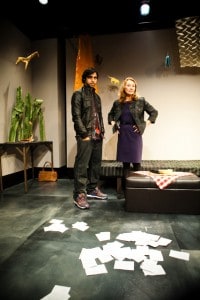 Especially Andy (David Deblinger), treasurer from Origami of America, who believes Ilana (Lorri Holt), author of the #2 bestseller on the subject, would make for the perfect mentor—"I don't want to expose him to collegiate hedonism."
He has a crush on her, having read her book countless times, and is drawn to her writing. When she writes that "so much of what I am is from what I've lost," Andy feels a powerful connection.
Ilana is initially reluctant to tutor. The 18 year-old listens to hip-hop on his iPod, is rebellious, and seems overly curious as he explores her apartment, a veritable paper zoo. Oh, there's also the part where he calls her a bitch, and tells her to suck his dick. Plus, she's going through a divorce. A large origami hawk (not eagle!) folded by her ex hangs menacingly above the living room, a depressing reminder of another life. To make matters worse, her three-legged dog, that dramatically saved her life, has disappeared. In a funk of funks, she no longer folds.
Andy persistently believes he is her perfect match, and wines and dines her at a romantic Valentine's dinner.
Later, Ilana and Suresh form an unlikely bond that intensifies at an origami convention in Nagasaki, Japan.
What comes next is anything but expected. There is a confrontation. Ultimately the relationships among the three characters become increasingly complex, much like a sophisticated origami shape. What started out innocently, like a clean sheet of paper, now has memories and experiences that can't be erased.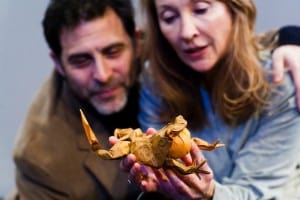 Rajiv's script brings these characters to life with plenty of pop and realistic nuance. Andy, for example, literally counts his blessings, and records them in a little book he carries in his back pocket. He excitedly reads them to anyone willing to listen. #1 – Health!
The ballet cleaning scene, when Suresh cleans Ilana's apartment while dancing to hip-hop, is superb. So too are the tender moments. These people are drawn together through the beauty of paper shapes.
Interestingly, Ilana is working on a heart surgery project for a local hospital that involves a special sheath using multiple complex folds and creases. It's clever (and based on reality we learn at the talkback).
There is so much depth here, even with just three characters, that I could go on for pages. But that would spoil some of the surprises, the wonderment of a play so well executed.
As much as I tried, I couldn't find anything wrong with Animals Out of Paper. Nothing I would change. The music. The set. The lighting. The acting. The script. All perfect.
Animals Out of Paper
by Rajiv Joseph
SF Playhouse (San Francisco)
5 out of 5 stars
Directed by Amy Glazer
Starring Lorri Holt*, David Deblinger*, Aly Mawji*
Through Feb. 27, 2010
* Member of Actors' Equity Association
Noteworthy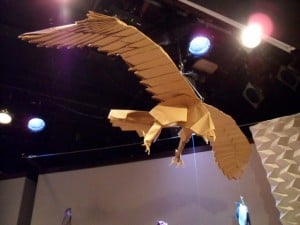 The talkback was packed, a good sign. Most of the audience stayed (and, in fact, I think some even joined from outside) and enjoyed about 30 minutes of intriguing conversation with playwright Rajiv Joseph, director Amy Glazer and actors Lorri Holt and Aly Mawji.
Rajiv told the audience he came up with the idea for Animals Out of Paper sitting next to a woman on a bus; he then was drawn in to an underworld of passionate origami aficionados (many based in the Bay Area, considered a hub).
We have more on this excellent talkback coming shortly on SSC.
The origami hawk was created by Robert Lang, who also provided several creations used in the production.
Much of the music (on Suresh's iPod) was selected by the actor so he could relate to it.
SF Playhouse, founded by Bill English and Susi Damilano in 2003, continues its tradition of showcasing innovative works, with equity actors; this season "The Power of Laughter" has indeed put smiles on faces; including First Day of School, and She Stoops to Comedy.
I am absolutely convinced Animals Out of Paper would make for a funny, intelligent, poignant film; the pitch would be hard: "it's about origami" – but actually it's an ideal combo of A Beautiful Mind, Sideways, and even a dash of The Graduate.
Who would've thunk origami could be this interesting!