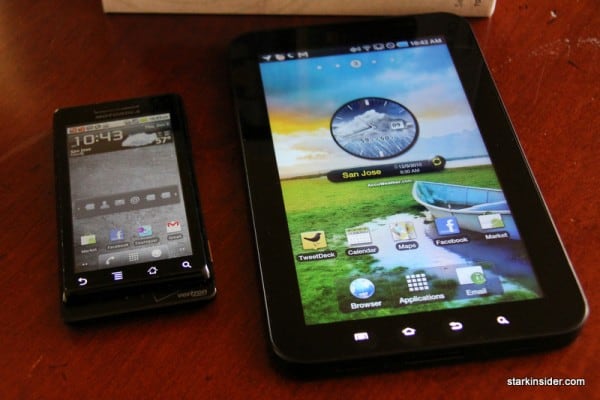 Samsung is on a roll — recently overtaking Motorola as the number one manufacturer of Android-powered smartphones — and now with the first viable competitor to the Apple iPad. We finally received a Galaxy Tab (Verizon, T-Mobile, AT&T), a 7-inch tablet powered by Android 2.2, and are putting it through the paces here at the Insider labs (looking an awful lot like Starbucks these days).
The quick summary: this device pleasantly surprises.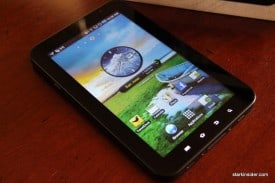 Build quality is high, the screen pops, and its performance is zippy (and makes my Droid feel like the proverbial turtle).
But it's too expensive, and lacks apps designed specifically for the Tablet (Financial Times and built-in apps such as the Calendar, Contacts are but a few of the ones optimized for the larger screen).
Features that set it apart from the iPad, however, are sure to attract a significant number of buyers: removable micro-SD card, front and rear-facing cameras, plus all-important support for Adobe Flash– all features notably absent on the iPad.
Regarding HTML5, I tried to install apps (many of which are merely bookmarks) from the new Chrome Web Store that Google launched yesterday, and none that I clicked would install. When I surfed directly to the New York Times slick new HTML5 site (www.nytimes.com/chrome) it wouldn't render on the built-in Galaxy Tab browser. I found this a little odd, but then again maybe we're supposed to just use the Android Market and the Chrome Web Store is just that: a store for the Chrome Browser only. Still I thought this thing was supposed to render HTML5 sites, no?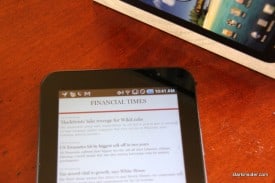 One suggestion for Android Market: they need to break out a separate "Tablet" section.
As it stands now, apps suited for Android phones (such as my trusty Droid) are mixed in with apps optimized for larger tablet screens. So you need to manually sift through a lot of stuff (and much of it is unfortunately crap due to Google's open approach to approval) or search for "tablet" to find things like the Financial Times app. Of course, standard Android apps run fine, but this is where the Galaxy Tab does feel just like an over-sized smartphone – the fonts are large, and none of the benefits of the tablet are utilized. Over time, this should change (and rapidly if the Galaxy sales figures portend the future of Android tablets).
I think Google should've seeded the market more with publishers — credit them some how, or create a pool of funds for Android Tablet app development — especially with the big guns like Wired, that are making waves with iPad.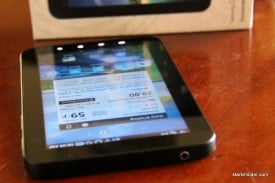 Speaking of colorful, slick magazine apps. Don't look for them on something like the Galaxy Tab. They don't exist, at least not that I could find (I've only spent a day with the device, however).
The screen is very nice (bright with plenty of contrast and rich saturation), and the responsiveness is addictive — you can swipe away, clicking and get nearly instant responsiveness (aside from the browser which occasionally locked/slowed in my testing).
Other first impressions of the Samsung Galaxy Tab:
I like the portability; thanks to the 7-inch screen and sleek design you could carry this around in a jacket pocket.
Typing is a mixed bag. It's a lot easier than on a small Android smartphone – obviously. But in portrait mode, thumb typing is not ideal since the keys are too far apart (though I was able to adjust) and in landscape mode, unlike the iPad, the keyboard is not big enough to simulate a touch-typing experience.
I can't get rid of the built-in Verizon apps which drives me crazy – bloatware!
Design oversight: there is no indicator light – so you can't tell if you have new emails or messages without turning it on.
Google Maps works beautifully.
Gmail works well, but I'd like to see an improved app; plus there are 2 email apps ("email" and "gmail"), each with slightly different feature sets which can create confusion.
Build quality, as mentioned, is very solid; I really like the design. Rounded corners, slightly textured rear. It feels robust and build to last — nice job Samsung.
Haven't tested the cameras yet, more in full review.
Videos (YouTube) played very well.
Android needs a Netflix app!
The "Media Hub" app doesn't really impress me.
Battery life: too early to tell, but it seems promising (although I'm guessing not up to iPad levels)
A full review is coming soon. But for now, consider me impressed; with some reservations.
More info/buy: Samsung Galaxy Tab:Verizon, T-Mobile), AT&T