It seemed like just yesterday we ran the San Francisco theater ticker, with over five openings across the Bay Area last week. We almost run out of things to say, and rely on one of our favorite sayings around here: The show is the thing. Not sure why, or what it means, but that's the deal these days. There is, yet again, lots of on-stage action. From San Francisco to Berkeley and to San Jose and Palo Alto and just about everywhere in between.
Oh, and I suspect there may even be some sort of celebration in the city for a certain World Series-winning team? Congratulations to the San Francisco Giants!
Highlights from this week's new shows include: the last chapter in the hot Tarell Alvin McCraney trilogy, a play that Stephen King calls "the quintessential ghost story," and a tale of faded glory featuring a lush, melodic score by none other than Andrew Lloyd Webber.
Here's the Stark Insider theater ticker. Pick your favorite, or pick several. Then call up your Mom, or your childhood friend, or your neighbor. Or why not just call up Oprah? It's, once again, time for the show.
Marcus or The Secret of Sweet
American Conservatory Theatre (A.C.T.)
San Francisco
October 29 – November 21
Marcus is 16 and "sweet." Days before Hurricane Katrina strikes the projects of Louisiana, the currents of his life converge, overflowing into his close-knit community and launching the search for his sexual and personal identity on a cultural landscape infused with mysterious family creeds. The provocative, poignant, and fiercely humorous coming-of-age story of a young gay man in the South, Marcus is the stirring conclusion of The Brother/Sister Plays, which the New York Times called "a new, authentically original vision. It's what people must have felt during productions of the early works of Eugene O'Neill in the 1920s or of Sam Shepard in the 1960s."
Turn of the Screw
Dragon Theatre
Palo Alto
November 5 – 28
Described by Stephen King as "the quintessential ghost story," The Turn of the Screw became one of James's most famous works. Jeffrey Hatcher's adaptation condenses Henry James's story into a heart-stopping ninety minutes with a very minimal setting and only two talented actors. The play is terrifying because each audience member's imagination brings the ghosts to life.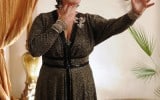 Sunset Blvd.
Palo Alto Players
Lucie Stern Theatre, Palo Alto
November 6 – 21
She's still big, It's the pictures that got small. And now, Norma Desmond is ready for her close-up on our stage in Andrew Lloyd Webber's most lushly melodic score. Sunset Boulevard weaves a mesmerizing tale of faded glory and unfulfilled ambition when this legendary silent film star has a fateful meeting with struggling Hollywood screenwriter, Joe Gillis. The consequences are passionate, volatile and breathtakingly spectacular.
CTRL + ALT + DELETE
Pear Avenue Theatre
Mountain View
November 5 – 21
At the beginning of a new century, Silicon Valley's prime mover and shaker is looking to market the Next New Thing. A young man pitches what seems to be a tantalizing but impossible concept: a miraculous "gizmo" that is part cell phone, part computer, addictive as all get out. Never mind that such a contraption cannot be made. (Or can it?) A wildly funny play by the author of Pick Up Ax.
Stark Insider Review Round-Up
Theater Review: 'Becoming Britney' has pop
Theater Review: 'Dracula' is slick, sensual
Theater Review: 'West Side Story' opens at the San Francisco Orpheum
Theater Review: Beatlemania all over again in 'RAIN'
Review: 'The Great Game: Afghanistan' an Anderson Cooper-free marathon
Theater Review: 'Dial M for Murder'
Theater Review: 'Secret Order' a question of ethics at SJ Rep