The Beatles have a huge catalog of hits. And their psychedelic Sgt. Pepper period resulted in some extraordinary, multi-layered sonic tracks that smashed the creative barrier. Word. These are just a few of the things I learned when I sat through a fairly entertaining opening night of RAIN – A Tribute to The Beatles.
I lived through the British Invasion Part 2 lead by MTV-defining Duran Duran. Euphoria (and hair) was through the roof – remember Oakland Coliseum circa 1984? So I can only imagine how phenomenal the excitement was when these 4 moppy kids from Liverpool bounced across the JFK tarmac.
But my biggest concern heading into the show was could I really take almost two hours straight of Beatles music?
Turns out yes – with a few caveats.
The show is better than I expected; the lighting, projections, and singing are decent enough. If you want to walk down memory lane and relive the Fab Four adventure from Ed Sullivan through to Abbey Road, then this is the ticket.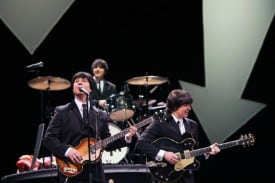 The best part of RAIN is that the band is credible, reasonably authentic and — most importantly — live. There are no pre-recorded tapes or sequences, at least that I could tell, aside from the video montages of course. Wigs, and moustaches help take us through time; from the innocent raw energy of "I Want to Hold Your Hand" at Shea Stadium to the hippie-friendly, acid inspired "I am the Walrus."
As an aside, two things left me curious.
One, how did they ever come up with those outfits in Strawberry Fields? I'm sure those multi-colored, fluffy, frilly outfits have inspired endless material and inspirational for folks such as Jerry Seinfeld, The Flying Karamazov Brothers, and, I'm sure some how, even Lady Gaga.
Second, where does the name RAIN come from?
Video is used to weave together Beatlemania all over again for us, including that classic, most famous of all introductions made by Ed Sullivan; as well as brief appearances by Nixon, hula-hoops, JFK, MLK, and even a space monkey. Later there's an entertaining look at some television ads from the 1960s. I burst out with laughter as Fred Flintstone and Barney Rubble smoke Winston cigarettes while Wilma mows the lawn.
An audience cam keeps us alert, and occasionally inserts shots up on the big screens. Sing-a-longs are here, as well as lots of lights shining at us; possibly to remind us to remain excited. For the most part, though, it works. At times singing is suspect, as are moments when the instrumentation is clunkier and not as crisp as I'd like (particularly the drums at a few points). Regardless, RAIN is a strong cover band, if quite a bit older than the young lads were in 1964. Solid family entertainment with infectious music; it's hard not to smile. Now, if I could only find that skinny leather tie…

RAIN: A Tribute to The Beatles
3 out of 5 stars
Broadway San Jose
Center for the Performing Arts
October 26 – 31, 2010