Maybe the Center REP Theatre is on to something. Take one washed up pop princess, add some clever musical numbers and a few jabs at L.A. celebrity culture and even Broadway, et voila, the result: an entertaining, often hysterical, 90-minutes of theater. Becoming Britney does exactly that, and admittedly exceeded my expectations on all counts. Part parody, part homage, the musical is never (overly) condescending or judgmental, which even adds a layer of, dare I suggest, sweetness.
I still might not be sure (or really even care) why Britney Spears ended up in rehab with a bald head, but it sure was fun going on this joyous, trailer-trash loving journey.
Based on an idea by lead performer Molly Bell (along with Daya Curley), Becoming Britney debuted earlier this year at the New York Fringe Festival, and received strong reviews. And it all begins in rehab.
The show opens at "Promises, Promises," ostensibly based on the infamous celebrity rehab center in Malibu. Their tag line: "PR Fixery and Spirit Spa" From there, Britney is welcomed by a rag-tag group all with their own stories. Soon, Britney tells them hers, and sings, dances and reminisces about the life of a pop princess. Growing up in Louisiana where "pageants are the Super Bowls of the south" she was encouraged to perform at a young age.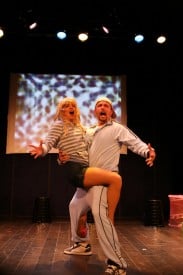 Cameos are here from all our favorite ex's including Justin Timberlake, and K-Fed (the white rapper that can't rap or dance). Even Britney's sister Jamie Lynn makes a minor appearance in an "Intervention-ish" that seems more about commercial endorsement than confrontation and recovery. Every young girl's role models Paris Hilton and Lindsay Lohan take some time out of their community service schedule to hang for a L.A. disco dancin' clubbin' rubbin' night on the town.
"Musicals are an inherently ridiculous art form."
Short skits are intermixed with high energy, well-choreographed musical numbers to create a montage of Spears' rollercoaster career and personal life. A small projection screen at the center of the simple stage provides video footage, backstory, and other effects that enhance our descent into pop culture hell: "I could no longer walk into a gas station bathroom without my shoes on."
At the center of the circus, of course, is Brit — the strength of the performance can make or break the whole kit and kaboodle. Fortunately, Molly Bell is outright fabulous. She can sing, she can dance, she can act. Best of all she can walk the fine line between self-mockery and innocent affectation with the best of them. Her performance is highly likable and creates a Britney that we want to cheer for in spite of her nauseating and mind-numbing dopiness. This coming from a guy who thinks Britney Spears was perhaps the biggest single affront to the entire music industry of the last 50 years (with the possible exception of Jessica and Ashlee Simpson); so don't put too much stock in my commentary — I've been known to spin my fair share of Robbie Williams and Duran Duran.
The supporting cast is also strong, and works extremely well together. It helps I'm sure that they're (at least appearing to be) having a lot of fun performing. Multi-talented Amanda Folenda has several shining moments, first as a moderator, then as Brit's mother, a re-hab counselor and even an on-air reporter. Her full, rich, slightly gospel voice helps boost several of the musical numbers.
I don't think I will ever see a hospital delivery scene ("Push It Out") that tops the one in Becoming Britney. It's just one of several moments that had me still smiling and laughing the day after the show.
Clearly I'm no fan of Bit-Bit, but I thoroughly enjoyed this production. Despite its trailer trash subject matter, Becoming Britney manages to elevate itself above both standard musical satire and pop culture snark.
Becoming Britney
Center REP Theatre, Walnut Creek
Lesher Center for the Arts – Knight Stage 3 Theatre
4 out of 5 stars
Directed by Daya Curley
Starring Teille Baker, Adam Barry, Molly Bell, Amanda Folena, Brittany Ogle, Keith Pinto
Book, Music & Lyrics by: Molly Bell & Daya Curley
Choreography by: Mandy Bell, Lisa Navarro & Molly Bell
October 28 – November 21, 2010