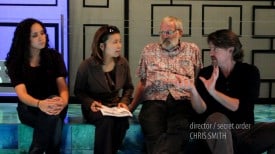 Secret Order, a biomedical thriller, opens tonight at the San Jose Repertory Theatre. It's not often you find a play focused on science, especially one that explores the politically and socially charged arena of cancer research. However, the underlying moral and ethical themes are endemic to all of us at one point or another.
"I think there's something in this play just about anybody can take away because we all encounter ethical challenges, " says veteran stage actor Julian López-Morillas. "This is a very high pressure environment … that's when human character is really tested."
Science continues to infuse theater with interesting subtext and, although based on rational thought and hypotheses, can confound characters and present tough moral decisions.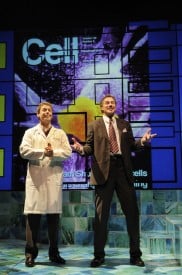 The most recent example to hit Bay Area stages was Rabbit Hole staged by Palo Alto Players and then Coastal Rep. Dealing with loss, the lead character turns to science, shunning faith. The play was adapted into a film starring Nicole Kidman which premiered last week at the Mill Valley Film Festival. In Sunset Limited at SF Playhouse we witness a debate centered around the existence of after-life, and omnipresence.
So I'm anxious to see how the Rep's production of Secret Order turns out. Playwright Bob Clyman is no stranger to the area; his play Tranced was last seen at the Rep in 2009 (a production I unfortunately did not attend). For more than 20 years Clyman has juggled careers as a clinical psychologist and a playwright, an interesting combination that should allow for depth of knowledge and intelligence. Are altruism and capitalism mutually exclusive?
In an interview (link to the PDF Study Guide for Secret Order with the interview and background on the production), Clyman explains the meaning of the play's title, "First and foremost, it refers to the project of science, the attempt to find an underlying order in all the noise and confusion of the observable world."
Cancer research dates back centuries — in 400 B.C., Hippocrates gave the name "carcinoma" to tumors (Greek karcinos, or "crab") due to their shell-like surface and leglike filaments.
Find out more about Secret Order in this on location segment of Theater TV (yes I'm very open to new names for this series…) as Loni meets up with the cast and director Chris Smith on the modern and dynamic set at the Rep.
The production opens tonight — Wednesday October 20, 2010.
Oh, one more thing. In the interview I believe Loni means to say "The US spends the most per capita than any other country." Chalk it up to another well-meaning "Loni-ism" — it's a long list that includes classic hits such as "Don't smoke the Kool-Aid" and "Leave no rabbit unturned."
See you at the show!