Announcing a special Monday edition of the weekly Stark Insider Bay Area stage and theater guide! Given that there is so much happening this week (yet again), we decided to get the listings out today so you can pencil in — plus Tweet, text, Facebook — your favorites. Did you know The Beatles are in town? That, plus Dracula makes a special visit, an interview between film legend James Cameron and Eric Schmidt, the venerable West Side Story comes to town, and more.
Also… did you know…The Beatles' White Album (1968) went 19x platinum, and 1962–1966 15x? The top selling Beatles single of all-time is, as you might've guessed, I Want to Hold Your Hand. Feel free to jump up and down, twist and shout.
Here are this week's listings. As always let us know any omissions, or updates. The San Francisco Bay Area is the third largest market in the U.S. trailing only New York and Chicago, so the dizzying array of theater, live events, music, comedy and performances can overwhelm occasionally. But in a good way of course.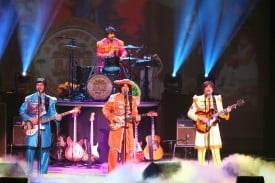 RAIN – A Tribute to the Beatles
Broadway San Jose
Center for the Performing Arts
October 26 – 31, 2010
RAIN covers the Fab Four from their very first Ed Sullivan Show appearance through the Abbey Road album, through the psychedelic late 60s and their long-haired hippie, hard-rocking rooftop days. RAIN is a multi-media, multi-dimensional experience: a fusion of historical footage and hilarious 1960s television commercials lighting up video screens as live cameras zoom in over the audience for close-ups.
For more than two decades, RAIN has distinguished itself by focusing on details, always being faithful to The Beatles with the ultimate goal of delivering a perfect note-for-note performance.  All the music is performed live with no pre-recorded tapes or sequences.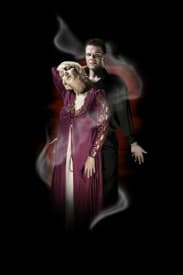 Dracula
Center REP Theatre
Walnut Creek
October 22 – November 20, 2010
Experience the gothic classic as you've never seen it before. Bram Stoker's magnum opus comes alive on the Lesher stage with all the chills and thrills that this sexy masterpiece is famous for.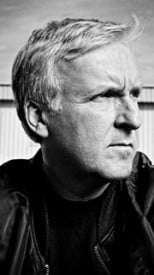 James Cameron in Conversation with Eric Schmidt (Premier Event)
Churchill Club
Fairmont Hotel, San Jose
Wednesday, October 27, 2010
James Cameron's films have blazed new trails in visual effects and set performance records both domestically and abroad. AVATAR and TITANIC, the #1 and #2 highest grossing films in history, earned 23 Academy Award nominations and 14 Oscars between them.
An avid scuba diver, Cameron has made 33 manned-submersible dives to the Titanic, and ultimately led seven deep ocean expeditions with over 70 deep submersible dives. He created a number of documentary films about ocean exploration and conservation, including GHOSTS OF THE ABYSS and ALIENS OF THE DEEP, both of which utilized the 3D camera system he co-pioneered.
Cameron is fascinated by outer as well as inner space; he is currently a co-investigator on the Mastcam of the Curiosity Rover, which in 2011 will be the first 3D motion imaging camera to operate on another planet. He is continuing to develop ocean projects and other environmentally-themed documentaries.
Don't miss this rare opportunity to hear extraordinary filmmaker, technologist, and explorer James Cameron speak with Google CEO Eric Schmidt about his personal experiences and vision.
West Side Story
Orpheum Theatre
October 27 – November 28, 2010
SHN
More than fifty years ago, a show about New York City changed musical theatre forever. Now, it's come home to make history once again. This Fall, WEST SIDE STORY journeys to San Francisco in a groundbreaking new production directed by its legendary librettist, Tony Award winner Arthur Laurents.
From the first notes to the final breath, WEST SIDE STORY is one of the most memorable musicals and greatest love stories of all time. Mr. Laurents' book remains as powerful, poignant and timely as ever. The score by Leonard Bernstein and Stephen Sondheim — a collection of standards that includes "Tonight," "America," "Maria," "I Feel Pretty" and "Somewhere" — is widely regarded as one of the best ever written. And the extraordinary, Tony-winning choreography by Jerome Robbins completely changed the language of Broadway dance.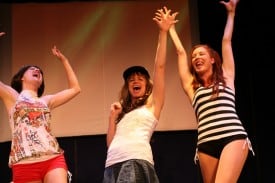 Becoming Britney
Center Rep Theatre
Walnut Creek
October 28 – November 14, 2010
How does a Pop sensation wind up bald and trapped in her own musical? Becoming Britney is a caustic (but loving) PG 13 fable that chronicles the rise…the dip…and the salvation of a foolhardy celebrity phenom.
The hit of the New York Fringe Festival – "It's a production that oozes sass!" – raved NYTheatre.com – the Bay Area's own sensation, Molly Bell, brings Britney home for it's West Coast premiere. It's a new Musical, y'all!
Roundup – Recent Theater Reviews
Review: 'The Great Game: Afghanistan' an Anderson Cooper-free marathon
Theater Review: 'Dial M for Murder'
Theater Review: 'Secret Order' a question of ethics at SJ Rep
Theater Review: Neil LaBute's 'Reasons to be Pretty' cuts
Theater Review: 'Superior Donuts'
Review: 'Our Town' at the Pear Avenue Theatre
Theater Review: 'The Sunset Limited' at SF Playhouse
Enjoy the show!